Car hire USA: Easy & Safe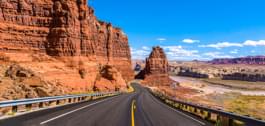 Highway in the USA
Book your rental car for the USA possible long before departure via the price comparison portal Driveboo. With a rental car you can discover the USA independently and flexible. Benefit from the best offers from renowned car hire companies in price comparison. Here you can compare prices of car rental companies in the USA, e. g. San Francisco Airport car rental prices.
Explore the USA with a rental car
We recommend that you book your rental car from home in the price comparison. Plus, the question "When to book?" is always answered "the sooner the better!" By comparing prices at an early stage, you will find the offer that suits you best and you will be able to find very cheap rental cars.
Our most popular cities for rental cars in the USA are:
Car Rental Las Vegas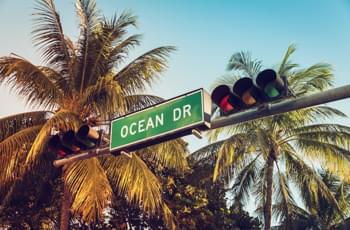 Car Rental Miami
San Francisco
Los Angeles
Cheap Car Hire for USA - Price Comparison
Compare the offers of different car rental companies in the USA. In the Driveboo price comparison you can specify the desired rental period and the vehicle category. How to get prices for car hire in the USA from different car rental companies. Thanks to the comparison of different providers, you can easily save money and thus protect your holiday fund when booking a rental car.
Insurance for rental cars in the USA
Choosing insurance for your rental car can be a deciding factor when you are on vacation in the USA. Don't let your holiday be spoiled by the fact that you haven't secured yourself properly. We strongly recommend that you have liability coverage of at least 1 million euros, but it is better to have coverage of 7.5 million euros. In addition, they should at best book the insurance cover "comprehensive insurance with reimbursement of the excess".
Hire a car at the airport or any US City
The most practical option is to rent a car directly at the airport. A big advantage of airport car rental companies is that they have more customer-friendly opening hours. In addition, the car rental stations at the airport usually have ample parking spaces, so that they have a large fleet. If you enter your flight number when booking, the car rental company can withhold your rental car for you in case of delayed arrival due to the flight.
One of the most famous sights in the West is the Grand Canyon, which can be reached from Los Angeles in about 6 hours. Not only the west coast is unbelievably varied, but also the east should not be missing on a round trip through the USA.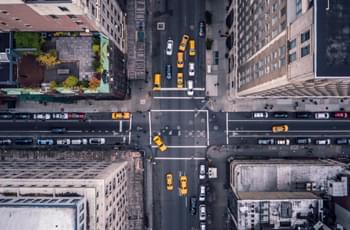 New York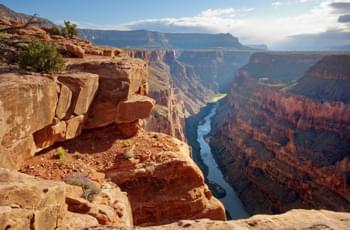 Grand Canyon
New York, as a world metropolis with a huge cultural offer, an international flair and a varied nightlife, is definitely worth a longer stay. The USA is also a shopping paradise par excellence. Whether in the metropolises, or in the always a little bit remote Shopping Outlets, shopping queens and kings can romp about boundlessly. In order to reach these outlets, however, you also have to use a mobile vehicle - possibly in the form of a rental car from a cheap car rental company. For those who prefer it more natural than metropolitan, the north of New York, for example, is a place where Niagara Falls invite you to marvel at huge amounts of water.
What are the steps for renting a car?
The best way to rent a car for the USA is through the price comparison on Driveboo. The prices are usually much better for early bookings. If you book from home, your rental car is therefore much cheaper for the USA. You also have more planning security and know in advance where to pick up your rental car. You can also select the vehicle category, such as SUV, convertible or mid-size cars. This way you can make sure that all suitcases fit into the rented car.
Parking your rental car in the USA
Outside of town, stopping and parking on the road is prohibited. If you want to park your car, you have to leave the road completely with all your wheels. This refers to (always!) parking lots and not the lawn next to the roadway. In the event of a breakdown, you may stop. But here too: Park your rental car as far away from the road as possible. In urban areas, parking is prohibited at bus stops, lowered curbs, exits, pedestrian walkways, second row, hydrants and in signposted parking zones.
On many roads the stop is marked by coloured curb markings:
| Color | Meaning |
| --- | --- |
| Yellor | Stopping ban |
| Black | Loading zone |
| Blue | Handicapped parking |
| Red | Stopping restriction |
| White | Short term parking ( 5 min.) |
| Green | Short term parking ( 10 min.) |
Car hire USA: The young driver fee
In the USA, everyone aged between 21 and 24 is considered a young driver. If you want to rent a rental car in the USA as a young driver, you will normally have to pay a so-called young driver's fee. Some providers offer favourable rates for young drivers, which include the supplement. Since 2016, our partner Europcar has allowed drivers over the age of 18 to rent a car in some regions of the USA. You can find detailed information about the fees in the rental conditions of your offer.
Car rentals in the USA: Refuelling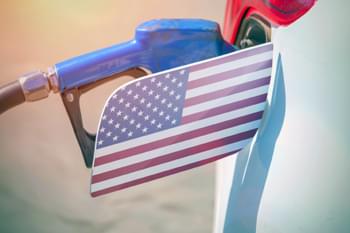 The exact information on which fuel you need to fill up your rental car can usually be found in the fuel cap or in your rental car documents. Most rental cars run on regular gas. Diesel vehicles are generally not rented in the USA. Fuel is proportionally cheap in the USA and almost all cars run on petrol. Gasoline in the USA is called gas and it is always unleaded.In the USA, fuel measurements are given in gallons per liter: One gallon = 3.785 liter.
There are several ways to pay for fuel in the USA:
If you don't find a slot for your credit card at the fuel pump in the USA, you will have to pay for the fuel in advance. This payment system is still often found in rural areas or at independent discount petrol stations. More and more often, however, you will also see petrol pumps where you can choose in advance the amount for which you want to refuel. Another option is to deposit your credit card at the checkout and pay only the amount afterwards, but this should only be done at large petrol station chains.
Traffic regulations in the USA
In the USA there are many unusual traffic rules, the most important ones we have put together for you:
Opened alcoholic beverages must not be carried in the car.
Roads are partly marked by cardinal points
Pedestrians always have priority
Turning right at traffic lights is usually allowed (green arrow at the traffic lights)
Overtaking is allowed on all tracks
School buses always have right of way
The team of Driveboo wishes you an amazing experience in the United States of America!