That's why travelers choose Driveboo

Booking in only 3 steps. Simple and transparent.

Cancellation free of charge up to 24 hours before pick-up.

Personal advice from our experts.
Car rental in North America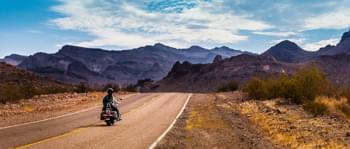 On the Road in North America
In North America there is a lot to discover, especially with a rental car. To find the right car rental company for you in North America, we compare different car rental offers for you on our website. Discover USA and Canada in a flexible way by rental car. When travelling by rental car, you will witness the vastness and diversity of the North American continent. Whether you're exploring Canada's unspoilt nature or the metropolises of the USA - Driveboo.com offers quality vehicles of various types and models at all major airports for your trip through North America. Choose your desired rental location from the multitude of stations on offer and arrange your travel route individually and independently with the car of your choice.
Major airports in North America
Discover the sights of North America with a rental car
Who doesn't dream of the feeling of freedom that a road trip on Route 66 brings? On the almost 4,000 kilometre stretch from Chicago to Los Angeles, the world-famous road leads through eight states, past skyscrapers, forests and the desert. North America impresses with breathtaking natural sites, such as the Niagara Falls in the Canadian province of Ontario or the panorama of the Rocky Mountains in the west of the continent. In contrast, a stay in the American city of superlatives, New York City, also offers an unforgettable experience. As a melting pot of different cultures and mentalities, it provides a unique atmosphere. With a rental car, you can easily cover long distances and plan your trip flexibly at any time - whether city trip or round trip. The sunny state of Florida is also particularly popular. Here you can rent a car in Miami.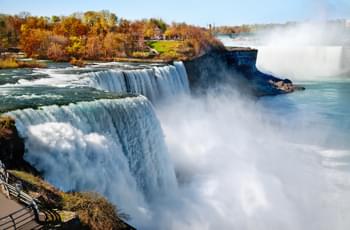 Niagara Falls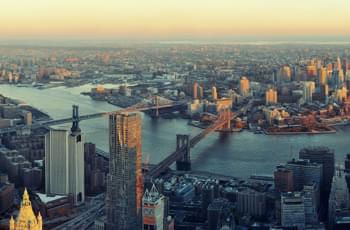 New York City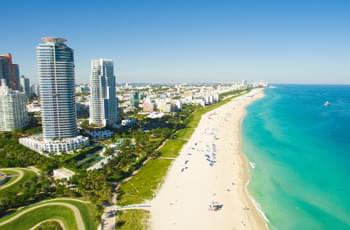 Miami Beach
WITH THE RENTAL CAR THROUGH ALASKA
Alaska is the 49th state of the USA and only became part of the USA in 1959. For its large area Alaska has especially few inhabitants, which is why there are hardly any public means of transport. If you want to travel through Alaska you need your own car. Especially a stable rental car with all-wheel drive and a very good insurance is recommended. When driving through Alaska, watch out for wild animals that cross the streets. Elks in particular, with their speed, mass and size, are a danger to motorists.
ROADTRIP FROM NEVADA TO CALIFORNIA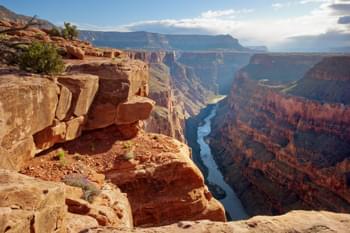 Grand Canyon National Park
A popular tourist route is the Pacific Coast Highway in California. However, if you have a little more time, we recommend flying to Las Vegas. Rent a car at the airport and drive to your hotel in the city. Spend 2-3 nights in a city that never sleeps, take a stroll through the elaborately designed hotels, each with a theme, and watch one of the world famous shows in the evening. With your rental car you can take a trip to Red Rock Canyon. This is only 20 minutes away from the city. There are beautiful hiking trails and you can escape the hustle and bustle of the city for a few hours. From Las Vegas you can continue to one of the most famous natural spectacles in the Americas. In just under 4 hours you can reach Flagstaff in Arizona by rental car. On your way there, stop at Hoover Dam, right on the border between Nevada and Arizona. It's worth spending 2 nights in Flagstaff. From here you can reach the Grand Canyon in a short time. After that, continue your road trip to California, San Diego. From here you can take the famous Highway 1 up towards San Francisco, to the Golden Gate Bridge, and make any stops you like.
BEAUTIFUL DESTINATIONS ON THE EAST COAST OF AMERICA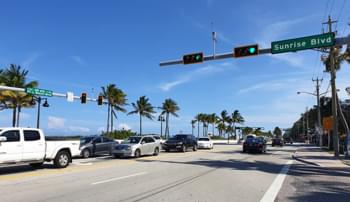 Fort Lauderdale by rental car
Visit the following cities with a cheap rental car:
What do you need to consider when renting a car in North America?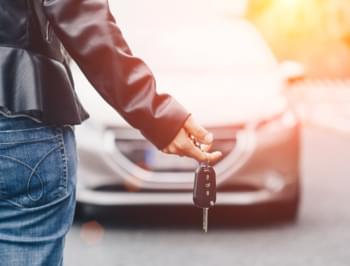 Rent a cheap rental car to explore the United States. North America is one of the world's most popular destinations for road trips. In order to guarantee a good price, we recommend that you book your rental car as early as possible. Thanks to early booking you benefit from lower prices. In addition, we recommend that you rent your car directly at the airport, so you can get into your rental car right after your flight and start your tour around the country. To rent a car in North America, it is recommended that you have an international driver's license. The traffic regulations in the USA and Canada are similar to those in Germany and are strictly controlled especially on the highways. A strict speed limit applies here. More than 120 (USA) or 100 (Canada) kilometres per hour may not be driven on multi-lane motorways. In North America there is also no right before left rule. At so-called 4-way signs the car that was first at the intersection is allowed to drive first. It should also be noted that the majority of vehicles in the USA and Canada are equipped with automatic transmissions.
What are the differences? Rental car Canada or rental car USA?
Driveboo tip:
Whether the rental car is allowed to cross the border between Canada and the USA can be found in the respective rental conditions of the provider.
* Example at State California. Regulations vary by state.
** Depending on the age of the driver.
This should be noted:
In the USA, speed limits are indicated on road signs and on the speedometer of the rental car in miles per hour. In Canada, on the other hand, it is expressed in kilometers per hour.