Car rental at Miami International Airport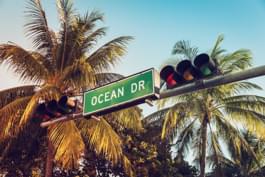 Discovering Miami
Would you like to explore Florida with your own rental car and arrive at Miami MIA airport? Then rent your cheap rental car directly at the airport from one of the ten or more car rental companies. Compare car rental companies at Miami airport with Driveboo from your home and book your car rental as soon as possible so that you don't have to search for a rental car after your arrival.
Car rental counter at Miami Airport
Due to its size and the high number of passengers involved, the car rental counters are not located in the airport building, but in the so-called MIA Rental Car Center on 3900 NW 25th Street in Miami. The Center can be easily reached by shuttle service. If your chosen car rental company is not located in this building, you will be picked up by most car rental companies outside the lobby in the building.
Colorful trees in autumn in and around Miami
Autumn is the perfect time for an active vacation in and around Miami. Especially when the heat is not so unbearable in Florida anymore, you should unpack your hiking boots and explore the autumnal landscape. Alternatively, you can take a canoe trip during your fall vacation and enjoy the landscape from the water. If you want to be mobile and flexible at any time in Miami, we recommend a rental car for your autumn trip. You will get it directly after your arrival at Miami Airport. We wish you much fun in Miami in autumn.
The best car rental service for you at Miami Airport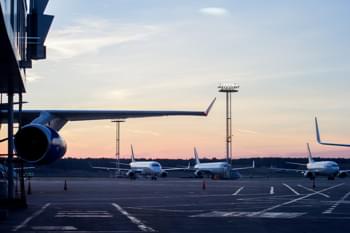 Collecting your rental car at the airport
As at all major international airports, Miami Airport has a large number of international car rental companies. You can rent almost any car from a large fleet of vehicles, from small cars to sports cars. Below we have put together some of the car rental companies that operate a car rental desk in the MIA Rental Service:
Advantage
Alamo
advice
Budget
Dollar
Enterprise
Where's the nearest gas station at Miami airport?
If you have not decided to rent a car with a fair fuel system, you will literally find a petrol station at every corner of the airport. Therefore you don't have to worry where you can fill up your rental car.
Car rental at Miami Airport: Experience Florida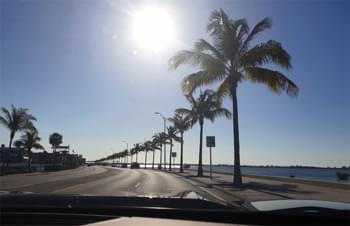 With the rental car to Key West
Have you seen everything in Miami and tried everything? Then it's a good idea to take the rental car to some places of interest or maybe even go on a tour of Florida. An unforgettable experience is a drive with a rental car in the direction of Key West, but also a day trip to the Flamingo Center through the Everglades National Park will surely remain in your memory for a long time. If you're traveling with children or staying young at heart, you should definitely make a detour to Disney's Hollywood Studios or the Universal's Islands of Adventure amusement park near Orlando before returning home.
Rent a car at Miami Airport and drive to Key West
Whether Miami Beach Boardwalk, South Pointe Park or Lincoln Road, Miami is not only a paradise for all water sports enthusiasts and those who want to see and be seen, but also an ideal starting point to travel to Key West by rental car or make a detour to the Everglades. However, before you get started with your rental car, you should definitely take a look at the Holocaust Memorial and go to one of the stylish restaurants in the Art Deco Historic District.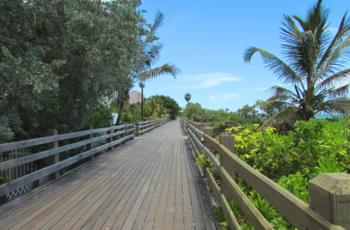 Boardwalk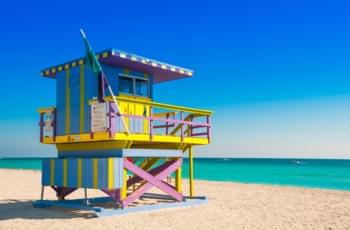 Beach in Miami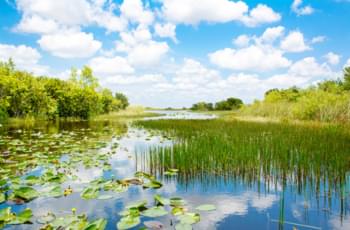 Everglades National Park
If you are planning a tour of Florida or maybe just a few excursions, we have put together a few kilometres to help you plan your trip:
Traffic connections at the airport - always mobile
Due to the optional location of the airport in the heart of the city, you can reach the city center with your rental car in just a few minutes. But if you don't want to get behind the steering wheel of your rental car right after your arrival, you can of course also take one of the taxis on your way. You can also reach the city center by Metrorail train, Miami Beach Bus, Tri-Rail or Metro Bus by following the purple signs at the airport. Current departure times and schedules can be found on the airport's website.
Our tip: You can reach the building of the car rental companies with the so-called "Mover", whose departure stop is located on the third floor between north and south terminal.
Miami Airport - eating, relaxing and shopping
At Miami Airport, the third most important international airport in the United States, you will find a whole range of international restaurants in addition to bookstores to start your flight relaxed. However, if you are looking for a certain branded product in one of the duty-free shops and are under a little time pressure when you take off, it is advisable to have a look at the website of the airport where you can take a look at which terminal is which shop.