Discover Malaga with a rental car
With Driveboo, you can easily compare different car rental offers in Malaga and choose the one that best suits your needs. Malaga is the unofficial capital and heart of the region of Costa del Sol in the autonomous community of Andalusia. The area is known for its scenic beaches, breath-taking landscapes and friendly people. Driving in Spain with a rental car is simply a pleasure — the roads are newly built and safe, and take you straight to the door of the best accommodations, restaurants, cafeterias and rest areas. Even the smallest towns in Spain have ring roads. What is more, there are no holes or bumps, all the roads are well marked, and all the traffic signs are extremely clear, even for tourists with zero knowledge of Spanish. Ready to go?
Advantages of a winter vacation in Málaga
We tell you why a trip to Málaga in winter is definitely worth it:
Even in winter, the temperatures in Málaga are still pleasantly warm, so you can make many trips with a rental car.
Since not so many tourists travel to Málaga in the off-season, both accommodations and rental cars are cheaper.
In winter, you won't have to wait in line for long at your favorite sights in Málaga.
Enjoy the pleasant rays of the sun on your face - even in winter.
Where can I rent a car in Malaga?
In Malaga and its surrounding areas, you'll find over 20 car hire companies. You can also rent a car at the Costa del Sol Malaga Airport (AGP), located just 13 km from the city center. This is definitely the most convenient option for those traveling by plane. At the airport, you will be provided with a wide choice of rental cars, tailored to many different needs. You can rent a small Coupé or a large SUV — the options are endless! The desks from which you can collect your rental car are located in the Baggage Hall at carousel 31.
Insurance for your rental car in Malaga
Car rental companies in Spain are required to provide insurances for your rental car. For your own protection, you should opt for the full insurance without non-waivable excess in case of an accident, damage or theft. Your rental car also needs a third party liability coverage.
Driving a rental car in Malaga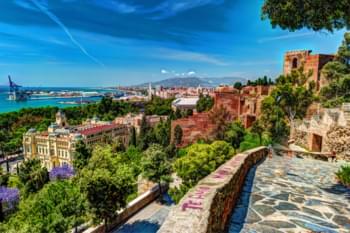 Exploring Málaga
All driver's licenses issued in the European Union are valid in Spain. In Spain, it is only necessary to pay a toll on motorways. Tolls are collected at toll gates and the amount depends on the category of the vehicle and the length of the journey. There is no need to buy a toll sticker. You can pay with cash or use your credit card. It is also possible to use a payment system, known as "Via-T", which allows you to pass through toll gates without stopping. However, it is only really suitable for those who frequently drive in Spain. The average price while driving a rental car is € 9.5/100 km.
What should I consider when driving a rental car in Malaga?
The legal limit of blood alcohol concentration in Spain is 0.05% (breath alcohol content: 0.25 mg/l), and 0.03% (breath alcohol content: 0.15 mg/l) for drivers with less than two years of experience. Exceeding this limit may lead not only to a high fine, but also to a driver being arrested and taken to the nearest police station. The driver and any passengers occupying the front and rear seats of the vehicle are all required to wear seatbelts. Law enforcement officers can fine a driver or passenger for not wearing a seat belt with a ticket of about 90 Dollars per person. If you park in an unauthorised place, you can expect a penalty of up to about 300 Dollars.
Enjoying Malaga's surroundings with a rental car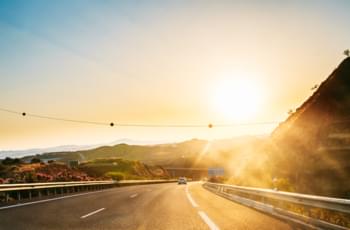 Exploring Malaga by rental car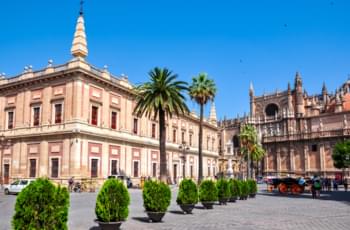 Visiting Seville
Have you spent enough time sunbathing and enjoying the beach? Do you long for a little adventure? Then you should definitely take your rental car on a discovery trip along the Costa del Sol. Your first stopover should be Marbella, where you can mingle for a day with the rich and beautiful. Sierra de las Nieves, with its snow-capped mountains, numerous small and deep green lakes, and beautiful watercourses, is also definitely worth a visit. From here, you can enjoy breath-taking views of the Mediterranean Sea.
The Castillo de Colomares, near Torremuelle, or the Castillo de Sohail in Fuengirola, where various cultural events, markets and concerts are held, are also great destinations for a day trip. If you prefer to visit Motril and Almería Nerja Caves and the Sugar Museum in Motril before heading to Granada, Cordoba and Sevilla.
Our tip: If you travel without a lot of luggage, you can rent a small car or a convertible, for which you can always find a shady spot in a car park or enjoy the spanish fresh air.