Rent a car in Andalusia and discover the region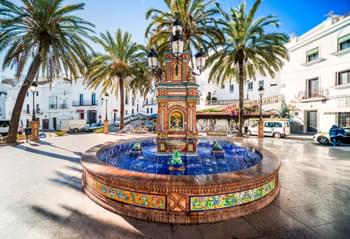 Vejer de la Frontera, Brunnen
Andalusia is a highly popular region for rental car travelers of Spain and is also most populated autonomous community of the country. There are a number of interesting sights and attractions in the region, which can be easily reached with a rental car. On Driveboo, you can compare many offers of different rental car companies, choose one and book it directly online. With our help, you can quickly and easily find a cheap car for your trip through Andalusia.
What should I do in Andalusia during winter?
Travelling to Andalusia is always a good decision. There is art, culture, good cuisines, sports... and good weather. There are many things you can do and see in Andalusia. It doesn't matter whether it is summer, winter, autumn or spring. Renting a car and driving around Andalusia is fun all year round! If you prefer winter sports, visit the Sierra Nevada. If you prefer warmer temperatures and water sports, visit Marbella and the entire Costa del Sol. If you love the mountains and the rain, choose Grazalema as your winter destination. There is something for everybody. Reach all destinations quick and easy with your rental car booked on Driveboo.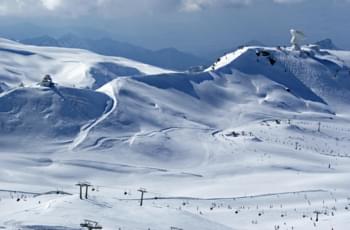 Sierra Nevada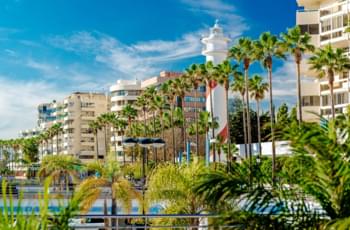 Marbella
Where is the best location to rent a car on Andalusia?
Like thousands of other travellers, you will probably arrive in Andalusia by plane. Therefore, the best solution for you will be to rent a car directly at the airport. Andalusia has 6 airports, with Malaga-Costa del Sol Airport in Málaga being by far the largest.
Malaga Airport (AGP)

Córdoba Airport (ODB)
Driving a rental car in Andalusia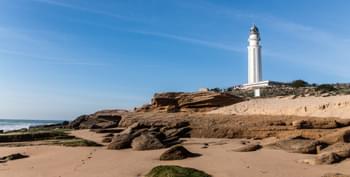 Beach in Andalusia
Spain is known for its wide beaches, hot summers and mild winters. The capital city of Madrid is both the political and cultural center of this largest country in the Iberian Peninsula and is located right in the heart of Spain. Madrid is also the hub of the Spanish road network. Spain has around 160,000 kilometres of roads. The main highways require tolls, but they are also very well maintained. You should know, that the southern temperament of the Spanish people is also reflected in the driving style on the streets. If you're traveling by car in Spain, do not be surprised if things get chaotic or heated at times. To drive a rental car in Spain, you must be at least 21 years old (it may vary by vehicle category) and have been in possession of a driver's license for at least one year.
Which rules are there in Spain?
All car hire companies in Spain provide insurance for the cars that they rent. In order to ensure full protection of yourself and your passengers, you should choose full insurance. This insurance covers accidents, theft, and damage. The car will also need third party liability insurance coverage.
Be aware that there are different parking zones in the cities. Yellow means that parking is forbidden. Blue means that short-term parking is permitted for max. 2 hours.
Travel through Andalusia with a rental car
Cadíz, Andalusia
If you drive with your rental car through Andalusia, then you should absolutely pay Almeria a visit. Almeria is not only a port city, but also the capital of the province of the same name. The province is one of the sunniest areas of Spain and has an average temperature of 18°C, rising to 25°C in the summer months. Its wonderfully clean and clear water is ideal for swimming. In addition, the beaches in Almeria are beautiful. Once there, you can not only swim, snorkel and dive, but also pursue other sporting activities, such as horse riding, parachuting, climbing and golfing. The province of Almeria is one of the most beautiful areas of the country. From there, you can also take a trip with your rental car to Gibraltar.
Take your rental car and travel to Seville
When renting a car in Andalusia, you should not miss the capital city of Seville. It is the fourth largest city in the country. Seville can be confidently called the "heart of the Andalusian culture." It is the center of the famous bullfights and traditional Spanish dance, flamenco. The streets of this beautiful city are filled with hustle and bustle, wonderful shopping opportunities and a variety of restaurants, cafes and bars. After a trip through Seville, you can take your rental car to Málaga and to the famous Sea Life aquarium in Benalmádena.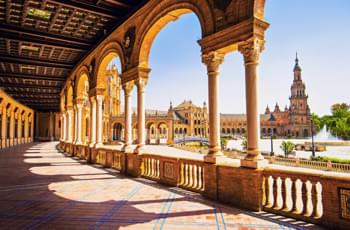 Seville
Málaga
Go to Málaga with your rental car and enjoy its impressive sights
When you drive your rental car through Andalusia, you should not miss the opportunity to visit the impressive city of Malaga. One of the most interesting sights of the city is the Alcazaba, a Moorish fortress dating back to the eleventh century, and the Cathedral of Malaga. The latter was built in 1528 by Christian conquerors over the local Grand Mosque. There are also many interesting museums in Malaga. These include the Museo del Vino, Museo de Arte Flamenco and the Museo Picasso. Following your visit to Malaga, it is best to drive your rental car through Andalusia to Granada. There, you will find another impressive cathedral that you should definitely visit.