Almería Airport (LEI) rental car booking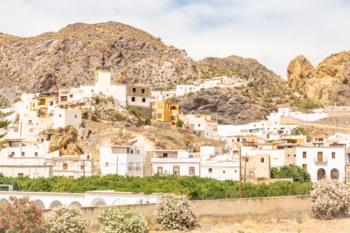 Sierra Nevada in Almeria
Explore Almería in Andalusia with your own rental car and experience an unforgettable vacation. From the comfort of your home you can reserve your vehicle and then pick it up at Almería Airport (LEI). Thus, you are flexible right from the start and can enjoy your trip carefree. The airport Almería is located directly near Almería city and is only 9 kilometers away. By rental car you can reach the city in less than 15 minutes. So if you have booked accommodation in Almería, you can reach your destination directly. Through Driveboo.com you have a wide selection of vehicles to choose from so you can find the right vehicle for your trip.
Explore Andalusia by rental car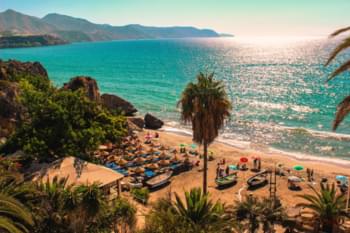 Explore Andalusia
What better way to explore Andalusia than with your own rental car? A trip to the Costa del Sol or Costa de la Luz is an ideal opportunity all year round to get to know Spain better and enjoy an unforgettable vacation. Book your accommodation in Almería and explore the rest of Andalusia comfortably by rental car. You are so flexible on the road and can already reach several sightseeing points in one day. In Andalusia you can expect great beaches, untouched nature as well as impressive landscapes. In addition, you will get a good historical insight into Spain's past during your trip. Your trip should also include culinary specialties and wine from the region.
Which insurance for my rental car?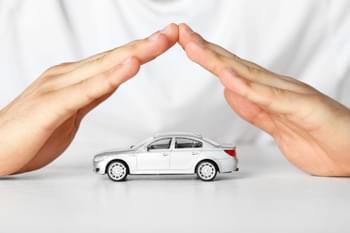 Insurance for your rental car
Which insurance is the right one for a trip with the rental car to Andalusia? Via Driveboo.com you have the possibility to add the insurance already at the time of booking. We recommend in principle a fully comprehensive insurance without excess. You are completely covered in the event of damage and you do not incur unexpected costs. The fee for the insurance may seem a bit high at the beginning, but you are definitely on the right side with the appropriate insurance. After all, an accident or major damage to the vehicle can quickly cause higher costs, which you then have to bear. In addition to comprehensive insurance, underbody and tire protection insurance may also be of interest to you. If you plan to spend a lot of time outdoors with your rental car and also travel on roads that are not asphalted, you should think about this insurance.
Pick up a rental car at Almería Airport
Almería Airport is located only about 10 kilometers from downtown Almería. So, if you arrive by plane, you can pick up the rental car directly at the airport and then start your trip. If you have booked accommodation in Almería, you will be able to reach it in under 15 minutes. Almería Airport has a wide range of rental cars that you can book in advance from the comfort of your home. Not only is the supply higher at the airport than in most city center rental locations, but the prices are often lower as well. This way, you can also save on your booking when you book at Almería Airport.
You can find the following car rental companies at Almería Airport:
Avis
Budget
Europcar
Keddy
Sightseeing in Almería: what can I do?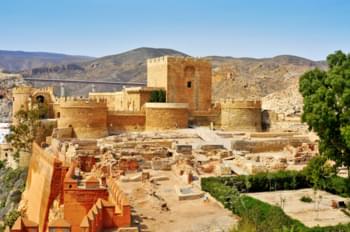 Alcazaba
Almería is located between the larger cities of Murcia and Málaga, on the Mediterranean coast of Spain. The location could not be better: situated on the famous Costa del Sol, Almería is the ideal starting point for visits to the surrounding area that you can do with your rental car. For example, those interested in bullfighting culture can visit the oldest bullring in the province of Almería, located in Vera. For a combination of beach visit and historical sight, you can drive your rental car to Roquetas de Mar and visit the impressive Santa Ana Castle. But Almería itself also has a lot to offer. Feel free to leave the rental car and explore the city on foot. You can take a stroll through the old town to see the city's famous cathedral or visit the impressive former Moorish fortress, the Alcázar de Almería.
Other places of interest in Andalusia
Almería and also the surrounding area on the Costa del Sol is a perfect destination with a rental car. The sights are not too far from each other and every few kilometers of driving you will find a great village or an interesting attraction that can be visited. Andalusia can impress on the one hand with its history. In some places you can still clearly feel the influence of the Moors, who gave Spain the "golden age" in the 8th century. But also the picturesque beaches and fishing villages have their charm. On a trip through Andalusia you can discover a lot with your rental car.
But which sights should you visit in Andalusia today?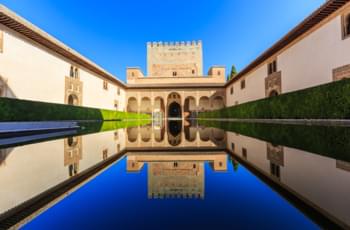 Alhambra in Granada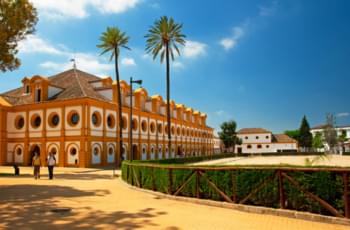 Riding School in Jerez