Car rentals in Iceland: Most popular car rental destinations
Car Hire Iceland - book in advance
Before starting your journey, you should use the Driveboo price comparison service, which will select the most suitable car for you from all offers. Therefore you can book not only cheaply but also safely. Explore Iceland by rental car and experience the impressive nature of the volcanic island. We work with all the major car rental companies in Iceland, allowing you to choose from a wide range of products. Simply select the vehicle category that best suits your needs. Rent a small car in Iceland if you are looking for a cheap price or an SUV if you want to travel further inland. We recommend that you book your rental car as early as possible, as prices are usually much more expensive for spontaneous on-site bookings. Therefore, it makes more sense to find out beforehand and book a cheap rental car by comparing prices at Driveboo.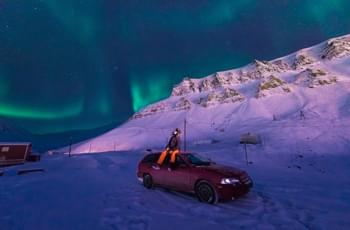 Northern Lights of Iceland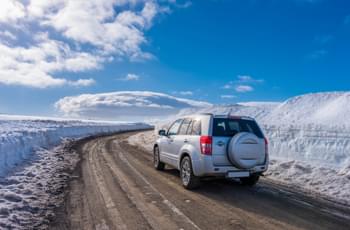 Explore Iceland
Car Rental Iceland: The largest volcanic island in the world
Explore the volcanic island with a rented car and discover the beautiful landscapes of Iceland. In our online price comparison you will find car rentals for Iceland in different vehicle categories. If you want to explore nature you can rent an SUV in Iceland. Compare the offers of different car rental companies in Iceland and benefit from cheap rental cars. Iceland has even more to offer than an enthusiastic football team and nation. Iceland, the land of rivers, hot springs and fabulous creatures is fascinating and the locals are always friendly. A round trip with a rental car through Iceland is therefore perfect, because the landscape is absolutely breathtaking.
Rent your car at the airport or in the city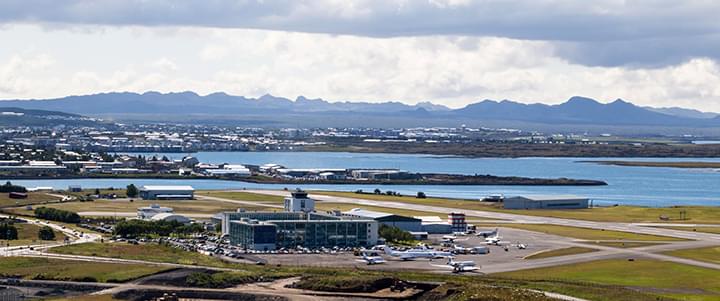 View on Reykjavik Airport
A popular pick-up station for renting a rental car for Iceland is Reykjavik Airport (KEF). Depending on your travel plans, you can also start your rental car journey through Iceland directly at the airport in Reykjavik. The airport is conveniently connected to the road network and so you can travel along the coast towards Reykjavik, the capital of Iceland as your first stopover.
Other airports in Iceland are:
Discover mystical places with a Rental Car
Bizarre laval landscapes, fantastic fjords and crystal-clear lakes can be reached quickly and easily in Iceland with a rental car. In summer there are pleasant temperatures here, but even in winter it is often not colder than minus 5° Celsius. And especially during a winter holiday, the mystical place can have a real effect on the traveller.
Driveboo tip:
If you are planning to rent a car in Iceland during the summer months, we recommend that you always take a small tent with you in your rental car. This way, you have the possibility to stop and spend the night wherever you like. Camping and staying overnight in a car is allowed in Iceland - the tent can be set up anywhere and nature lovers and campers can experience Iceland in an individual and original way.
Rent a car and experience Iceland's breathtaking nature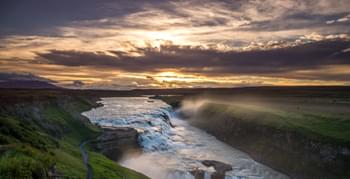 Gullfoss waterfall
Those who take a tour of Iceland will soon realize that not the things built by the people with their hands are the special thing about this country, but the many natural spectacles that this island state has to offer. The Gullfoss waterfall is fascinating. Probably the most famous waterfall of Iceland and also known as the golden waterfall is located in the southwest. Here, a 32-meter high and double waterfall awaits the traveller with a fantastic panoramic view. It has its nickname because of the rainbow that forms when the sun shines over the water. The special thing about the Icelandic waterfalls is that they all crash into canyons that have been dug up over millions of years by the powerful water masses.
Explore the Jokulsargflur reserve by Rental Car
Further away from Reykjavik in the northeast of Iceland, near the small town Grimsstadir there is a reserve of Jokulsargflur. Here you can admire the longest gorges on Iceland as well as the strongest waterfall in Europe. The gorge of Jöksula is 25 km long, the Dettifoss waterfall can be admired in a width of 100 meters and a height of 44 meters. Before you get there you have to cross a grey moonscape, which takes about 20 minutes on foot. Other smaller waterfalls complete the fascinating picture. A description of these enchanting landscapes in Iceland is difficult, so every traveller should get an idea of this almost undiscovered place.
Car Rental Iceland: What do I have to keep in mind?
This must be observed when returning the rental car:
When returning your rental car to Iceland, simply follow the terms of the rental agreement.
Whether you want to drop off your rental car at the airport or at one of the stations in and around Reykjavik - make sure that you keep to the drop-off point, time, date of return and drop-off point as stated in your individual offer.
Simply start the Car rental price comparison and convince yourself of our special offers. With your rental car you are flexible and independent - so you can discover Iceland and its impressive highlights at your leisure.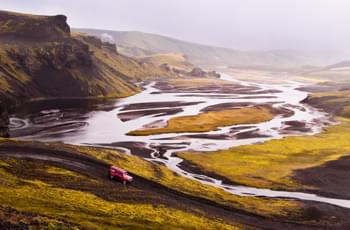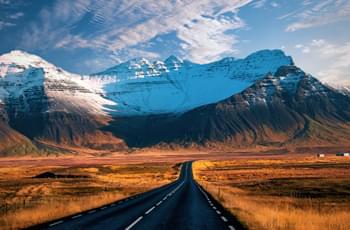 Car Hire Iceland: Culinary specialities
Iceland is fascinating not only for the eyes, but also the culinary highlights must not be ignored during a round trip over the island. Fish in particular is offered here in all conceivable forms and dishes. And there are mainly cereal and dairy products as well as potatoes and cured, dried, soured or pickled meat on the menus. Fresh vegetables and fruit were not common in the barren landscape of Iceland in the past and can only be grown since the construction of greenhouses on the island. But the restaurant offers on Iceland have become very varied these days, because American fast food chains and Asians have become established here too.