Discover Tenerife by rental car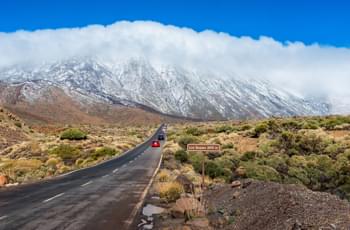 Teide National Park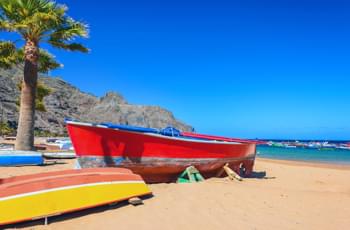 Playa de las Teresitas
Compare offers for rent a car in Tenerife and find the best deals for you. Driveboo works with all major car rental companies in Tenerife. Thanks to our transparent price comparison you will find a cheap rental car at Tenerife airport or at another pick-up point on the island. If you book your rental car for Tenerife from your home country, you will save time and money during your holiday in the Canary Islands. Do you have any questions about car hire Tenerife? Then do not hesitate to contact our service team by chat or phone!
The Spanish island of Tenerife is the largest of the Canary Islands. Tenerife is 83.3 kilometers long, up to 53.9 kilometers (east-west extension) wide and covers an area of 2034.38 square kilometers. With about 1.000.000 inhabitants, Tenerife is the most populous island of Spain.
Similar to Mallorca, Tenerife attracts thousands of tourists from all over the world every year: Tenerife not only attracts visitors with its wonderful beaches and historical treasures such as the old town of La Laguna, but also with its impressive splendour of unique natural spectacles. If you want to explore Spain's island on your own initiative and independently of public transport, you are on the road with a rental car. A suitable rental car for Tenerife is not only easy to find, but you can also book a cheap rental car through Driveboo.com. With the practical comparison calculator you can choose the best offer for you from a variety of offers.
Car rental Tenerife: Rent a car after landing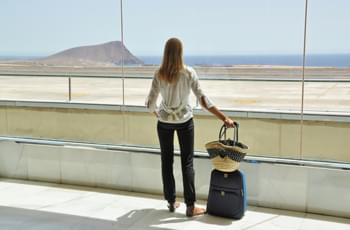 After landing on the sunny island of Tenerife, it is particularly comfortable to get into the high-quality rental cars of a reliable car rental company right after landing on the sunny island of Tenerife. This is possible at the two airports of the largest holiday island in the Canary Islands - Los Rodeos / Tenerife North (TFN) and Reina Sofia / Tenerife South (TFS). Here tourists can also rent a car spontaneously, but it is recommendable to book the rental car here already comfortably from home. Simply enter the desired airport as a pick-up point for the rental car in the search form and use the practical overview to find the best offer for you.
In spite of the size of the island, holidaymakers can not only quickly and cheaply reach every corner of Tenerife by rental car, but also get to every desired spot of Tenerife at a reasonable price: the southern and northern motorways not only offer two well-developed expressways, but also many smaller traffic routes that quickly lead to the capital Santa Cruz de Tenerife, to the picturesque coasts or into the picturesque interior of the country. All this is possible with a rental car - without having to study the departure schedules of public transport and without having to pay attention to existing connections.
Rental car Tenerife: Comfort begins with the trunk
The rental car of the Tenerife car hire company pays for itself for the first time when you land at the airport. For the transfer to the chosen hotel on the island of Tenerife, holidaymakers do not need a taxi, but arrive comfortably in their own rental car, which can easily carry all luggage for a pleasant holiday in the trunk.
Also with regard to personal holiday needs, a well-positioned car rental company offers the appropriate vehicle at a reasonable price. Those who need a lot of space for a family with children can also rent a suitable car as well as the holidaymaker who needs space for the diving equipment in the rental car, with which he or she can explore the underwater world with all its fascinating sea inhabitants off the impressive cliffs of Los Gigantes.
The interior of the chosen vehicle also offers plenty of space for a wide range of activities: the picnic basket for a trip to the National Park Parque Nacional del Teide can be accommodated in a rental car just as easily as the trekking poles for a hike in the hinterland or the swimsuits for a spontaneous jump into the refreshing floods under the sun of Spain.
Tenerife round trip: explore the island by rental car

Playa de las Américas
Especially during a round trip through this enchanting part of Spain, booking a rental car at a local car rental company pays off. For a classic itinerary through Tenerife, travelers must take the complete package as it is offered to them by the tour operator at home or on the island.
On the one hand, everyone on the tour of Tenerife can combine impressive natural beauties, lively tourist towns and quiet villages to create a program of sightseeing that really interests them. On the other hand, there is another decisive advantage for everyone who rents a car: You don't have to leave a place where you would like to stay, because the program for the travel group makes this possible. Anyone who has fallen in love with a certain stretch of coastline or beach on Tenerife, who wants to enjoy the steep gorges of this beautiful island in peace and quiet or who simply wants to stay in a charming village on Tenerife can do so with a rental car. Wherever it is particularly beautiful, you just stay a little longer than you might have planned in advance. This makes your holiday particularly enjoyable and an unforgettable experience.
Explore Tenerife by rental car
With the rental car you can explore the sights of Tenerife very comfortably. The service of a fully equipped car rental company allows you to rent the car that suits your individual needs best. If you want to drive through more pristine terrain, for example, because you want to visit the Hell Gorge Barranco del Infierno or the volcanic crater in the Teide National Park, choose an off-road rental car such as a jeep or SUV. For families who would like to enjoy a holiday in Tenerife and sometimes want to make a detour into the untouched nature, there are spacious estate cars in the wide range of a modern car rental company.
Hell Canyon in the National Park Barranco del Infierno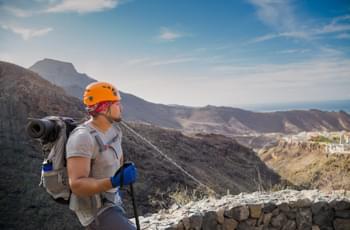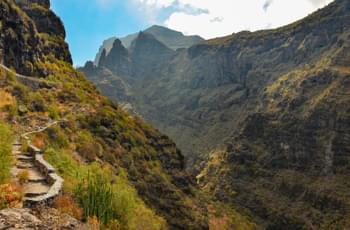 For all other travellers, a small car might be sufficient. If you like to discover unique cities and villages with their sights, you can choose a small and agile car from the selection of car rental companies, which you can also book at a very reasonable price. These rental cars are perfect for sightseeing, for example in the charming old towns of La Orotava or La Laguna, which is a UNESCO World Heritage Site. From La Orotava you can make a detour to the valley of the same name, park your rental car in an idyllic spot and relax.
Also for a small, individually arranged tour to the most important sights of Tenerife, holidaymakers can book a rental car. Here you can visit the dragon tree of Icod de los Vinos, the pyramids of Güímar or of course the lively capital Santa Cruz de Tenerife. If you want to be physically active during your rental car trip, you can hike around the bizarre Roques de García rocks, walk through the Botanical Gardens in Puerto de la Cruz or take a walk through the Anaga Mountains. Impressive buildings in the island's capital, such as the Natural History Museum, the Parliament of the Canary Islands or the modern Auditorio concert hall with its futuristic appearance, are also easily accessible by rental car.
Rent a Car Tenerife: Experience the Spanish Flair
Many holidaymakers also book a vehicle at a car rental company to be close to the country and its people and to get to know a foreign culture. Here, everyone is completely independent of the conventional public transport routes. This means that it is possible to rent a car at any time and at a reasonable price to make a small detour to less developed areas of the country. This makes it possible to have a chat with locals on a traditional village square, to attend island festivals or simply to visit a quiet spot to enjoy a well-deserved break from the hectic pace of everyday life.
Car rental as a professional partner
A car rental company with expertise and experience is the right partner for a high level of travel comfort. With regard to the suitable car rental for Tenerife, you can get an overview of the appropriate vehicle category here. For driving under the sunny skies of Spain, every car rental company offers a large fleet of vehicles, where every car to be rented is regularly serviced, carefully checked for road safety and kept very clean. Also with regard to the necessary insurances, which one must conclude, if one would like to book a rented car, the holidaymaker is comprehensively advised in a respectable car rental.
Comparison calculator for car rental in Tenerife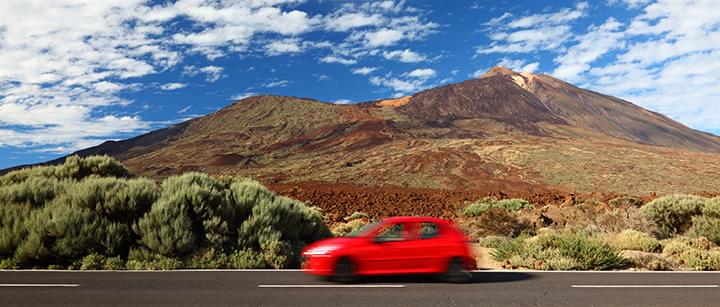 At Driveboo.com you can compare the offers of local car rental companies with just a few clicks. A practical filter function on the portal makes it possible to make a pre-selection. For example, travel enthusiasts can find out in advance of their trip to the Canary Islands which vehicles are actually available for the desired travel period on holiday in Tenerife. The comfortable comparison function supports future Tenerife holidaymakers to search conveniently from their home computer and independently of the opening hours of a car rental company for offers that are particularly inexpensive and thus noticeably reduce the travel expenses.
Tenerife is a very special part of Spain due to its varied mixture of natural beauties, architectural sights and charming cities. A rental car is ideal for an extensive voyage of discovery that allows for individuality and guarantees independence from local means of transport. With a car you can explore the largest of the Canary Islands on your own. The size and condition of the rental car can be chosen according to the needs of the traveller. The team of the respective car rental company will inform you about the necessary insurances or requirements regarding the duration of the validity of the driver's license.
The rental car does not only create independence in terms of time and space, but also offers a high level of comfort in terms of luggage, swimsuits and sports equipment. Depending on the type and taste of your holiday, you can choose between a sporty, a small and agile model as well as a particularly off-road model for the Tenerife trip. With the practical comparison calculator at Driveboo.com, the right rental car is just a few clicks away and can be booked online at affordable prices.
Cheap Car Hire in Tenerife: Rentals and Fees
The following must be observed when returning your rental car: When you return your rental car to the local rental company, you simply follow the contractual rules laid down in the rental terms and conditions. No matter at which station on Tenerife you want to drop off your rental car, make sure that you keep to the drop-off point, return time, return date and return station - as listed in your individual offer.
Simply start the Car rental price comparison and convince yourself of our special offers. With your rental car you are flexible and independent of public transport.
If the trip is suddenly cancelled, the rental car reservation can be cancelled free of charge up to 24 hours before the start of the trip.