Car rental Los Cristianos: Experience Tenerife up close
Your next trip should go to Los Cristianos on Tenerife, but you could not yet decide on a suitable rental car, yet? We can help you with that. On our portal you will find car rental providers in Los Cristianos and compare prices. Using the search filters you can enter your wishes for the perfect rental car and book your model directly. Look forward to beautiful beaches in Los Cristianos and a varied landscape when you explore the whole of Tenerife. With a rental car you are always flexible and independent in Los Cristianos.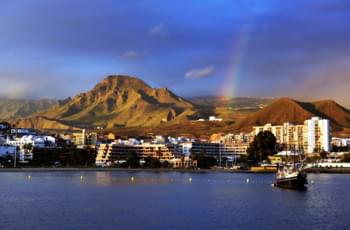 Rainbow over Los Cristianos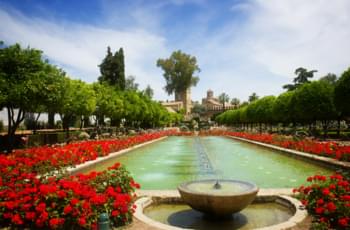 On the road in Los Cristianos
Los Cristianos at night
Things to know about Los Cristianos in Tenerife
Los Cristianos is located in the province of Santa Cruz de Tenerife. If you are looking for lots of sun, Los Cristianos on the southwest coast of Tenerife is perfect. Here you can perfectly swim in the sea and relax on the beach. At the harbour a wide promenade leads along the beach and at a nearby market you can buy clothes and handicrafts in Los Cristianos. If you take a rental car, you can easily explore not only Los Cristianos but also the surroundings.
Summer in Los Cristianos: The perfect travel time
Summer in Los Cristianos
The perfect travel time for Los Cristianos in Tenerife is in summer. Summer in Los Cristianos means full sun and pure relaxation on the beach. Stroll along the promenade and enjoy the summer temperatures in Los Cristianos. The weather is constantly warm in the summer months and invites you to do water sports or just relax. If you would like to go to the surrounding villages in summer, we recommend renting a rental car. This way you are always flexible and do not have to wait for public transport.
Follow the traffic rules on Tenerife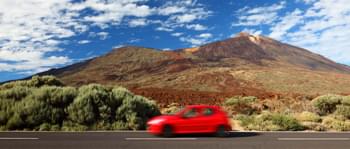 Discovering Tenerife by rental car
Right-hand traffic
Speed limits: 50 km/h in towns, 90 km/h outside towns, 120 km/h on motorways
Telephoning only with hands-free car kit
Blood alcohol limit: 0.5 per mille
Emergency numbers: 112 for police, ambulance and fire brigade, 900 112 222 for breakdown service
Which rental car models can I choose in Los Cristianos?
Rental car model
Are you travelling with the whole family in Los Cristianos on Tenerife? Then choose a minivan as your rental car. There is guaranteed to be enough space for everyone. On the other hand, if you are travelling to Tenerife with your new lover, then you can trump with a luxury car. If you want to feel the wind in your hair, you can opt for a convertible. As you can see, Driveboo.com has the right model for every taste.
EQUIPMENT FEATURES
In addition to the appropriate rental car model, you can also select other equipment features, such as air conditioning, four-wheel drive or automatic. This way you can make sure in advance that your rental car fits perfectly to your wishes and needs in Los Cristianos.
INSURANCE SERVICES
Fully comprehensive insurance without excess
Tyre insurance
Roof and underbody insurance
Passenger insurance
With the rental car to the highlights in and around Los Cristianos
In the following table you will find an overview of the most popular sights in Los Cristianos and its surroundings. In addition, we give you the distance from the city center by rental car to the respective highlight.