Rent a Car at Malaga Airport AGP
You are landing at Malaga Airport (AGP) and would like to explore Malaga and Andalusia with your own rental car? Then you could rent your rental car directly at the airport from one of the seven car rental companies to be mobile with your own car right after your arrival. Compare the offers of all car rental companies in Malaga airport with Driveboo before you start your trip.
Arriving during Winter in Malaga to seek some sun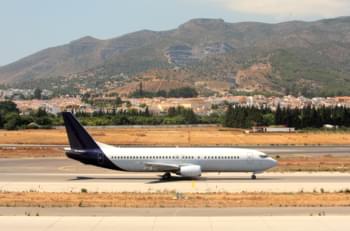 Plane arriving in Malaga
When is the best time to fly to Malaga?
Malaga is throughout the whole year a good destination. Especially during the winter months it is the perfect escape to seek some sun. The location of Málaga enables, even during the coldest season, warm temperatures and many hours of sunshine. Combined with the cheap prices and a personal rental car, it is perfect for explorations.
Our advice: no matter when visiting Malaga, you should compare your rental car booking with Driveboo to get the most out of your journey. Save up to 60% by comparing and booking it in advance with us!
Where can you find the car rental counter at Malaga Airport?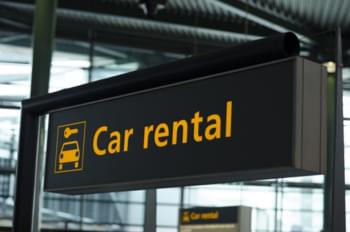 Rental car pick-up directly at the airport
Have you booked from home yet? When you arrive at the airport, you are guaranteed not to go out empty-handed and will be able to pick up your car rental papers and keys at any of the car hire counters. Those are located between baggage carousels 28 and 31 in no time at all, just a few minutes away from the Malaga Airport car park. Fortunately, at Malaga Airport you will find several world wide operating car rental companies and where you can rent your rental car from an extensive fleet of vehicles on good terms and conditions with various accessories such as a navigation system.
We have put together below a selection car rental companies that have set up their offices at the airport:
advice
Europcar
Hertz
Sixt
Goldcar Rental
firefly
Can I refuel my car at Malaga airport?
Fortunately, there is a BP petrol station at Malaga Airport, where you can fill up your rental car around the clock, so that you can fill up quickly and easily before returning it to the car rental company.
Rent a car at Malaga Airport and experience the Costa del Sol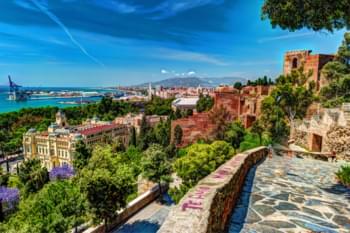 Exploring beautiful Malaga
Take your rental car on a journey of discovery along the Costa del Sol and stop off in Marbella for a day to interact with the rich and beautiful. But also a trip to the Sierra de las Nieves with its snow-capped mountains in winter, the many small deep green lakes and the small watercourses is worth a trip, especially since you can enjoy a breathtaking view over the Mediterranean from here. The Castillo de Colomares, situated south of Malaga, near Torremuelle, and the Castillo de Sohail in Fuengirola, which occasionally hosts various cultural events, markets and concerts, are particularly attractive. If you prefer to drive your rental car in the direction of Motril and Almería, then a detour to the caves near Nerja and the Museum of Sugar in Motril is worthwhile before you start your trip inland via Granada, Cordoba and Seville.
Our recommendation: If you are travelling without large luggage, it is advisable to rent a small car with which you can find a shady parking lot.
Exploring the Costa del Sol by rental car from the Airport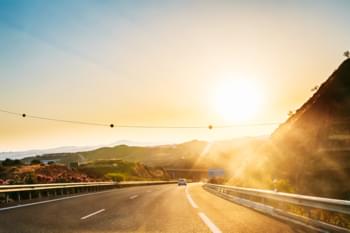 On the streets of Malaga
Have you considered a city trip over a long weekend? Then you have made an excellent choice with Malaga, as you can expect not only a multitude of museums, but also some nice cathedrals, different markets and a beautiful harbour where you can stroll along in the evening.
Interesting facts about the connection to Málaga airport
Thanks to its convenient location on the MA-22 motorway, you can take your rental car directly from the airport to the coastal towns of the regions. If you don't want to pick up your rental car immediately after your arrival, you can of course also take a taxi to the city center and the nearby villages. Alternatively, you can take an express bus every 20 minutes to the city center or take the S-Bahn line C1, which also leaves every 20 minutes during the day.
If you have planned a round trip through Andalusia, we have put together some distances and driving times for you to better orientation:
Malaga Airport - Shopping and eating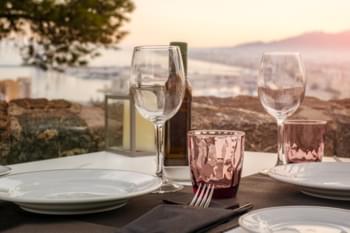 Many food options on the airport
With more than 16 million passengers per year, Malaga Airport with its three terminals is literally "hot" during the summer months. But don't worry, because at the airport you will find a comprehensive range of services, from coffee shops, restaurants to sports shops, boutiques, tobacconist's shops and duty-free shops, most of which are open until 10 p. m., so that even travellers who are late can still get a holiday gift and don't have to board the plane with an empty stomach.