Rent a Car in Chiclana de la Frontera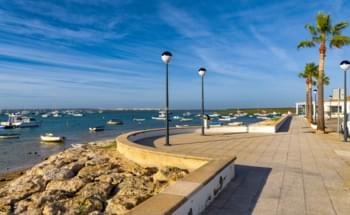 Boardwalk in Chiclana de la Frontera
Chiclana de la Frontera is a city with 83,000 inhabitants in the Spanish province of Cádiz and popular with many car rental travellers. It is one of the up-and-coming spas in Spain. More and more holidaymakers from all over the world are being fascinated by Chiclana de la Frontera. They come here, among other things, because of the many historical sights, the wide range of leisure activities on offer and the variety of landscapes. Of course, the sunny weather, endless long beaches and crystal clear waters are the main reasons for a holiday in the Chiclana de la Frontera region. The nearest international airport is Jerez Airport (IATA Code XRY). From there it is 50 km to the centre of Chiclana de la Frontera, which can be comfortably managed by rental car on a well-developed road. The car rental company at the airport will hand over the rental car to you within a few minutes. You can rent the car before the trip on our transparent comparison portal. From the airport simply follow the A4 to your destination. Below are some interesting highlights that you can easily reach with your rental car.
Spring fever in Chiclana de la Frontera
If your destination for spring is Chiclana de la Frontera, then you have done everything right. Look forward to the first warming rays of sun on your face and a relaxing spring vacation. Since in the low season not so many people travel to Chiclana de la Frontera yet, you can explore the beach and the city in peace. Stroll through the alleys, visit the most popular sights and fortify yourself in one of the restaurants. With such good weather and the charm of Chiclana de la Frontera, spring fever is guaranteed.
Rent a car cheaply before your holiday in Spain
You can compare any car rental company operating in Chiclana de la Frontera on our portal. The broadly diversified range makes it easy for you to find a rental car that meets your requirements. You rent from us not only as cheaply as possible, but with optimum equipment, practical accessories and first-class services. The booking, including all important details, results in a short term stay at the Chiclana car rental. Relevant criteria for renting a vehicle at a reasonable price are listed below.
Extend services to additional drivers for the rental car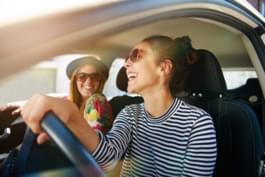 More fun due to the additional driver
If you rent a car at the airport, you should suggest the entry of an additional driver before handover. This gives the second driver the same protection from the insurance company as you. Please do not underestimate the meaning of this formality. If an unregistered driver causes an accident, the insurance cover expires and you bear the entire loss.
Drive cheaply through Spain with one-way rent
You should choose the one-way solution when renting a car at Jerez Airport to travel to Chiclana de la Frontera and leave from another Spanish airport. The car rental is present at both airports, you only have to choose the one-way rental and specify dates for arrival and departure.
Car rire Chiclana de la Frontera - Traffic rules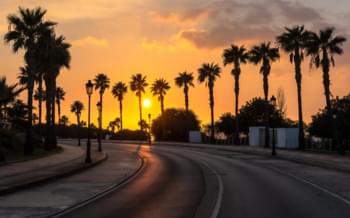 Chiclana de la Frontera by rental car
As a holiday destination, the Spanish peninsula is comparatively cheap, but traffic violations are severely and costly punished. So be careful and defensive with the rental car in Chiclana de la Frontera on the way and save the travel cash.
Maximum 0.5 per mille, beginners 0.3 per mille maximum.
Buckle up on all vehicle seats.
Do not use a mobile phone in a rental car without a speakerphone.
Discover the centre of Chiclana by rental car
On the edge of the old town of Chiclana de la Frontera, you are ideally looking for a designated parking space for your rental car. This is very important because the police have every wrongly parked car fined or even towed away without mercy. During a walk through the narrow alleys many sights are waiting for your visit:
Jesús Nazareno, a 17th century church and monastery.
San Juan Bautista, the parish church was built in the 18th century.
Santa Anna is a 150 year old pilgrimage church.
Explore more highlights of the city and the region
In downtown Chiclana de la Frontera you can also visit the obligatory bullring, several wineries and a doll museum. A few kilometres outside the village of Fuente Amarga is the perfect place for a trip by rental car. Alternatively you could go to the fishing village Sancti Petri.
Playa de la Barrosa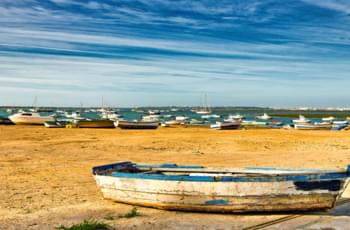 Fishing boat in Sancti Petri
Playa de la Barrosa
The special thing about this beach is its outstanding cleanliness over the entire length of eight kilometers. It is also designed in harmony with nature and has received several awards in this respect. On this beach you will find all the desired amenities, fascinating dune landscapes and multifaceted flora.Here, too, park the rental car only in the designated parking spaces.
Sancti Petri
Fine sandy beach awaits you after a rental car ride to Playa Sancti Petri. From the beach you can also see an island with a 16th century castle. There several concerts take place every season, in which you could participate after translating in small boats.