Discover Orlando by rental car
Renting a car in Orlando is a good idea because most of the city's attractions are not located directly in the city. Although the city offers plenty of theaters, fascinating buildings and shopping centers, Orlando is best known for its amusement parks. With a rental car from Orlando, you can reach one of the 50 theme parks in just a few minutes. The largest theme park in the world, the "Walt Disney World Resort" is located southwest of Orlando. It was opened in 1971 being the first park in the chain and attracts over 52 million visitors a year. With a rental car you can travel independently, and explore the city such as all attractions.
Rent a car in Orlando and explore the area
Car rentals Orlando - Explore the city
Orlando is a big city in the US state of Florida, which is characterized by its wide range of attractions and amusement parks. It is often referred to as the "tourist capital" of the United States. The city attracts more than 62 million tourists from all over the world every year. If you would like to rent a car and discover Orlando, you should take into account the overflow of attractions and sights and maybe consider staying several days or even plan the whole vacation there. The best time of the year for visiting Orlando is spring. The summers can get tremendously hot.
Explore Orlandos' surroundings by rental car
If you want to rent a car and explore Orlando, you should be aware that the city area of about 262 square kilometers stretches through Florida quite extensively. The city with its wide hinterland is located in the east of the state, about fifty kilometers from the coast. However, plenty of lakes on the peninsula and a large number of big, green parks convey a touch of maritime climate. Florida and especially the region around Orlando is a very warm state. Even in December and January temperatures rarely fall below fifty degrees Fahrenheit, snowfall is just as rare and usually not permanent. With a maximum of ninety-one degrees Fahrenheit in the middle of summer, the temperature is always pleasant. However, the air is always very humid and the chances of rainfall are at peak during the summer months.
Discover the city at night
At night, Orlando's city center is transformed into a throng of clubs, restaurants and theaters. The largest of these is the Dr. Phillips Center for the Performing Arts, which was rebuilt, for just under $430 million, to provide a home for Broadway shows and ballet in the heart of the city. The "Mad Cow Theater" is the city's most renowned theater and offers classical and contemporary plays with a strong cast. Comedy lovers will get their money's worth in the "Orlando Improv Comedy Club" and will get to know young talents who will eventually fill arenas one day.
Downtown cityscape from Eola Lake in Orlando
Shopping with a rental car in Orlando
Renting a car to explore Orlando for shopping is definitely worthwhile for friends of the big, glorious malls and shopping centers. By rental car, many designer outlets are only a few minutes away from the city. In the "Florida Mall" or the "Mall at Millenia" you can enjoy endless shopping trips with live entertainment and shows, good food and great sales.
Book a rental car and discover Orlando
There are many reasons to rent a car and get to know Orlando from its best side. Many attractions are just a few minutes drive from the city center and the city's many different hotels. The city is always modern, open and inspires all age groups. You shouldn't miss these attractions:
Universal Orlando Resort
The Wizarding World of Harry Potter
Orlando Shakespeare Theatre
Magic Kingdom

Hogwarts Castle, home to Harry Potter and the Forbidden Journey attraction Orlando USA
Visit theaters and museums in Orlando by rental car
Orlando has many art museums. Lovers of modern, international or performing arts will equally get their money's worth here. If you want to rent a car and explore Orlando and its art scene, the best place to start your tour is the CityArts Factory. Followed by seven art galleries, the SAK Comedy Lab and Barnie's Coffee Kitchen which are all waiting to be discovered. This mixture of modern art, exhibitions of emerging artists, private galleries and performing arts is also unique in Orlando. Ideally, driving through Orlando with a rental car and visit the Orlando Museum of Art. In addition to contemporary art, it is also home to local art and folk art. You can get to Eatonville by rental car from Orlando from the north. Here on the former outskirts of the city lies the oldest African-American quarter of the USA. The "Zora Neale Hurston National Museum of Fine Arts" shows art by prominent artists of this quarter and other artists of African-American descent. The collection is unique and also politically exciting. For a visit to the "Orlando Science Center", you can park your rental car in the center of Orlando. It is centrally located and offers lots of fun and interesting facts about technology and research for young and old.
Rent a car in town and drive to the amusement parks
If you arrive at the Airport Orlando by airplane, you can directly rent a car there and drive to the city or to the amusement park. To reach the Universal Orlando Resort by rental car from Orlando, the airport is about 15 kilometers west. The park is dedicated to Universal Studios' movies and series. In addition to the main attraction, Universal Studios -a must for movie fans, there are also other attractions such as the Sea World and Hardrock Café. Also to be reached by rental car from Orlando in the same direction are parks like "Wet' n Wild".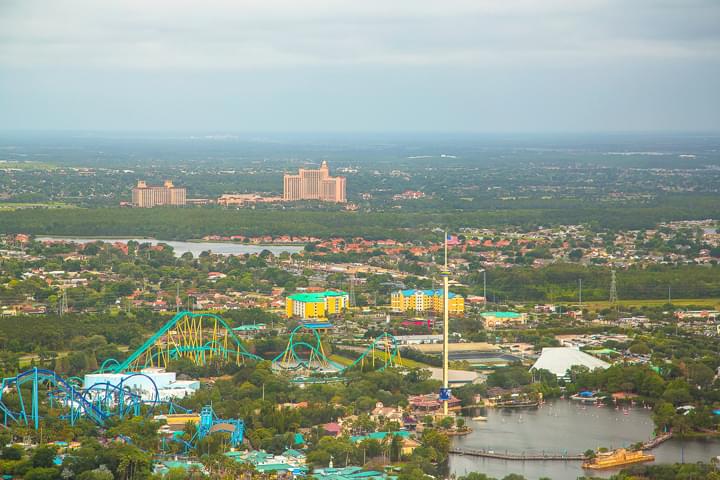 Beautiful aerial city view of Orlando with some amusement parks
Culture and parks in Orlando
If you want to rent a car instead of going to an amusement park get to know Orlando and its culture, you can choose between several different museums, theaters and art galleries. Driving a rental car through Orlando has many advantages thanks to the size of the city. As in many cities in the USA, it is easier to find a parking place in Orlando by rental car than to find your way through the public transport system, or to travel longer distances by taxi. You can rent a car in Orlando when you arrive at the airport. With a rental car in Orlando you usually find parking lots and houses, which are usually well guarded and controlled. Which destinations are best served by a rental car in Orlando depends on the weather and your interests. The largest five parks are definitely worth a visit in sunny, warm weather.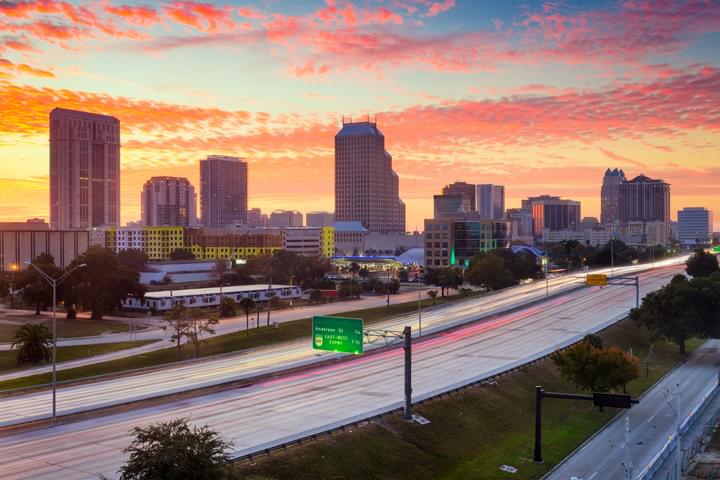 Skyline of Orlando, Florida at dawn