Cruising Miami Beach with a rental car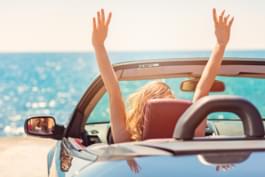 Book your rental car and explore Miami Beach
Once in a lifetime, only during the sunset in the open convertible roll comfortably down Ocean Drive with its Art Deco houses - this is what many people who love flora dream of since TV series such as Miami Vice or box-office hits like Transporter 2. Let your dream come true with car hire in Miami Beach and compare the offers of all local car rental companies with Driveboo and book your car rental in Miami Beach online in no time at all to get to the most beautiful destinations in Florida. What you have to pay attention to in American road traffic and what you should not miss, we have put together for you below.
Pick-up of the rental car in Miami Beach
The car rental offer leaves really no wishes open in Miami Beach. Those who feel fit enough after their long-haul flight can rent a rental car directly at Miami International Airport (MIA). You will find these car rental companies at the airport, among others: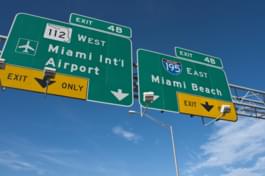 Signs marking the way to The Miami International Airport and Miami Beach
National
Enterprise
Alamo
Hertz
Avis
Enjoy a sunny winter in Miami Beach
Winter in Miami Beach is just around the corner! Pack your suitcase and off you go into the sun. The beaches in Miami are also well frequented in autumn, because here white sandy beaches and turquoise blue sea are waiting for its visitors. During your winter vacation in Miami you can either rent a car or take the bike to be mobile. Take it downtown to the hip neighborhoods with the Wynwood Art Walls. Miami Beach has something for everyone, from shopping to museums to relaxing on the beach. For all the party animals among you, Miami Beach also has plenty of parties in winter. Don't miss Miami in the winter.
Do I need an international driving licence for my booking?
Fortunately, the USA has reached an agreement with most countries, which allows you as a tourist to drive a rental car with your home licence for a period of up to one year. Nevertheless, many car rental companies require you to present an international driver's license, which is why you should apply for an international driver's license early enough in your home town, so that you don't suddenly lose your rental car.
The speed limit with your rental car in Miami Beach
If you don't want to spend your time in the USA paying your ticket in long queues at the police station for speeding in cash, you should immediately stick to the speed limits there.
Park your rental car in Miami Beach without any problems
The best time to explore Miami Beach by rental car
The tropical monsoon climate makes Miami Beach an attractive year-round destination. But if you want to use continuous sunshine, you should plan your trip between the beginning of November and the end of April, because there can be heavy showers in May with the beginning of the rainy season until the end of October and from August onwards some hurricanes passing by can spoil the holiday pleasure. Start your very special holiday adventure with your rental car in Miami Beach, which is guaranteed to stay in your memory for a long time to come.
Car hire Miami Beach - Places of interest
Whether it's a Holocaust monument, a Jewish museum or the Espanola Way, Miami Beach definitely doesn't get bored. Embark on an exciting voyage of discovery from the north to the south of the island, and if you find that driving becomes too much for you, why not take a boat trip, try your hand at deep-sea fishing or simply leave all your everyday worries behind you while snorkeling. Don't miss the following highlights in Miami Beach:
Miami Beach Boardwalk
Art Deco Historic District
Jewish Museum
Botanical Garden
New World Symphony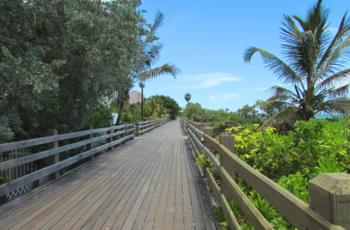 South Beach Boardwalk, Miami Beach, Florida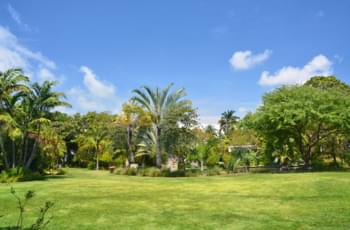 Tropical botanical garden in Miami Beach
Explore beautiful destinations around Miami Beach by rental car
It is 205 kilometres long, the Oversea Highway, where you can drive to the southernmost point of Florida, Key West. Immerse yourself in a unique snorkeling experience, just 90 miles from Cuba, stop off at one of the trendy restaurants and spend a breathtaking day. In addition, the Everglades with their crocodiles, alligators and more than 350 bird species as well as Cape Canaveral, where you have the unique opportunity to take a look behind the scenes of space travel.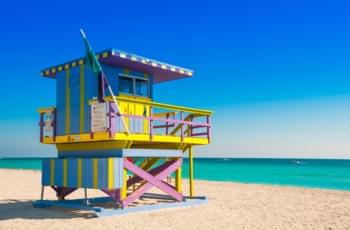 Lifeguard Tower in South Beach, Miami Beach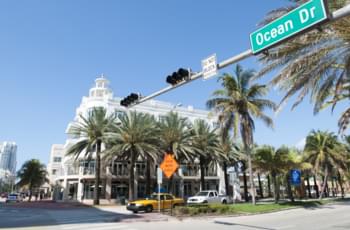 Ocean Drive, Miami Beach