In San Francisco we recommend the following car rental offers
The secrets of San Francisco with a rental car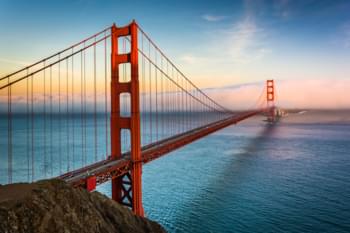 Golden Gate Bridge
The unique ambience of San Francisco is a result of its proximity to the ocean, the iconic hills that form the city's backdrop, and the world-famous Golden Gate Bridge spanning the San Francisco Bay Area. The city is full of historical buildings, mind-blowing museums and art galleries, green parks and walkways, and interesting architecture—all making it a jewel of Northern California.
Apart from the numerous attractions that can be found in San Francisco itself, it is also a great gateway to discover other regional gems. It is surrounded by exquisite scenery created by the beautiful San Francisco Bay and the wild waters of the Pacific Ocean. While exploring the numerous attractions of San Francisco, Driveboo will definitely come in handy—check the offers of all local car rental companies and book your rental car in San Francisco online.
These 4 things will make your winter in San Francisco unforgettable
If you travel to San Francisco in winter, you can look forward to some unforgettable highlights. Here are 4 top activities you can do in San Francisco during the winter.
All sports fans can look forward to a Golden State Warriors basketball game in San Francisco and share the excitement with the locals.

If you travel to San Francisco in winter, you should definitely visit one of the numerous light ceremonies. So you can get in the right mood for a winter and pre-Christmas time.

Every year in February, the famous winter wine tasting, the Chronicle Wine Tasting Event, takes place, which you should not miss.

Nature and animal lovers pay attention: In winter a very special highlight awaits you off the coast of San Francisco: whales. Look forward to the sight of these majestic creatures from a boat.
Find your rental car for a tour around San Francisco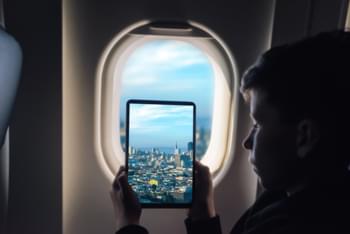 San Francisco - Blick aus dem Flugzeug
San Francisco is literally full of car rental companies. There is a plethora of vehicles to choose from. Therefore, hiring a car might seem like a daunting challenge. The easiest way to do it is by renting a car at the airport.
The closest airport to the city centre is, of course, San Francisco Airport (SFO), located 12.3 miles (20 km) away. However, many travellers also choose to arrive at Oakland Airport (OAK), located 20.9 miles (34 km) from San Francisco.
Do I need an international driver's license to rent a car in San Francisco?
Fortunately, the US has entered into an agreement with most EU countries. This agreement is a guarantee that your national driver's license is enough to move around San Francisco in a rental car.
However, some car rental companies require their clients to be holders of an international driver's license, so it is better to apply far ahead of your trip in order to avoid any obstacles caused by a delay in your application.
Speed limits in San Francisco
Speed limits in San Francisco are posted on road signs in miles per hour (mph).
On multilane freeways, the speed limit is 65 mph (105 km/h).
On two-lane highways, the speed limit is 55 mph (90 km/h).
The speed limit that you need to observe on city streets is usually 35 mph (55 km/h).
It is important to remember that residential areas and areas around schools have different speed limits—these are usually 25 mph (40 km/h).
Additional information concerning driving around San Francisco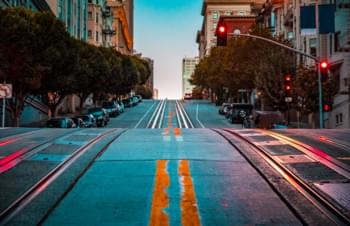 Unterwegs in San Francisco
Californian law forbids writing, sending, and reading text messages while driving.
Drivers are allowed to use hands-free devices while talking on the phone.
In order to report an accident or get help, you should call 911.
Drivers and passengers must wear seatbelts.
Drinking and driving is considered one of the most serious offences in California.
The blood alcohol limit is 0.08%.
In California, there are carpool lanes which can be identified by a special diamond-shaped pattern painted on the road. Look for the black-and-white signs that will provide you with information on when you are allowed to use these lanes (usually on weekdays during rush hours). These hours have to be observed at all times. However, remember that there must be at least two people (including the person driving the vehicle) in the car.
Remember, some carpool lanes in the San Francisco Bay Area have a three-person minimum.
Using the lanes when you do not have the required number of passengers will result in high fines of up to $ 400.
Carpool lanes in California possess specific entry and exit zones that have to be observed as well.
Driving a rental car behind a school bus
When you're driving in the US and see one of the famous yellow school buses in front of you, you must stop for as long as the driver has the stop sign out. Passing by, even at a slower pace, is not allowed and is punishable with large fines.
Highlights of San Francisco with a rental car
Enjoying a stunning location against the backdrop of dramatic ocean and offering a wide variety of attractions, San Francisco is considered one of the top destinations in California. While visiting the city, you can't miss the following highlights:
Golden Gate Bridge
Alcatraz Island
Fisherman's Wharf
Cable Cars
Golden Gate Park
Chinatown
California Academy of Sciences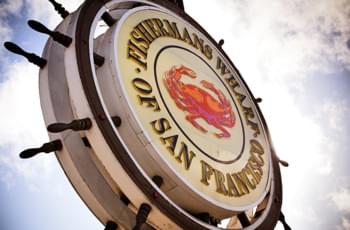 Fisherman's Wharf San Francisco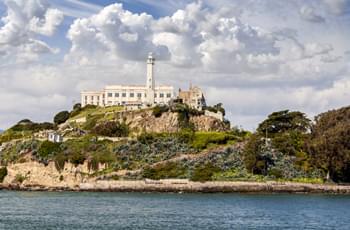 Alcatraz Island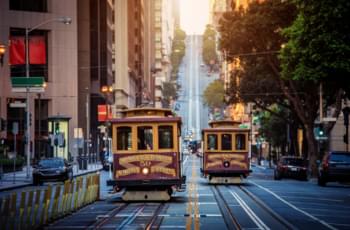 Straßenbahn in San Francisco
Explore the most beautiful places around San Francisco with a rental car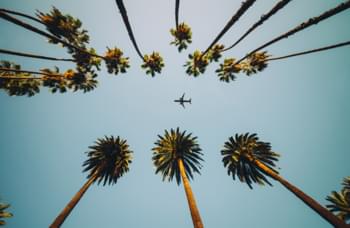 Ausflug nach Los Angeles
Wave San Francisco goodbye and head for the endless summer of Santa Cruz. This beach town will cater to the needs of even the most demanding beach lovers. Take a stroll along the famous Beach Boardwalk and spend a couple of hours on Main Beach. More remote beaches include Natural Bridges Beach, Sunset State Beach, and Cowell Beach.
Berkeley is another must-see Californian city. This university town offers a stunning campus located on a scenic hilltop. Visitors will also have a unique opportunity to admire the city's beautiful architecture and its many libraries, research centres, and galleries. You should definitely head for sites such as Sather Tower, Bancroft Library, or Sproul Plaza.
For those who enjoy solitude, Half Moon Bay is a great escape from the ambience of the large cities. A rural retreat located alongside the roaring Pacific Ocean, Half Moon Bay can be found only a stone's throw from San Francisco city centre. The city offers picturesque pathways, hiking trails, and great weather conditions for those who would like to try their hand at surfing. Many popular surfing events and competitions are held at Mavericks Beach.
Those who aren't fed up with the glamour of a large metropolis should also consider a trip to Los Angeles. The famous City of Angels with its bustling Hollywood district and many entertainment venues will be an ideal spot for a day full of fun.