Explore California with a rental car
The secrets and gems of the Golden State can be most conveniently explored with a rental car. Driveboo will definitely be helpful here—check out the offers of all local car rental companies and book your rental car in California online. Part of the Pacific Region, California, also referred to as the Golden State, is the most populous state in the US. Californian tourist attractions range from the glamour of Hollywood in Los Angeles to the iconic Golden Gate Bridge in San Francisco, to the never-ending summer of Santa Cruz.
California offers a diversity of landscapes providing the ideal conditions for an array of outdoor activities such as golfing, surfing, fishing, and bike riding. With a plethora of hiking trails of varying difficulty, California is a paradise for those who enjoy spending their free time outdoors.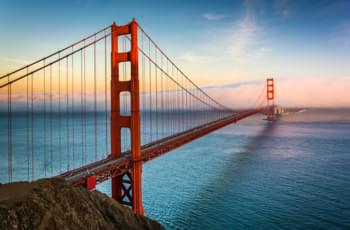 San Francisco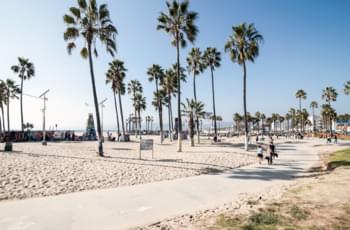 Los Angeles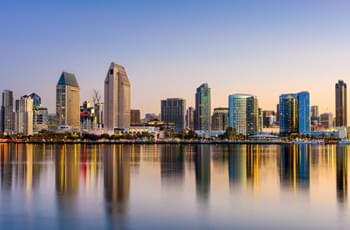 San Diego
What is the best time to travel to California?
California is a year-round destination offering weather ideal for all types of tourists. Basically, the time of the year that you should choose is dependent on the activities that you have planned for your stay. Most of the state is characterised by a Mediterranean-like climate. On the coast, the average temperature is somewhere around 21 degrees Celsius. However, the state also offers warmer areas.
Where can I rent a car in California?
In California, renting a car won't be a problem. The major car hire companies are all easily found in all of the larger towns and cities around the state. However, the most convenient way is to take advantage of the car rental spots at the airports.
Renting your car at one of the airports in California will allow you to start your journey without any delays. With DriveBoo, you will get a detailed overview of all the best offers and available cars!
Major airports in California include:
Oakland Airport (OAK)
San Jose Airport (SJC)
Do I need an international driver's license to hire a car?
Fortunately, the US has entered into an agreement with most EU countries. The agreement is supposed to be a guarantee that your national driver's license is enough to move around California in a rental car. However, bear in mind that some car rental companies will only rent vehicles to holders of an international driver's license, so it is better to apply for this far ahead of your trip so that you can enjoy a peaceful stay in California.
Speed limits in California
Additional information concerning driving around California
Driving and texting:
Californian law forbids writing, sending, and reading text messages while driving. However, drivers can use hands-free devices while talking on the phone.
Emergency situations:
In order to report an accident or get help, you should call 911.
Seatbelts:
Wearing seatbelts is mandatory for the driver and any passengers.
Drinking and driving:
The permissible blood alcohol limit is 0.08‰. Driving under the influence of alcohol is considered one of the most serious offences in California.
Carpool lanes:
Carpool lanes are identified by the special diamond-shaped pattern painted on them. You should also lookout for the black-and-white signs that will provide you with information about when you're allowed to use the carpool lanes (usually on weekdays during rush hours). These hours have to be observed at all times. However, remember that there must be at least two people (including the person driving the vehicle) in the car.
Remember, some carpool lanes in the San Francisco Bay Area have a three-person minimum.
Using the lanes when you do not have the required number of passengers may lead to high fines of up to $ 400. Carpool lanes in California have specific zones for entering and exiting the lanes.
Explore the highlights of California with a rental car
Renting a car in the State of California will be the most convenient way to explore the whole of this vast and fascinating region. Those who seek some peace and quiet away from the bustling Californian metropolises should head for Yosemite National Park. It is considered the US's most picturesque and charming national park. It offers diverse terrains, including towering mountain tops, deep valleys, rivers, and stunning waterfalls. Families with children should definitely consider a visit to Disneyland. It can be found in Anaheim and is seen as a top destination for families. Inside, you will have a unique opportunity to forget about the outside world and delve deeper into the realm of rides, roller coasters, and Disney-themed sets.
Death Valley is one of California's best-known attractions. It offers some of the most inhospitable areas on Earth. It mostly consists of dry patches of land, huge sand dunes, and barren mountains. However, this unique landscape is truly worth a visit.
Car hire California - Discover attractions
Another interesting Californian attraction is Big Sur. It is a charming stretch of scenic coastline that will bring all holidaymakers back to nature. The area around Big Sur offers a wide selection of outdoor activities, such as hiking, bike riding, fishing, and even golfing.
Holidaymakers seeking calm environments, breathtaking views, and green spaces should definitely travel to Lake Tahoe, which is a blast of clear blue water surrounded on all sides by snow-covered peaks. The whole area is home to great ski resorts. Therefore, the lake is a year-round destination.
If you have explored the natural gems of the region and are ready to head for the cities, you should consider visiting Los Angeles, San Francisco, Long Beach, Palm Springs, or Sacramento.