In Los Angeles we recommend the following car rental offers
Frequently asked questions about car rental booking Los Angeles
How much does a rental car cost in Los Angeles?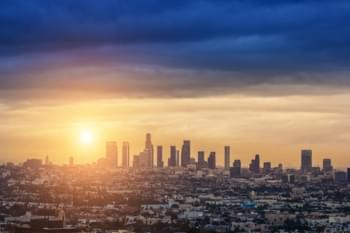 Discover Los Angeles with a rental car
Book a rental car for one week
A cheap rental car is available from as little as 189 $ per week. We compare the prices of all reputable car rental companies and show you the best offer so that you do not have to fear any nasty surprises during your vacation in Los Angeles.
Among others, you can book the following car models with us:
Small cars are particularly popular, which you can rent from as little as 223 $ per week. Because whether with friends or with your partner - with a small car you can comfortably drive to the most beautiful places.

Are you traveling to Los Angeles with the whole family? Then a family car is suitable for already 218 $ per week. Here not only your loved ones will find enough space, but also the luggage including parasol.

In addition, in Los Angeles you have the possibility to book a convertible from 524 $ per week as a rental car. Open the roof and feel the wind in your hair and the sun on your skin while driving over the legendary Highway 1.
Book a rental car for one day

If you only need a rental car for one day, you can rent it for as low as 27 $ per day.
What is there to consider when driving in Los Angeles?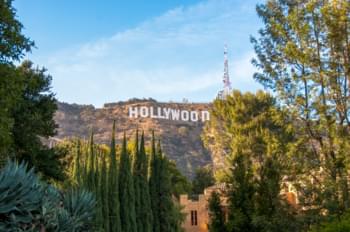 Take the traffic rules into consideration
Enjoy a stress-free trip to Los Angeles by following the applying traffic rules.
Speed Limits: Business and residental districts: 25 mph, Two-lane undivided Highways 55 mph, Highways or interstates: between 65 – 70 mph
Alcohol: For drivers older than 21 the limit is 0.08%, For drivers who are under 21, the legal limit is 0.01%.
Driver's license: A current valid driver's license from a foreign country is sufficient.
Toll roads: In Los Angeles you may have to pay a toll. You can pay the tolls using The Toll Roads app or online at TheTollRoads.com. Sometimes cash is accepted as well.
What is the minimum age to rent a car in California?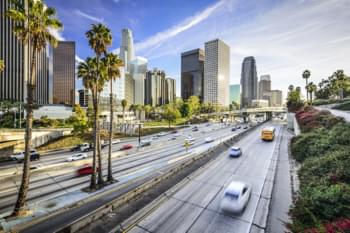 You can already book your own rental car at the age of 21. To do this, simply enter the age in the search mask and select the appropriate rental car for your plans in Ibiza.
Young driver fee
For drivers under 25 years, there is usually a so-called "young driver fee", which is usually already included in the displayed rental price.
Which insurance should I choose for my trip to Los Angeles?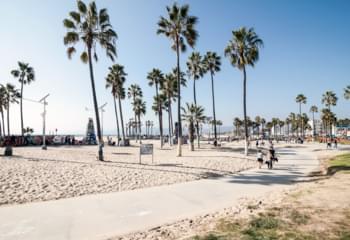 Choose the perfect insurance for your trip
Book an insurance without deductible
For your rental car we always recommend a fully comprehensive insurance without deductible. In case of damage, you are well covered and don't have to expect additional costs on the spot. The legal liability insurance is already included in all offers on Driveboo. Pay attention to a particularly high cover sum.
Discover remote regions carefree
If you want to travel in remote regions, you can also consider an underbody insurance. Optionally you can take out a glass and tire insurance. You can find more information about the necessary insurances for your rental car in our blog post.
Can I pick up the rental car in Los Angeles and return it at another location?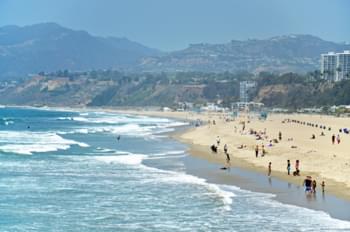 We offer one-way rentals
You can also return the rental car to a car rental agency at another location in California, such as Malibu or San Francisco or even in different states. To do this, simply change the return location in the search mask and look forward to an exciting road trip. For the so-called one-way rental, additional fees apply.
If you plan to be on the road longer, you can specify an additional driver. This way you can take turns driving the rental car and everyone can enjoy the view for once. In some offers, an additional driver is already included in the rental price.
Can I cancel the rental car free of charge?
If you decide not to go ahead with your trip as planned, you can cancel the rental car free of charge up to 24 hours before the start of the rental period. In case the Corona Virus and therefore possible travel restrictions prevent you from travelling, you are on the safe side. Thanks to the option to cancel your rental car free of charge, you are particularly flexible.
Dive into the highlights of Los Angeles with a rental car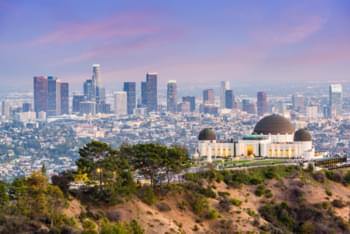 Blick über Los Angeles
The lively metropolis of Los Angeles, perhaps more commonly referred to by its initials LA, is the USA's second most populous city. For decades, this cultural centre of California has been associated with the entertainment and film industry. Hollywood long ago became a natural magnet for performers coming to Los Angeles from all over the States.
Los Angeles is a very diverse city when it comes to tourist attractions. It offers magnificent shopping venues, intriguing art galleries, and fine dining spots. Those who seek a relaxing stay will love the opportunity to visit LA's hot beaches and explore the surrounding countryside. Families with children will also find Los Angeles very entertaining with such attractions as Universal Studios and Disneyland.
Dive into the highlights of Los Angeles with Driveboo—check the offers of all local car rental companies and book your rental car in Los Angeles online in next to no time.
With a rental car through the autumn in Los Angeles
Would you like to know what is the optimal time to see Los Angeles with a rental car? We have the answer for you: autumn. Autumn in Los Angeles has a lot to offer. The temperatures in Los Angeles are still pleasantly warm in the autumn months, so you can easily get to know the city from all its facets. In the morning and evening, Los Angeles is often still bathed in fog. This scenery can be captured in beautiful photographs. Convince yourself of the popular city of Los Angeles and travel there in autumn. This holiday is guaranteed to remain in your memory for a long time.
What is the best time to travel to Los Angeles?
The best time to visit the popular City of Angels is from March to May, but September to November is another good choice. Average temperatures during those two periods range from 16 to 25 degrees Celsius. The temperature is more bearable during those months and the city is a little less crowded.
Find your rental car for a voyage around Los Angeles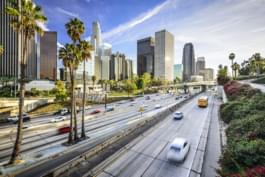 On the road in Los Angeles
Los Angeles offers an extensive choice of car rental companies all over the city. The car rental offering in the city leaves absolutely nothing to be desired. However, the most convenient way to equip yourself with your dream vehicle is renting a car at the airport. Los Angeles Airport (LAX) is situated 19.6 miles (31.5 km) from the city centre. Many travellers also choose to arrive at Hollywood Burbank Airport (BUR) located 16.2 miles (26 km) from L.A.
Do I need an international driver's license to hire a car in Los Angeles?
Fortunately, the US has entered into an agreement with most EU countries. This guarantees that your national driver's license is enough to move around Los Angeles in a rental car. Nonetheless, numerous car rental companies require their clients to present an international driver's license, so it is better to apply far ahead of your trip in order to avoid any obstacles if you encounter a delay.
Speed limits in Los Angeles
Speed limits in Los Angeles are posted on road signs in miles per hour (mph). On multilane freeways, the speed limit is 65 mph (105 km/h). When it comes to two-lane highways, the speed limit is 55 mph (90 km/h). The speed limit that you need to observe on city streets is usually 35 mph (55 km/h). However, it is important to remember that residential areas and areas around schools have different speed limits—these are usually 25 mph (40 km/h).
Additional information concerning driving in Los Angeles
Californian law forbids writing, sending, and reading text messages while driving. However, drivers are allowed to use hands-free devices while talking on the phone.
In California, carpool lanes can be identified by the special diamond-shaped pattern painted on the road. In addition, there is always a black-and-white sign detailing when you are allowed to use these lanes (usually on weekdays during rush hours). However, remember that there must be at least two people (including the person driving the vehicle) in the car. Using the lane when you do not have the required number of passengers will result in high fines of up to $ 400. Carpool lanes in California possess specific entry and exit zones that have to be observed as well.
In order to report an accident or get help, you should call 911.
The driver and any passengers are required to wear seatbelts.
Driving under the influence of alcohol is one of the most serious offences in the state of California. The blood alcohol limit is 0.08%.
Driving a rental car behind a school bus
When you're driving in the US and see one of the famous yellow school buses in front of you, you must stop for as long as the driver has the stop sign out. Passing by, even at a slower pace, is not allowed and is punishable with large fines.
Where can I go in Los Angeles with my rental car?
Being one of the most popular destinations in California, Los Angeles offers endless attractions for all types of tourists. Whether you are searching for a peaceful stay or a holiday full of entertainment, you shouldn't miss the following attractions:
Universal Studios Hollywood – a treasure trove of breathtaking rides based on various film themes. The studio offers a wide selection of guided tours, during which you will have the opportunity to get an insight into the movie production process.
Disneyland Resort – an ideal choice for families with children. It offers fantastic rides and complex theme sets, where children can forget about the outside world.
Hollywood – one of the many suburbs of Los Angeles. Hollywood is closely associated with the flair of film industry. Visitors will have a unique opportunity to see attractions such as the Hollywood Sign, Hollywood Boulevard, the Chinese Theatre, and the Walk of Fame.
Natural History Museum – this is a must-see venue for history lovers. It offers multiple interesting exhibitions, art galleries, and halls full of dinosaur skeletons. Inside, you will find a series of Tyrannosaurus Rex fossils. The exhibition features skeletons that range from baby dinosaurs to a full-scale Tyrannosaurus Rex.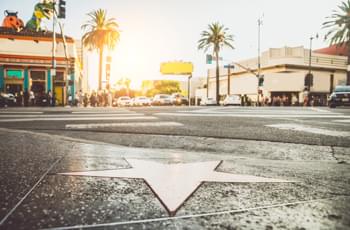 Walk of Fame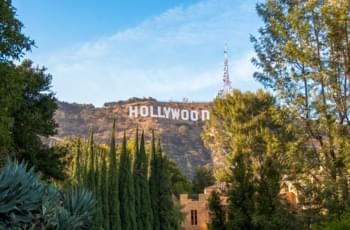 Hollywood Hills
Explore the most beautiful destinations around Los Angeles with a rental car
Leave the city limits and explore the region around Los Angeles. A rental car will grant you the freedom to go exploring in whichever direction you want. You can start with the beautiful pristine beaches and Mediterranean-like climate of the coastline, which will allow you to feel an endless summer on your skin.
You can also visit Venice Beach or the idyllic Long Beach, where you will find some relief from the hustle and bustle of the metropolis.
Santa Barbara, also referred to as the American Riviera, is another spot for those who enjoy long hours spent in the sun. The city offers a wide selection of tourist attractions ranging from extensive gardens to interesting art galleries.
For those who are into old Hollywood glamour, Palm Springs is a must-see attraction. In the 1930s, it was a top winter resort visited by such great performers as Marlene Dietrich and Frank Sinatra.
Joshua National Park should be included on your holiday to-visit list if you are a lover of vast open spaces. The park was named after the interesting yucca trees that flourish within its limits. This natural gem offers a wide selection of outdoor activities suitable for those seeking an active vacation.
Those who aren't fed up with the clamour of large metropolis should also consider a trip to San Francisco.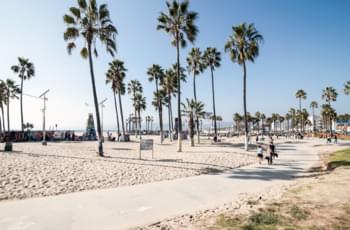 Venice Beach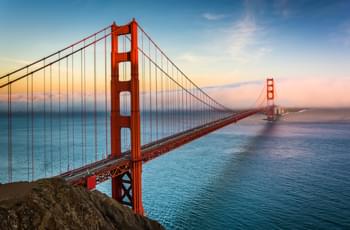 Golden Gate Bridge, San Francisco