Explore New York City with a rental car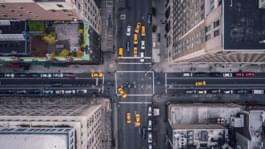 5th Avenue in New York City
Located on the east coast of US, New York City awaits your exploration with a rental car. With Driveboo, you can compare car rental deals in New York City and easily book a car online. Benefit from the price comparison and find the cheapest offers of renowned car hire companies. Add extras such as navigation systems or child seats and travel independently through New York City and the United States!
Where is it best to rent a car in New York?
Countless car rental companies with their competitive offers are waiting for you in New York City. You can also rent a car at one of the city's airports: John F. Kennedy International Airport (JFK), La Guardia Airport (LGA) and Newark Liberty International Airport (EWR). It is possible to rent a car conveniently on site. Competition is strong here, which is very beneficial for customers and increases your chances of a cheap offer. Further advantages of renting at an airport are the longer opening hours and better availability of special vehicles such as convertibles, sports cars or SUVs.
Experience spring at its best in Manhattan
Would you like to experience an unforgettable springtime that gives you both a big city feeling and peace and quiet? Then let's go to Manhattan. NYC shows its best side in spring. Stroll through one of the parks and enjoy the colorful cherry blossoms. In the spring months, life gradually takes place outside again and brings joie de vivre to the city that never sleeps. Spring in Manhattan has something for young and old. Go shopping, watch a Broadway show or explore the many NYC attractions. Whatever your plans for the perfect spring break, Manhattan is sure to make them come true.
Where can I park my car in New York?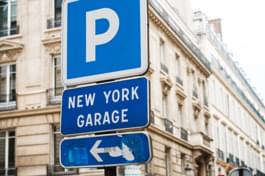 New York is the most populated city in the USA. It does not offer a lot of parking spaces and parking garages are very expensive—$50 for a day is not unusual. Parking on the street is usually reserved for residents. Manhattan in particular has an extremely difficult parking situation. Outside of parking garages, there is a general ban on parking by hydrants (within a distance of three metres) and in areas marked red, as well as at bus stops.
Anyone renting a car in New York should follow the street cleaning signs. Street cleaning usually takes place twice a week. After cleaning, it takes about half an hour for all parking spaces to be filled again. Using this time window is the best way to get a car parking space in New York.
What are the speed limits in New York and the USA?
Please be aware of that different traffic rules and speed limits apply in different states of the United States. It is therefore advisable to pay attention to the traffic signs next to the road.
Car hire New York City - Important traffic rules
The alcohol limit in the state of New York is 0.8
Don't carry open alcoholic beverages with you in the car
In most cases a European driving license is sufficient in the USA
In individual cases an international driver's license is required
What insurance do I need for my rental car in New York?
No matter which country you are renting a car in, for your own protection, you should always choose full insurance without non-waivable excess. In addition, you should opt for high liability coverage.
Important emergency numbers while travelling with your rental car
Car hire New York - What is the best season to travel?
The Big Apple is always worth a trip. During the summer, you can enjoy the vibrant street life of the city while wearing a T-shirt and shorts, and in the winter, you can wander through snow-clad Central Park wrapped in scarves, hats and gloves. Thanks to your rental car, you can not only explore the bustling metropolis in all its glory, but also discover its surroundings all year round!
Discover New York and its surroundings with a rental car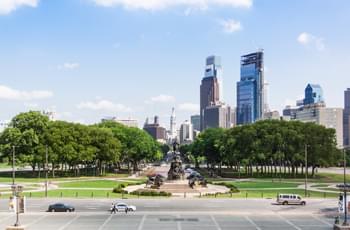 Philadelphia Skyline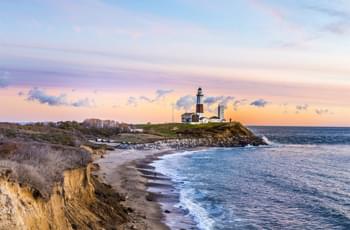 Hamptons
New York offers one highlight after another that you can enjoy and admire. You can visit some of the world-famous museums, such as the Museum of Modern Art or the Metropolitan, and see the iconic city symbols such as the Statue of Liberty and the Empire State Building. Then, stroll through Central Park and admire the sunset over the world's most famous skyline. Experience the city that never sleeps first-hand! The Hamptons or Philadelphia are amazing destinations for a day-trip.
Highlights of New York City: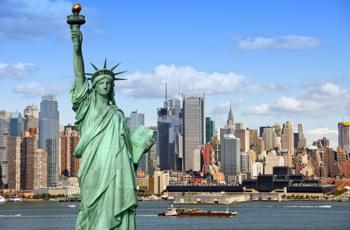 Statue of Liberty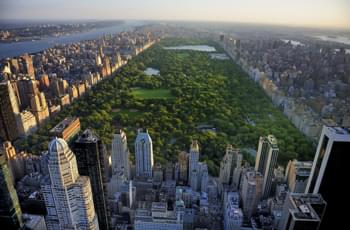 Central Park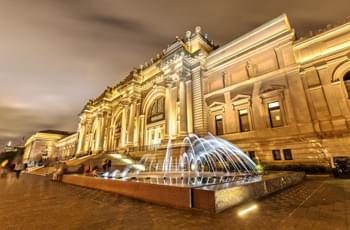 Metropolitan Museum of Art
Central Park
Ground Zero
Museum of Natural History
Museum of Modern Art (MoMA)
Metropolitan Museum
The High Line - A former freight train connection that has been converted into a park
Brooklyn Bridge
Statue of Liberty
Broadway
Grand Central Station
Top of the Rock
The Empire State Building
Trips with your rental car in the New York area
Rent a car in New York and explore the surrounding area of the city! With a rental car, you have the opportunity to get to know the wonderful region that lies beyond the city limits. Destinations like Boston, Philadelphia and Washington D.C. should be at the top of your list. You can also easily visit Niagara Falls. Especially interesting destinations that you can reach thanks to your rental car are listed in the following table along with distances: