Rental car Arizona: Discover the Grand Canyon State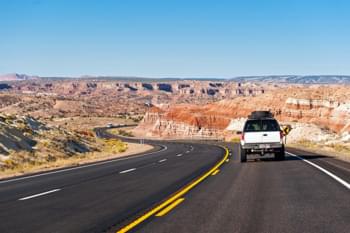 On the road in Arizona
Discover the US state of Arizona with its dry deserts and red rocks by rental car. Compare the offers of car rental companies in advance on Driveboo.com and find the vehicle that's right for your trip. The highlight of Arizona is of course the Grand Canyon. But other sights can also be easily explored with a rental car. Whether cactus fields, reservoirs or the Colorado River - Arizona is definitely worth a trip. If you book your rental car online in advance, you can start your holiday relaxed right after your arrival in Arizona.
Arizona car rental: Where can I get my rental car?
For the perfect start to your well-earned Arizona vacation, you should book a rental car in advance. There are car rental companies in most of the cities in Arizona. At the following locations you can pick up your dream car:
What airports are there in Arizona?
In order to be flexible in Arizona right from the start, you should pick up a rental car immediately after landing. You can do this at the following airports in Arizona: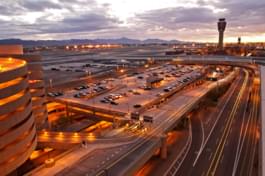 Phoenix Airport
Nogales International Airport (OLS)
Winslow-Lindbergh Regional Airport (INW)
Conquer Arizona with the right rental car
In order to travel comfortably through Arizona, you should definitely choose the right rental car. Driveboo.com you have the choice between different models. You can also choose the equipment individually. You can choose from the following car models:
Also choose the following additional options: Air conditioning, all-wheel drive, fully comprehensive insurance without excess and much more.
By rental car through Arizona's capital Phoenix
Phoenix is the capital of Arizona and is perfect for a day trip by rental car or a long weekend. The name of the city couldn't be better, because Phoenix is located in the middle of the desert. Especially in summer you should pay attention to sun protection. You should not miss the following highlights in Phoenix: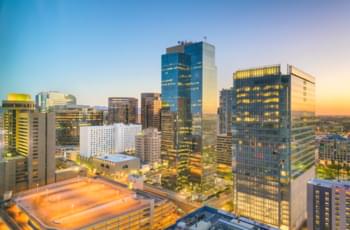 View over Phoenix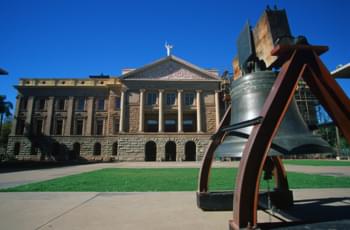 State Capitol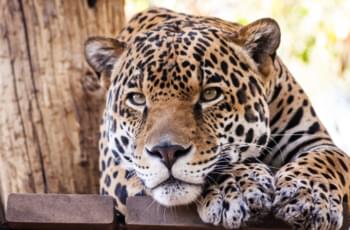 Visit the zoo in Phoenix
State Capitol
The State Capitol was the seat of the state government until 1974. Today it houses the Arizona State Capitol Museum. Drive by rental car to the attraction and visit the museum. Exhibitions at the Arizona Capitol Museum show Arizona's culture and history from its early days to the present day. Here, especially culture enthusiasts get their money's worth.
Taliesin West
Are you interested in architecture and a follower of the architect Frank Lloyd Wright? Then don't miss out on a visit to Taliesin West. Here you can see many of the buildings so typical of his architectural style. His former studio is now a school of architecture.
Phoenix Zoo
A visit to Phoenix Zoo is always a good idea, especially if you are traveling through Arizona with children. Park your rental car and admire the majestic animals like lions and tigers. Later you can have a picnic in the park and then visit one of the shows. We assure you that not only your children will be enthusiastic about a visit to the zoo.
Visit Grand Canyon National Park by rental car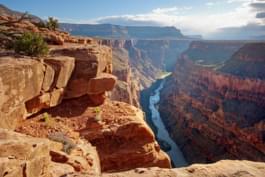 On the way in the Grand Canyon National Park
Would you like to visit one of the greatest natural wonders on earth? Then head for the Grand Canyon National Park. You can easily reach it by rental car. In 1979 it was included in the UNESCO World Heritage List. The breathtaking gorge was created millions of years ago by the Colorado River. There are many ways to explore the Grand Canyon. What do you think of a helicopter flight or white water rafting trip, for example? You can enjoy the view from numerous vantage points.
Discover Arizona's highlights by rental car
In addition to the Grand Canyon National Park, there's so much more to discover in the US state of Arizona. Nature lovers and hiking enthusiasts in particular will get their money's worth. Take the wheel of your rental car and make your way to the impressive sights of Arizona. You should not miss these in any case:
Antelope Canyon
Grand Canyon Skywalk
Monument Valley
Havasu Falls
Painted Desert
Oak Creek Canyon
Bell Rock
Arizona-Sonora Desert Museum
Tonto National Forest
Roadtrip USA: Arizona's neighboring states by rental car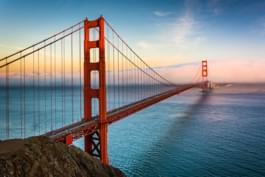 Golden Gate Bridge San Francisco
With a rental car, you are always flexible on the road in the USA and can thus independently reach your desired destinations. Arizona's neighboring states have a whole range of highlights to offer. How about California, for example? Take a road trip with a rental car and drive from Phoenix to San Diego. From here you can either make a detour to Tijuana or continue directly along the coast to Los Angeles. Visit the famous Hollywood sign and walk the Walk of Fame. Your next destination could be the Golden Gate Bridge in San Francisco.
Book the one-way rental option on our online portal. This means that you can return the rental car at a location other than the pick-up location. This gives you the flexibility to customize your road trip according to your own wishes.