Through the District of Columbia by rental car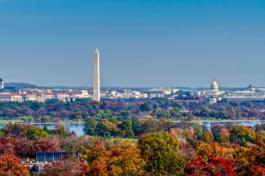 Ausblick auf die Stadt
As soon as you have found your cheap offer for rental cars on Driveboo, Washington D.C. is waiting for you to be explored. Driveboo's portal gives you the possibility to compare car rental offers online and book an offer at the best price possible. Whether you're planning a road trip in the District of Columbia or you're going to be traveling in the city, you're sure to find the car you're looking for at Driveboo.
Where can I get my rental car?
Book your rental car in advance online on our page and pick it up from the station immediately upon arrival in Columbia. You will find car rental pickup locations in the District of Columbia at the following locations:
If you pick up your rental car at one of the car rental agencies immediately after your arrival at the airport, you will be mobile and independent from the moment you arrive in the District of Columbia.
What traffic rules should I follow in the District of Columbia?
Right-hand traffic.
Speed limits: 25-30 mph in urban areas, 55-70 mph out of town and on highways
Blood alcohol limit: 0.8 per mil
It is compulsory to wear seat belts.
Parking the rental car in front of entrances or hydrants is prohibited without exception.
If a yellow school bus has its hazard warning lights on, all vehicles must stop.
Emergency number: 911
Explore Washington D.C
Das Weiße Haus
Washington D.C. is the seat of government and since 1800 also the capital of the District of Columbia. When you travel through the United States, Washington D.C. should definitely be at the top of your list. The weather is similar to the one in Central European countries, but always a little more extreme. The city is described to own the charm of a small town, is able to offer a huge variety of cultural activities and numerous sights. The best point to start your exploration tour in the city is Union Station. Here you can see a normal train station, which is a sight itself. A magnificent entrance hall made of white marble and gold. Murals and statues welcome you in the city.
From here, you can easily travel to the following highlights in Washington D.C:
Lincoln Memorial
Washington Monument
White House
United States Capitol
Library of Congress
District of Coumbia - Explore other places
You want to explore the most exciting places of America? Besides the capital Washington D.C. in the District of Columbia and the USA has many other exciting cities to offer. How about a visit to the famous Harvard University in Boston? Phildadelphia and Baltimore are also worth a trip by rental car. What you should not miss is a trip to New York City, the city that never sleeps. The following table gives you an overview of the distance between the respective cities and the travel time from Washington D.C: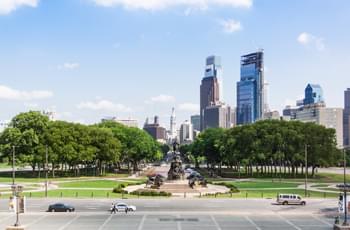 Philadelphia Skyline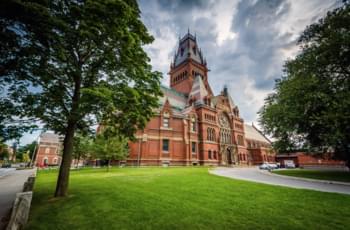 Harvard University