Car rental at Washington Airport (IAD)
You are landing at Washington Airport (IAD) and would like to rent a car to explore Washington, the capital of the United States? If so, it's a good idea to rent a car directly at the airport, as at Washington Airport there are nine car hire companies, where you can conveniently rent a car for your city trip or business whithin the USA. Compare the offers of car rental companies at Washington Airport with Driveboo right from your home and choose the car that best suits your needs.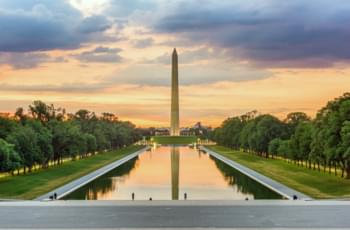 Washington Monument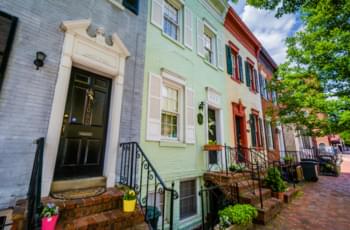 Discovering Washington D.C.
Where are the pick-up stations at Washington Airport?
With more than 21 million passengers per year, Washington Airport (IAD) is one of the largest commercial airports in the United States and may seem a bit confusing at first glance. Nevertheless, you can easily reach the car rental buildings with a company shuttle bus, once you have received your luggage. After arriving at the airport just go to exits 2,4 or 6, from where the shuttle buses depart from the curb 2C or 2F.
Our tip: please check before booking if the shuttle service is included free of charge in your offer and make sure that you get on the right bus, as each company has its own bus.
The 5 most popular autumn activities in Washington D.C.
Fall is the ideal time of year to visit Washington D.C. Look forward to an impressive play of colors, characterized by autumnal leaves. The weather in Washington D.C. in autumn is perfect for a variety of excursions. Look forward to an exciting fall vacation in Washington D.C. The following activities should be on your list:
Fall visit to a winery
Excursion by rental car through the autumnal landscape in Washington D.C.
Experience the autumn harvest up close
Visit an American Football game
Go to one of the numerous autumn festivals in the open air
Which car rental companies are there at Washington Airport?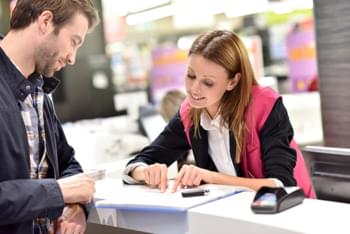 Car rental at the airport
As at all major international airports, you don't have to do without the services of the worldwide operating car rental companies at Washington Airport. Below we have put together the car rental companies that offer different types of car hire at Washington Airport:
Advantage
Alamo
Avis
Budget
Dollar
Enterprise
Hertz
Can the rental car be refuelled at Washington airport?
Fortunately, you don't have to drive far to refuel your rental car before drop-off, as there is a well signposted Sunco petrol station right behind the buildings of the car rental companies, which is open 24 hours a day.
Car rental Washington Airport (IAD) - rent a car in downtown Washington
Thanks to its easy access, Washington city centre is only 40 minutes away, with toll charges on certain routes, so the best way to find out which route is best for you, depending on your destination, is to rent a car. Once in the city centre, you can take your rental car on a tour of one of the many monuments such as the Lincoln Memorial, the Library of Congress or Korean War Veterans Memorial, or visit one of the 100 or so museums ranging from the National Gallery of Art to the National Air and Space Museum and the National Portrait Gallery. Below, we have put together a few kilometres for you to travel with your rental car.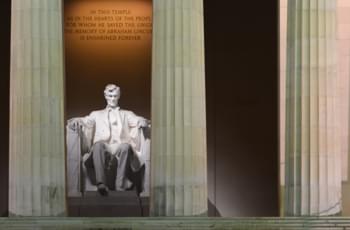 Lincoln Memorial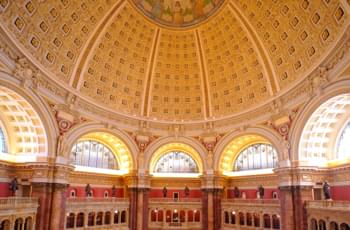 Library of Congress
Drive your rental car to interesting destinations starting at Washington Airport
Connections from the airport car rental service
Would you prefer to take a taxi to the city and relax? In the exit area near exits 2 and 4 you will find a 24-hour service provided by Washington Flyer, whose fleet of vehicles, consisting of taxis and shuttle buses, will take you to the city centre. In addition, you can also reach the city centre by bus from Fairfax Connector Bus and Metrobus, which do not operate around the clock.
Washington Airport - all important information at a glance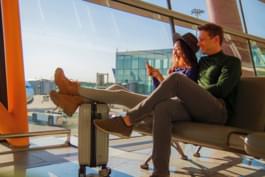 At the airport
If you have not managed to get enough food or souvenirs, you will not have to worry because Washington Airport has everything that makes a traveller's heart beat faster. Countless coffee shops, restaurants and duty-free shops offer you all the services you want and of course a free WLAN service is available at the airport, so that time flies by.
Car rental at Washington Airport: starting point for round trips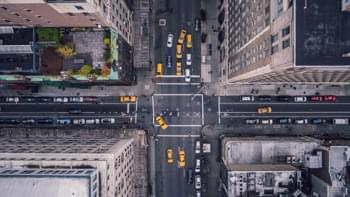 By rental car to New York City
Whether it's a day trip, a trip along the coast or a round trip, with Washington you have chosen a good starting point to travel to the most beautiful places along the west coast in your own rental car. Are you a lover of a fine wine? Then you should head towards Purcellville, where one of the oldest Craft Beer breweries is located and where you will be warmly welcomed. But a detour to Baltimore with its stylish restaurants around the Inner Harbor is also worth a detour if you don't want to go all the way up to New York City. For those who prefer fresh country air, a trip to the nearby Shenandoah National Park can take you to the nearby Shenandoah National Park, where you can enjoy the fantastic views over the vast expanses of the country, and maybe even meet one of the black bears that live there.