Discover the Evergreen State Washington by rental car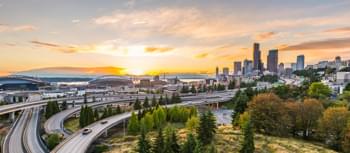 Skyline Seattle
The US state of Washington is on the border to Canada and can be explored optimally with a rental car. With a rental car, you can explore Washington's river valleys, beaches, forests and desert-like regions on your own. As far as the vehicle is concerned, Driveboo.com offers the right model at the best price for your trip to Washington. What are you waiting for? With the right rental car, your road trip through Washington will be an unforgettable adventure.
Rental car Washington: These are the car rental companies
There are many places in Washington State where you can pick up a rental car. Simply book your desired vehicle in advance online on our portal. After your arrival in Washington, all you have to do is pick it up at the car rental company of your choice and you are mobile right from the start. You can find pick-up points at the following locations:
What airports are there in Washington?
If you want to travel flexibly and independently in Washington from the first minute, you can also pick up your rental car directly at one of the following airports:
The right vehicle for Washington
Choose your dream car for your Washington road trip on Driveboo.com. Whether you are travelling on the country roads in an SUV or in a manoeuvrable small car in the cities - with the right rental car your holiday will be unforgettable. In addition to choosing the right car model, you can also choose other extra options for your rental car. Just take a look at Driveboo.com and put together your perfect vehicle individually. You can choose from these options:
Type of rental car: compact class, convertible, minivan, luxury car
Features: air conditioning, all-wheel drive, automatic
Inclusive services: all kilometres free, fair fuel regulation (full/full), navigation system included
Insurance benefits: Fully comprehensive insurance and theft protection, glass and tyre insurance, underbody insurance, passenger accident insurance
More: additional driver, one-way rental
Washington rental car: What highlights should I not miss?
When you're in Washington with your rental car, you can reach all your destinations flexibly. Whether you're a nature, culture or sports enthusiast, Washington has something for everyone. Or drive your rental car to one of the beaches on the Pacific and take a relaxing stroll. There is no time for boredom in Washington State. Don't miss the following highlights: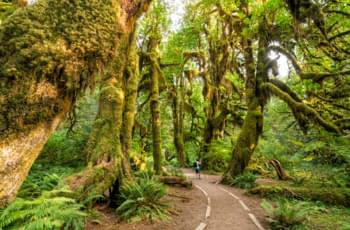 Discover Olympic National Park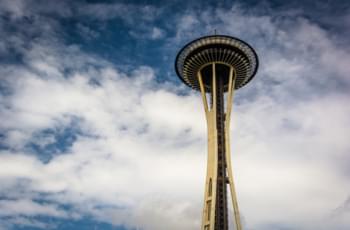 Space Needle in Seattle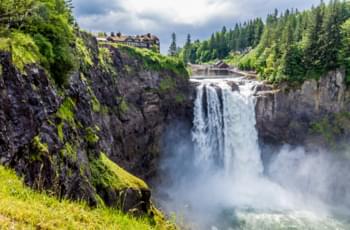 Snoqualmie Falls
Olympic National Park
Olympic National Park offers breathtaking views of snow-capped mountains, old pioneer cabins, flower-covered mountain meadows and much more. Leave the rental car and walk past trees up to 100 metres high and deep valleys. Olympic National Park offers wild coastline, jungle and snow-capped mountains. So there's something for everyone and nature lovers in particular will find something to their liking here.
Space Needle
The Space Needle is the landmark of Seattle. The lookout tower was built in 1962 and is the tallest building west of the Mississippi River. The elevator will take you to the observation deck in 41 seconds. From here you can enjoy a breathtaking view over the city centre. If you wish, you can also eat at the SkyCity Restaurant, located at 150 meters above sea level. The Olympic and Cascade Mountains offer an incredible backdrop.
Snoqualmie Falls
A visit to Washington's most famous waterfall, Snoqualmie Falls, should definitely be on your travel list. The waterfall is a popular scenic attraction and surrounded by a large park. Along the gorge you have a magnificent view from a variety of points. Park your rental car and look forward to an exciting hike to the Snoqualmie Falls.
Roadtrip USA: Car rental in Washington's neighbouring states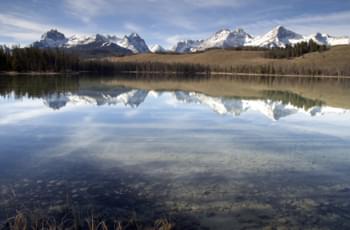 Redfish Lake in Idaho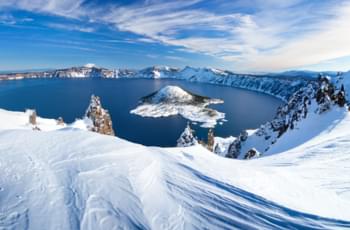 Winter in Crater Lake National Park in Oregon
If you want to see more of America besides Washington, you can also rent a car and drive to the neighboring states of Idaho and Oregon. As a nature lover, Idaho is the perfect place for you! Hike through the forests and along the lakes and rivers of Idaho. Visit Redfish Lake, the Boise National Forest and look forward to the City of Rocks National Reserve. Don't miss a trip to Oregon by rental car. These highlights are waiting for you in Oregon:
Mount Hood
Crater Lake National Park
Multnomah Falls
Is a rental car trip to Vancouver worth it?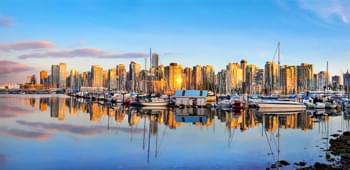 Blick auf Vancouver
Do you long for a mix of modern big city and breathtaking nature? Then a trip by rental car to Vancouver is definitely worth it! The metropolis in the southwest of Canada has a lot to offer. With almost 2.5 million inhabitants, Vancouver is the third largest metropolitan region in Canada. The city itself has about 650,000 inhabitants. Stroll along Vancouver's port, which today exports more goods than any other port in North America, and enjoy the view. Afterwards you can eat in one of the restaurants. After L.A. and New York, Vancouver is the third most important location for the North American film industry. So there's plenty to see in "Hollywood of the North".