Car rental North Carolina: Being flexible and independent on your discovery tour
North Carolina is a great place to explore, especially because of its scenic diversity, which is best explored by rental car. Compare offers of car rental companies in North Carolina on Driveboo.com and book your dream car online in advance. That way you can start your journey right after your arrival. Get behind the wheel of your rental car and discover the extensive tobacco fields, picturesque small towns and the Outer Banks. With a rental car, you will always travel independently and flexibly and make the most of your time in North Carolina.
North Carolina car rental: These are the stations for your rental car
Book your dream car in advance on Driveboo.com. You can pick it up at one of the stations in North Carolina. You will find car rental providers among others at the following locations:
Collect your rental car at one of the following airports:
Hickory Regional Airport (HKY)
Pitt-Greenville Airport (PGV)
Concord-Padgett Regional Airport (JQF)
Use the option one-way rental
If you want to explore one of the other states around North Carolina, the one-way rental might be a great option for you. That way you don't have to return the rental car to the same location from which you picked it up. Collect your dream car for instance in Charlotte and simply return it to Myrtle Beach. This way, you can customize your trip through North Carolina and the neighbouring states.
Don't forget to take out fully comprehensive insurance without a deductible! That way you will travel stress-free even in the event of damage!
Discover the highlights of North Carolina by rental car
In North Carolina you will certainly not get bored. Whether you're a nature, culture or sports lover - North Carolina offers highlights for all tastes. The easiest way to travel is by rental car. Don't miss the following highlights:
Outer Banks
Pisgah National Forest
Biltmore Estate
Cape Hatteras
Clingmans Dome
Wright Brothers National Memorial
Lake Norman
North Carolina Museum of Natural Sciences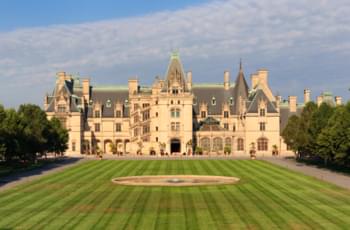 Biltmore Estate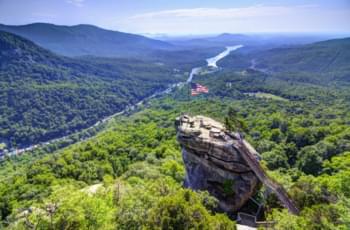 Chimney Rock at Chimney Rock State Park
Outer Banks
Rental car benefits
With your rental car, you will experience a lot of benefits, especially in North Carolina. A significant one will be your independent and flexible planning during your stay, meaning that you do not have to wait for tour groups. Do you plan to go on a road trip? If yes, a rental car will allow you to travel and explore North Carolina the way you like, not to be reliant on public transport.
When hiring a rental car, a deposit is required
Deposits are always paid when you pick up the rental car, for example at the Charlotte Douglas International Airport. After returning the car to the rental station, the deposit will be immediately refunded. If you have chosen the option of hiring the car with comprehensive insurance without any excess; and there is some damage found on the car, for example, due to a small rear-end collision, you will still get the full deposit refunded. With this sort of insurance, it does not matter if you have to pay the deposit. We recommend, renting a car with high insurance is cheaper than paying the costs for an accident and not getting the full deposit refunded.