That's why travelers choose Driveboo

Booking in only 3 steps. Simple and transparent.

Cancellation free of charge up to 24 hours before pick-up.

Personal advice from our experts.
Rental car South America: Road trip across the varied continent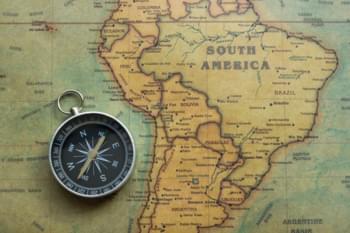 Travel to South America
Discovering South America by rental car - an unforgettable journey for all who want to fulfill their dream of an adventurous road trip. Whether you want to enjoy breathtaking landscapes or conquer the world-famous metropolises of the continent - Driveboo.com has the right car for every occasion. Choose from a wide range of vehicle types and models and start at your desired rental location. Driveboo.com offers you vehicles in all major cities and airports in South America.
Which countries in South America should I travel to?
Each of the South American countries has its own charm and fascinating sights. The table below gives you an overview of some of the most popular countries in South America and their capitals.
With the right rental car through South America
Are you looking for a rental car that fits perfectly to your wishes and needs in South America? Then you have come to the right place with Driveboo.com! You can use the various filters to select additional options besides the vehicle model and equipment. Here is a brief overview:
Vehicle category: small car, minivan, SUV, middle class car
Vehicle characteristics: all-wheel drive, automatic, air conditioning
Insurance benefits: fully comprehensive insurance and theft protection, underbody insurance, roof insurance, glass and tyre insurance
All-inclusive service: fair fuel regulation, all kilometres free
Further options: additional driver, one-way rental
Explore South America's most popular destinations by rental car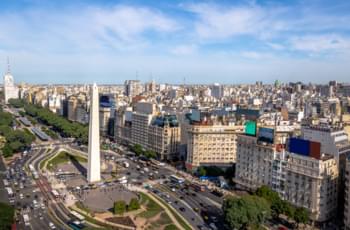 View over Buenos Aires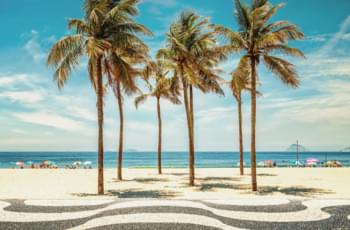 Copacabana, Brazil
A trip with the rental car opens the magic of the South American continent to you. Along the famous Panamericana highway, you can enjoy the panorama of snow-capped Andes peaks and untouched coastline. You will pass the world-famous metropolises of Buenos Aires (Argentina) and São Paulo (Brazil). Here you can relax on the vast sandy beach of Copacabana and plunge into the pulsating nightlife of Rio de Janeiro. With a rental car you can plan your South America route flexibly and individually.
Which highlights should I not miss in South America?
Machu Picchu in Peru
When you hear Peru, you might automatically think of the ancient city of Machu Picchu. The Inca city lies in the middle of the Peruvian Andes on a mountain top. It can be reached by bus, train or on foot. Follow the Inca Trail to Machu Picchu and marvel at some of Peru's most beautiful landscapes.
Salar de Uyuni in Bolivia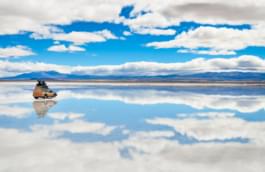 Discover the Salar de Uyuni
On a trip to Bolivia, the Salar de Uyuni, the largest salt pan in the world, should definitely be on the agenda. It is located in the southwest of Bolivia and can even be seen from space. During the rainy season, the desert looks like a huge mirror and is an excellent backdrop for funny photos. If you drive through the desert yourself, an off-road vehicle is recommended. With this you are perfectly equipped for the drive through the desert Salar de Uyuni.
Galapagos Islands, Ecuador
If you travel to Ecuador and have enough time, you should definitely visit the Galapagos Islands. The archipelago in the Pacific Ocean lies west of the coast of Ecuador and is a UNESCO World Heritage Site. Here a unique nature and animal world that you will never forget awaits you!
MORE EXCITING SIGHTS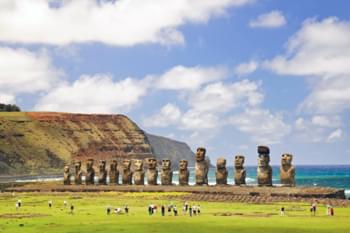 Stone figures on Easter Island
The continent of South America has so many fascinating sights to offer that you probably cannot make up your mind. Here are some of the most popular destinations in South America. With a rental car you can reach your desired destinations comfortably.
Sugar Loaf, Brazil
Easter Island, Chile
La Mano de Punta del Este, Uruguay
Ciudad Perdida, Colombia
Travel safely with the right insurance
When on vacation, no one wants unnecessary stress and a bad mood due to damage to the rental car. Therefore, we always recommend to take out fully comprehensive insurance without excess. This means that in the event of damage you will have to advance the costs, but will be reimbursed by your insurance company upon your return. If you want to be on the safe side, you can also take out glass, tyre and other insurance policies.
What to look out for when renting a car in South America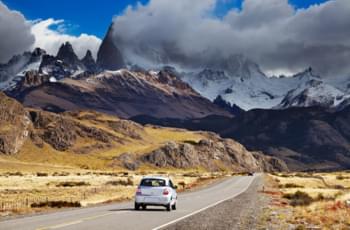 Traveling through South America by rental car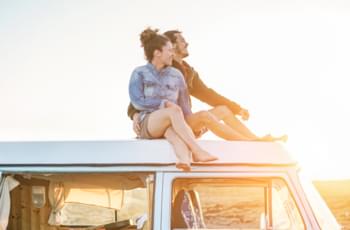 Pure relaxation with a rental car
With the exception of Guyana, Suriname and the Falkland Islands, in South American countries you have to drive on the right side of the road.
Especially in big cities you should keep your eyes open in traffic! Local drivers often do not follow the traffic rules. In case of doubt it is always better to brake and give the locals right of way.
Special care should be taken when driving at night, as many roads are not sufficiently illuminated.
For the border crossing between two countries the vehicle papers, the international driving licence and the passport must be present.