Rental car Santiago de Chile: Driving flexibly through colorful Chile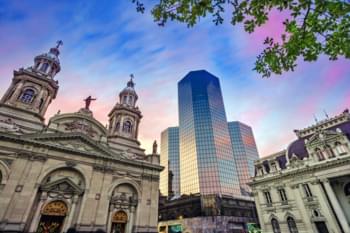 Historical and modern buildings
Book a rental car and discover Santiago de Chile on your own! Immerse yourself in a city of historic buildings and modern skyscrapers. Santiago de Chile has something to offer for every taste and is ideal for a trip by rental car. You can find the right rental car for Santiago de Chile on Driveboo.com. Our portal compares the prices of car rental companies in Santiago de Chile and shows you the best offer. Book your dream car online in advance and pick it up right after your arrival in Santiago de Chile. Look forward to an exciting trip through Santiago de Chile.
Car rental Santiago de Chile: Get your rental car here
In Santiago de Chile you can pick up a rental car at Santiago de Chile Airport or in the city centre. Simply book the desired vehicle from home. So you can start your well-deserved holiday right after your arrival. If you want to be mobile as soon as you arrive in Chile, we recommend renting a car at Santiago de Chile Airport. This will save you having to wait for public transport and get you to your desired destinations right away.
Vehicle equipment: Book your rental car the way you like it
On Driveboo.com you have the possibility to individually arrange your vehicle. Choose your vehicle class, equipment and additional options flexibly. So the rental car is guaranteed to fit your wishes and needs.
VEHICLE CATEGORY
Depending on your plans for Santiago de Chile, you should choose different car models. You can use our filter to select a small car, SUV, minivan or luxury car.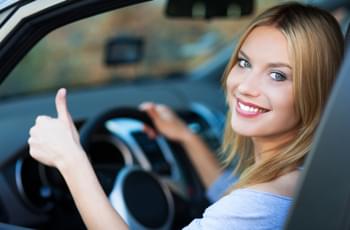 Santiago de Chile by small car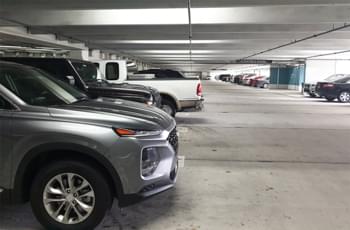 SUV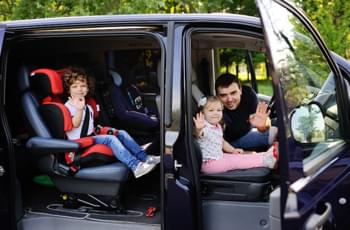 Enough space in the minivan
VEHICLE FEATURES
In addition to the vehicle category, you can also select additional vehicle features such as air conditioning, automatic transmission or all-wheel drive. So nothing stands in the way of a pleasant rental car trip through Santiago de Chile.
INSURANCE BENEFITS
We always recommend that you take out fully comprehensive insurance without excess. So even in case of damage you will not have to pay any additional costs and you can enjoy your trip through Chile stress-free.
In addition, you can choose from the following insurances when booking:
Glass and tire insurance
Underbody insurance
Roof insurance
Passenger accident insurance
What can I do in Santiago de Chile?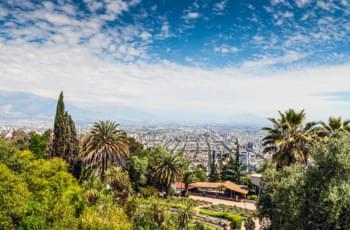 View from Cerro San Cristobal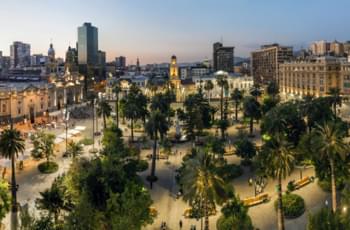 Plaza de Armas
Cerro San Cristobal
If you are in Santiago de Chile looking for a small idyllic spot, then visit the 880 m high hill Cerro San Cristóbal by rental car. From there you have a wonderful view of Santiago de Chile. You can also take a walk along the labyrinthine paths, relax in the botanical gardens or visit one of the swimming pools. As you can see, Cerro San Cristóbal has something for everyone.
Plaza de Armas
The central main square of Santiago is clearly the Plaza de Armas. The majestic colonial buildings are definitely an eye-catcher and the square offers the ideal starting point for a sightseeing tour through the city. The Plaza de Armas is also called the "heart and soul" of the capital. Social, economic, religious and political aspects of Chilean history meet here.
MORE SIGHTS
Parque Bicentenario
Mercado Central
Cerro Santa Lucia
Palacio de la Moneda
Visit other exciting cities in Chile with a rental car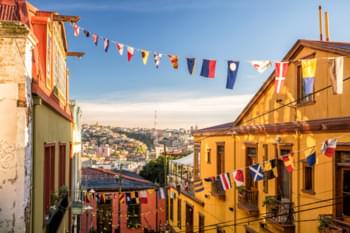 Discovering Valparaíso
As you are always flexible and independent with a rental car, you can also visit other cities in Chile as you wish. What do you think about Valparaíso, for example? Valparaíso is light and colourful. The jewel on the Chilean Pacific coast invites you to take a walk and admire the exciting street art on every corner. Iquique is also worth a visit. The town is located on the Pacific coast and is guaranteed to turn your head. Enjoy a day by the sea and explore the nightlife in the evening. As you can see, you can arrange your trip individually with a rental car and drive at any time to your desired destinations.
What do I have to look out for in Chile with my rental car?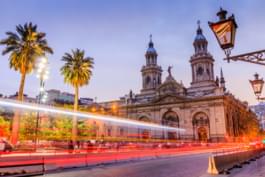 Road traffic in Santiago de Chile
If you are travelling with a rental car in Santiago de Chile, you should always observe the traffic rules. In Chile, right-hand traffic applies. The speed limit is 60 km/h in urban areas, 100 km/h outside urban areas and 120 km/h on motorways. If you want to drink alcohol in Santiago de Chile, it is better to leave the rental car parked because the blood alcohol limit is 0.3 per mille. You should also note that children under the age of 8 must not be carried in the front seat. In an emergency, you can reach the appropriate facilities at the following emergency numbers: