Car rentals in Brazil: Most popular car rental destinations
Rental car Brazil: Explore the largest country in South America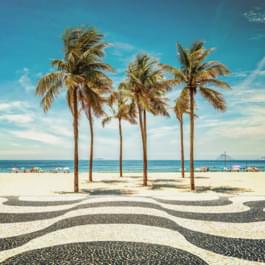 Visit the famous Copacabana in Brazil
Those who explore Brazil by rental car will see a lot from jungle to beaches to metropolises with millions of inhabitants. Embark on a journey by rental car through Brazil and discover the highlights on your own. You can rent the right rental car for your holiday in Brazil on Driveboo.com. Visit the famous Copacabana or take the cable car to the Sugarloaf Mountain. Whatever your perfect holiday looks like - with a rental car you will reach all of your desired destinations independently.
Do you have any questions about booking a rental car? Then don't hesitate and contact our service team via e-mail or telephone!
Car rental Brazil: Where can I get my rental car?
If you have booked the desired rental car online in advance, you can pick it up comfortably after your arrival in Brazil at one of the car rental companies.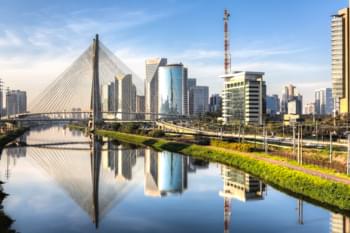 Visit São Paulo
The following are just a few of the places where you can find a car rental station:
Aracruz
Toledo
Ponta Negra
Would you like to be mobile right from the start? Then pick up your rental car directly at one of these airports in Brazil:
Discover the highlights of Brazil by rental car
Discover the most famous district of Rio de Janeiro by rental car. Stroll through the streets with numerous souvenir shops and marvel at the impressive skyline. The Copacabana is one of the most famous beaches in the world. Find a place between tourists and locals and experience pure Brazilian joy of life.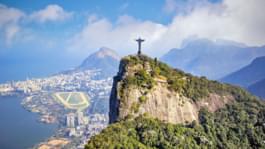 Cristo Redentor and Rio de Janeiro
The Christ statue Cristo Redentor is a definite must-see on a trip to Brazil. The landmark of Brazil is one of the reasons why so many visitors travel to Rio de Janeiro. From the platform you can enjoy a breathtaking view over the city and its surroundings. Park your rental car and take the rack railway to the top. You will certainly remember this view for a long time.
Another highlight in Rio de Janeiro is the Sugarloaf Mountain, which owes its name to its shape. You can reach the top of the mountain with a cable car that was already built in 1912. When you finally reach the top, you will be thrilled! An unforgettable view over the Atlantic Ocean and the bays and beaches of Rio de Janeiro awaits you.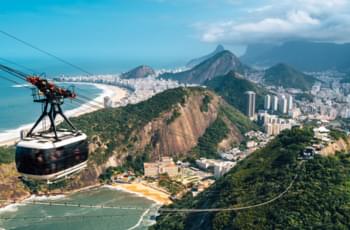 Cable car over Rio de Janeiro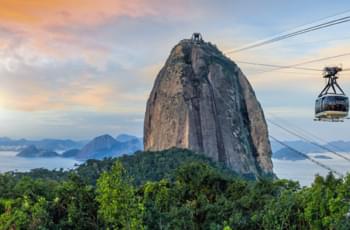 Sugarloaf mountain in Brazil
Corcovado
Fernando de Noronha
Ilha Grande
Santa Teresa
Chapada Diamantina National Park
Chapada dos Veadeiros
Driving in Brazil
Brazil's motorways meet all modern requirements. Nearly all major cities in Brazil are connected by asphalt roads and can be easily reached by rental car.