Rental car wanted in Fortaleza? Explore Brazil on your own
You don't feel like bad weather anymore, but want to drive to Fortaleza in Brazil with a rental car and enjoy the sun? That is a very good idea! The capital of the northeastern Brazilian state of Ceará, Fortaleza, has a lot to offer. The exploration tour is best done with a rental car. With the right rental car from Driveboo.com you are always flexible and independent. Book your rental car in advance online on our portal. With Driveboo.com you can choose the model and other equipment features as well as additional options for your rental car. Look forward to breathtaking beaches, beautiful nature and exciting sights in Fortaleza. With the right rental car, there's nothing standing in the way of an exciting trip to Fortaleza, Brazil.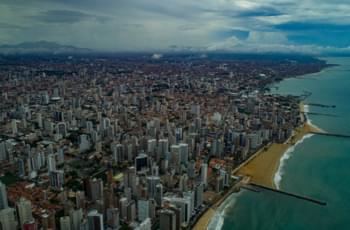 View over Fortaleza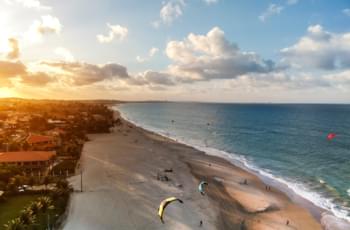 Beach in Fortaleza
Car rental Fortaleza: Where can I get my rental car?
In Fortaleza you can book a rental car either at Pinto Martins Airport or at one of the car rental companies in the city centre. If you book the car you want from home, you will have less stress after your arrival in Brazil. If you travel to Fortaleza by plane, you can pick up the rental car as soon as you land. This saves you from the annoying waiting time for public transport. In the state of Ceará you also have the possibility to pick up the rental car at the following locations:
You should observe these traffic rules in Brazil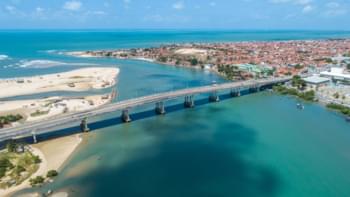 With the rental car through Brazil
If you are traveling by rental car in Fortaleza and other Brazilian cities, you should always follow the traffic rules. Nobody wants to get into trouble and unnecessary stress while on vacation. In Brazil, there is right-hand traffic. The speed limit is 30-40 km/h in urban areas, 60 km/h outside urban areas and 110 km/h on highways. When you get behind the wheel you should remember that Brazil has a strict blood alcohol limit of 0.0 promille. If, despite a careful and anticipatory driving style, an accident should occur, you can reach the appropriate facilities at the following emergency numbers:
With the rental car to the highlights in Fortaleza
Mercado Central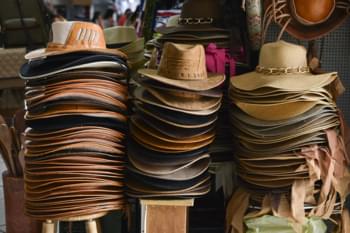 Hats on the Mercado Central
If you are in Fortaleza, Brazil, don't miss the opportunity to stroll through one of the interesting markets. The largest and most popular is the Mercado Central de Fortaleza. All kinds of goods from clothing to jewellery to hammocks are waiting for you on four floors. If you are looking for a souvenir for your loved ones at home, you are sure to find it here. To fortify yourself in between, you can try various culinary specialities at the food stands. So what are you waiting for? Park your rental car and visit the Mercado Central in Fortaleza.
Avenida Beira Mar
If you come back to Fortaleza from a long trip by rental car and still feel like getting some exercise, you can take a walk along the promenade of Avenida Beira Mar. Here you will walk along the beach and admire the Iracema, Meireles and Mucuripe districts. Try fresh seafood at the fish market and stroll around the handicraft market in Meireles in the evening. At the end of the day, enjoy a delicious cocktail in one of the many restaurants and bars.
OTHER SIGHTS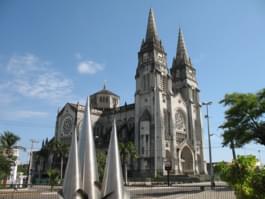 Catedral Metropolitana de Fortaleza
What can I do in Fortaleza with my rental car?
As you are always flexible and mobile with a rental car, you can drive undisturbed to your desired destinations in Fortaleza. Below are some ideas for excursions:
Morro Branco: For all adventurers we recommend an excursion with the rental car to the place Morro Branco. The interesting rock formations are like a labyrinth and shine in the most different colours. If you find your way out, you will be rewarded with a beautiful beach.
Beach Park: The Beach Park is the biggest water park in Latin America and is only half an hour away from Fortaleza by rental car. At the Beach Park you can throw yourself off one of the highest water slides in the world, enjoy the extensive sauna area and have fun all day long in the different pools.
Fortaleza Canyon: The Fortaleza Canyon is located in the Serra Geral National Park and is ideal for long hikes. Leave your rental car behind and look forward to breathtaking views and great landscapes.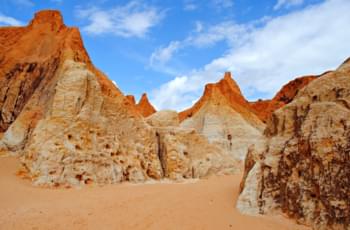 Morro Branco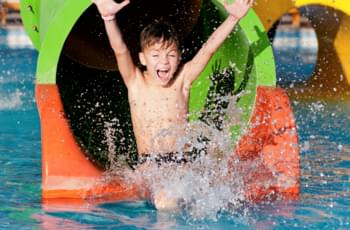 Sliding fun at the Beach Park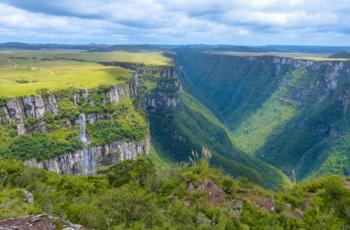 Fortaleza Canyon