Car rental Pernambuco: The northeast of Brazil is waiting for you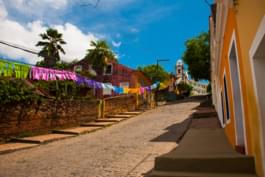 Discovering Pernambuco
Book a rental car and travel to the state of Pernambuco in Brazil. Visit the capital Recife, drive with a rental car to the most beautiful beaches and discover the most exciting sights in Pernambuco. Book your rental car in advance online on Driveboo.com and save yourself long waiting times after your arrival. If you travel with a rental car through Pernambuco, you are not dependent on public transport and can discover your desired places independently.
Interesting facts about Pernambuco
The Brazilian state of Pernambuco is located in the northeast of the country. The capital is Recife. In Pernambuco there live about 8.8 million inhabitants on an area of 98,311 square kilometres. Pernambuco's neighbouring states are Ceará, Paraíba, Alagoas, Sergipe, Bahia and Piauí. You can also explore these regions comfortably with a rental car. The biggest cities in Pernambuco are Recife, Jaboatão dos Guararapes, Olinda and Caruaru.
Car rental Pernambuco: Where can I get my rental car?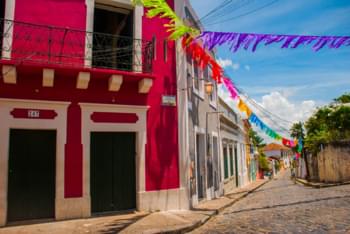 Bunte Häuser in Olinda
You want to be mobile and independent at all times during your trip to the Brazilian state of Pernambuco? Then it is best to take a rental car and explore the region on your own. In Pernambuco you will find pick-up points for your rental car at numerous locations. At the following locations you will find car rentals:
By rental car through Pernambuco's capital Recife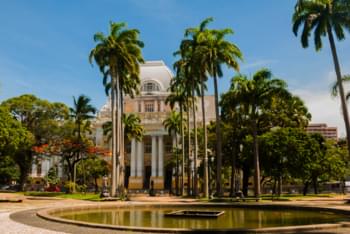 Plaça da República
If you want to explore the old town of Recife, it is best to leave the rental car and start walking. The historical centre of Pernambuco's capital is located on two islands just a few metres from the mainland. Here you can walk past small rivers and canals and explore the numerous bridges. One of the most beautiful buildings is the Teatro Santa Isabel, built in 1850 in neoclassical style. You should not miss this one. Next, visit the Plaça da República, which is located directly on the banks of the Rio Capibaribe. Especially architecture lovers will have fun here, as the square is surrounded by fantastic buildings from the 19th century. If you want to learn more about the city of Recife, you can also visit one of the museums. As you can see, there is a lot to do in Recife. With a rental car you can easily get to all your desired places.
Traffic rules Brazil: What you should consider
If you are travelling with a rental car in Pernambuco, you should always follow the traffic regulations in force in Brazil in order not to pay any fines. The following points should give you a short overview of the most important traffic rules:
In Brazil, there is right-hand traffic.
Speed limits: 30-40 km/h in urban areas, 60 km/h outside urban areas, 110 km/h on motorways
Blood alcohol limit: 0.0 per mile
Children under 10 years of age may only be carried in the rear seat.
Emergency numbers: Police 190, ambulance 192, fire brigade 193
Which beaches should I not miss in Pernambuco?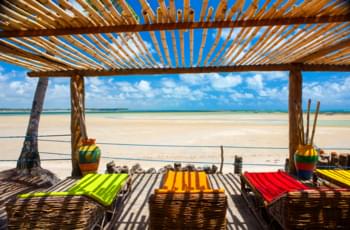 Pure relaxation on the beach in Pernambuco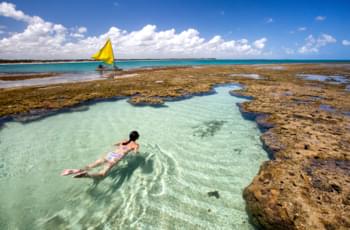 Porto de Galinhas
White sand, crystal clear water and a paradisiacal environment - the state of Pernambuco awaits you with incredible beaches. Sit behind the wheel of your rental car and set off in search of your dream beach. Visit the Muro Alto Beach, the Porto de Galinhas Beach or Baia do Sancho. Whether you prefer diving or snorkelling or just relax on a sun bed on the beach - in Pernambuco everyone gets his money's worth. In the following table you will get an overview which beaches are best suited for which activities:
With the rental car through the inland of Pernambuco
Not only the beautiful beaches at the coast of Pernambuco are worth seeing, also a trip with the rental car through the varied landscape of the state is worthwhile. Here you can look forward to mountain and savannah landscapes as well as a variety of plants. Far away from tourism, the original Brazil is still waiting for you. The places consist partly only of a few houses. Here you can get to know the authentic life of the Brazilians, if you take a round trip with a rental car.