Car rentals in Argentina: Most popular car rental destinations
Discover Argentina by rental car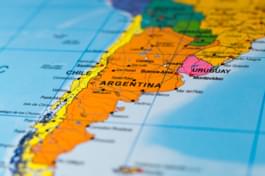 Road trip in Argentina
If you are travelling through Argentina by rental car, you will experience pure variety: mountains, cities, rainforests, sandy beaches and snow-capped glaciers are waiting for you! You'll find the right companion for your trip through Argentina on Driveboo.com. Our portal helps you to compare the offers of the car rental companies and to book a suitable rental car for Argentina.
Where can I get my rental car in Argentina?
The best way to travel in Argentina is by rental car. In this way, you will always be flexible and independent of public transport. In Argentina, you can pick up a rental car in the following cities: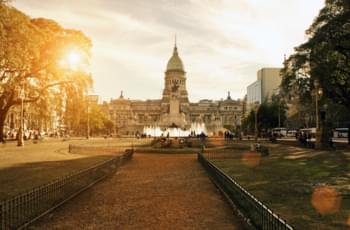 Sunset over Buenos Aires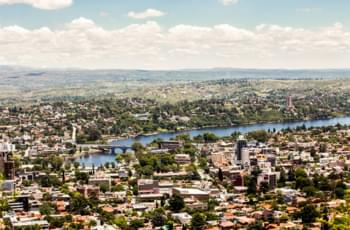 Visit Córdoba in Argentina
If you want to be mobile in Argentina right from the start, you can also pick up your rental car at one of the following airports:
Rental car Argentina: Additional options
On Driveboo.com you can select additional options to customize your rental car for Argentina. Just have a look at our portal. Among other things, you can select these options:
Inclusive services (fair fuel regulation, unlimited mileage)
Insurance benefit
Equipment (air conditioning, automatic)
Don't miss the highlights in Argentina
Look forward to an exciting journey through Argentina by rental car. Plan your trip in advance and create your individual list of attractions. With a rental car you can easily reach them. Don't miss the following highlights in Argentina: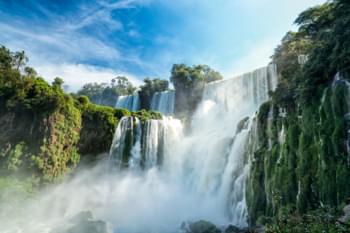 Waterfall in Iguazú National Park
Los Glaciares National Park
Iguazú National Park
La Boca
Aconcagua
Nahuel Huapi
Casa Rosada
Plaza de Mayo
Garganta del Diablo
Quebrada de Humahuaca
How expensive is a vacation with a rental car in Argentina?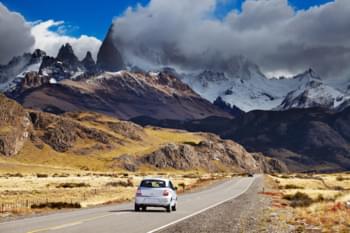 With your rental car through Patagonia
The prices in Argentina are roughly comparable to those you are used to in the U.S., but meat for example is of very good quality and cheaper than high quality meat in North America. Furthermore you pay higher prices in the touristic cities and the capital Buenos Aires. Due to the rather unstable economic situation the prices in Argentina can fluctuate strongly. We recommend that you always research the current prices before your holiday. By doing so, you can prevent unpleasant surprises. Also the rental car prices depend not only on the economic situation, but also on how far in advance you book your rental car online. As a rule, the earlier you book your rental car for Argentina, the better offers you will get. If not, you can cancel you car free of charge up until 24h before the pick up date.
How much time should I plan with for a road trip through Argentina?
If you can, you should plan with at least three weeks for your road trip through Argentina. If you want to travel all over Argentina, we recommend you take a domestic flight from Buenos Aires to Calafate and book a new rental car here. This will save you a lot of time on Argentina's roads. Alternatively, you can also get to know the beautiful north of the country around the Salta region. From the city of Salta you can make various excursions into the surrounding canyons, deserts and mountains. The landscapes around Salta are beautiful. Visit for example Mirador Hornocal.

Mountains in Mirador Hornocal
What's the best travel time for Argentina?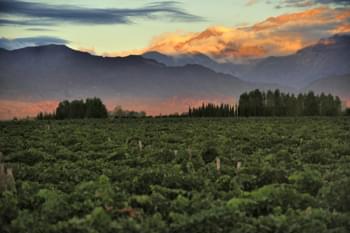 Remember that Argentina is located in the southern hemisphere and that the seasons are opposite to ours in Europe or North America. The more northern the destination, the closer to the equator and the warmer the region. Visiting Buenos Aires is recommended from September to April. The hottest months here are December to February with around 86°. So ideal to escape the wet and icy winter. In the south of Argentina it is quite cold all year round. Even in the summer months only temperatures between 41-50° are reached in Ushuaia. In the Salta region rain falls more often in summer.
How do I behave in Argentine road traffic?
In Argentina one drives exactly like in the U.S. on the right side of the road. As the country is as already mentioned very big, it is worth renting a rental car to explore it. If you park your rental car, always make sure to park it on guarded parking lots. We would also advise you never to leave your valuables lying open in the car, this could attract potential thieves to break into your car. Also, do not stop on the way between towns, for instance when someone else is stranded or having car problems and asks for your help. Since this could be a trick to rob you, we recommend that you inform the nearest petrol station about the incident, so that they can arrange help for the strangers. The driving style of the Argentine motorists is usually a little chaotic for us Americans. Drive with the highest attention and don't be disturbed easily.