Car rentals in Ecuador: Most popular car rental destinations
Ecuador by rental car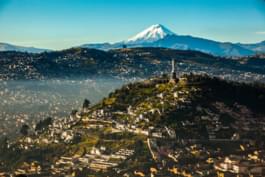 El Panecillo in Quito
The charming colonial cities, spectacular volcanic landscapes and breathtaking nature reserves of Ecuador are best explored by rental car. Enjoy the impressive country on the west coast of South America and drive to all highlights flexibly by rental car. Our portal Driveboo.com will help you compare the offers and show you the right rental car at the best price.
Driveboo wishes safe travels with your rental car and an unforgettable time in Ecuador.
Car rental Ecuador: Where can I pick up my rental car?
Car rental companies are located in the following locations in Ecuador: Celica, Cuenca, Esmeraldas, Guayaquil, Loja and Quito.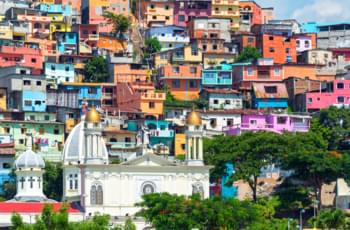 Colourful houses in Guayaquil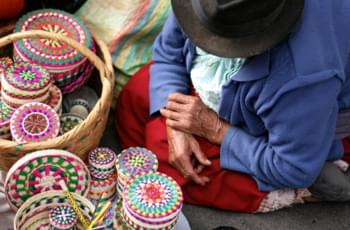 Woman with handmade boxes in Cuenca
If you want to be mobile right from the start, it is a good idea to pick up your rental car directly at one of these airports in Ecuador:
These are the must-sees in Ecuador
Don't miss these highlights on your trip to Ecuador:
Cotopaxi is one of the highest active volcanoes in the world. If you want to climb it during your trip to Ecuador, you can drive up to 4658 m with your rental car. From there you have to walk. Many Ecuadorian travel agencies offer mountain guides. The ascent begins after an overnight stay in the José-Ribas-refuge shortly after midnight.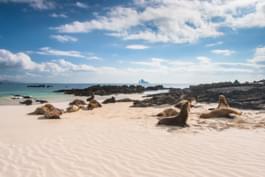 Seals on the Galapagos Islands
If you have planned enough time for your trip to Ecuador, you should definitely spend some time on the Galapagos Islands. The archipelago is located in the Pacific Ocean west of the coast of Ecuador and is a UNESCO World Heritage Site. Here a unique nature and animal world awaits you, which you will definitely not forget!
Look forward to an exciting time with many adventures on the Galapagos Islands!
Make sure to visit these highlights in Ecuador by rental car: