Rental car Lima: Travelling flexibly and independently in Peru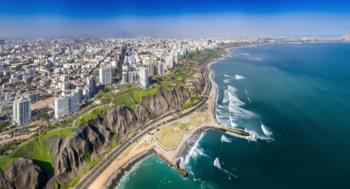 View over Lima, Peru
Have you ever dreamed of starting out in Lima with a rental car and exploring Peru? Then start planning your adventure through Peru today. Book a rental car from Lima and discover the capital of Peru on your own. Take a few days to visit all the interesting sights in Lima by rental car. You can find the right rental car on Driveboo.com. You can book your dream car very comfortably from home and only need to pick it up after your arrival in Peru at the car rental in Lima. What are you waiting for? Book a rental car and your Peru adventure can start!
You can pick up your rental car for Lima at these places
Do you want to be mobile and flexible from the very first moment in Lima? Then you can pick up your rental car directly after landing at Lima Airport. Alternatively, you can take a taxi to your accommodation after a strenuous flight. You will then receive your rental car fresh and alert the next day at one of the car rental companies in the centre of Lima.
What sights should I not miss in Lima?
Plaza de Armas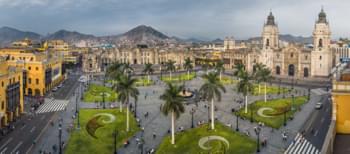 Plaza de Armas, Lima
The Plaza de Armas is considered to be the oldest place and therefore the most important sight of Lima. The square is considered the birthplace of the capital and has been a UNESCO World Heritage Site since 1991. As no cars are allowed in the Plaza de Armas, it is best to leave the rental car outside and continue on foot. The historical significance is also reflected in the buildings that surround the square. Look forward to the cathedral, the Palacio Arzobispal as well as the Palacio Gobierno. The Plaza de Armas is a highlight for every history and culture fan in Lima.
Cerro San Cristobal
The Cerro San Cristobal is Lima's local mountain. It lies embedded in the city north of the old town on the other side of the river. If you want to enjoy a wonderful view over Lima, then the Cerro San Cristobal is a real insider tip. From above you can see the different districts, the bullring, the stadium and the Plaza de Armas. It is best to take a taxi or bus to the top.
Miraflores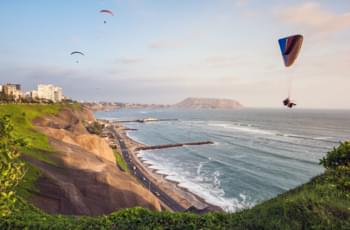 Paragliding in Miraflores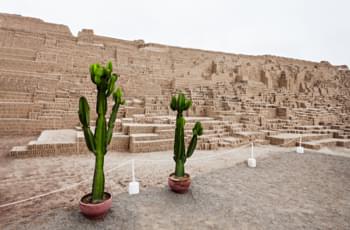 Temple Pyramid Huaca Pucllana
Miraflores is probably the most popular district of Lima. There is something for every taste in Miraflores: fine dining opportunities, extensive beaches, colourful shops and much more. Watch paragliders, stroll through the well-kept avenues or buy some souvenirs from one of the flying merchants in Parque Kennedy. If you're driving to the Miraflores district of Lima by rental car, visit the Huaca Pucllana temple pyramid. The name means "place of the holy games". The Huaca was built of clay bricks stacked on top of each other and is reminiscent of a bookshelf. A visit to the Huaca Pucllana will take you back in time.
What should I look out for with a rental car in Peru?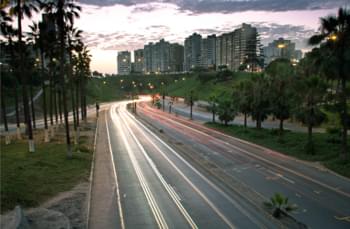 Traffic rules in Peru
In Peru, right-hand traffic applies.
Speed limits: 30-60 km/h in urban areas, 60-100 km/h outside urban areas.
All seats must be fastened with seat belts.
Per mille limit: 0.5 per mille
In case of accidents with the rental car and injured persons immediately call the police and ambulance.
Important emergency numbers:
Wanderlust: Travel to other South American countries by rental car
Ecuador
Discovering Ecuador
In Ecuador charming colonial cities, spectacular volcanic landscapes and breathtaking nature reserves await you. Travel the impressive country on the west coast of South America flexibly with a rental car. Visit Cotopaxi, one of the world's highest active volcanoes. If you want to climb it during your trip to Ecuador, you can drive up to 4658 m with your rental car. You will then have to continue on foot. It is best to book a mountain guide who will take you safely to the top. The ascent begins after an overnight stay in the José Ribas shelter shortly after midnight. Look forward to your adventure in Ecuador!
Colombia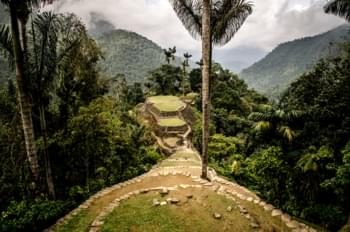 Ciudad Perdida
Colombia is definitely worth a trip by rental car. Whether culture, nature or sports lover - in Colombia everyone gets his money's worth. Drive with the rental car for example to the Parque Nacional Natural Tayrona. It is located between the Colombian Caribbean coast and the Sierra Nevada mountains. The park runs up to the mouth of the Río Piedras. Beautiful beaches, a unique animal world and natural jungle await you. Those who are adventurous can also visit the Ciudad Perdida - the "Lost City". Park your rental car and stroll through the jungle of Colombia. Meet indigenous people, sleep in hammocks and shower in rivers. You won't ever forget this adventurous trip. You can tell your grandchildren about it.
Bolivia
Discover Bolivia, the land of quinoa and the fascinating Uyuni Desert by rental car. Drive through Santa Cruz, visit the witch market in La Paz or take a boat trip on Lake Titikaka. If you are travelling in Bolivia by rental car, you can experience so many different things that you will certainly not get bored. A highlight and definite must-see on your journey through Bolivia is the largest salt pan in the world: the Salar de Uyuni. If you are travelling in the desert with a rental car during the rainy season, it reminds you of a huge mirror, which is an excellent backdrop for breathtaking holiday photos.
More Highlights in Bolivia:
Laguna Verde
Tiahuanaco
Laguna Blanca
Valle de la Luna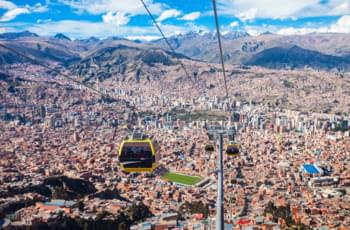 Cable car in La Paz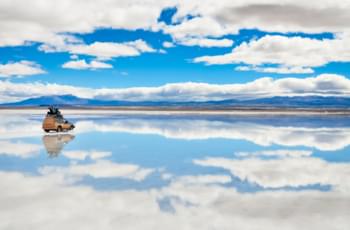 Discovering Salar de Uyuni