Car rental Lima Airport: Travelling flexibly in Peru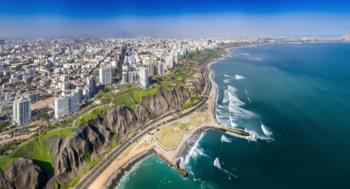 View over Lima, Peru
Are you looking for a rental car for your next trip to Lima, Peru? Then we are the right place to go. With us you can compare the prices of car rental companies from Jorge Chávez International Airport in Lima and book your dream car. Visit the most popular sights in Lima, try delicacies of the country and discover further highlights in Peru. If you pick up your rental car right after your arrival at Lima Airport, you are mobile from the very first moment. Drive flexibly to the destinations of your choice and stay there as long as you like. What are you waiting for? Book the right rental car on Driveboo.com and start your adventure through Peru.
Information about Lima Airport
Airport name: Aeropuerto Jorge Chávez
IATA code: LIM
Opening: 1960
Passenger volume: 20 million per year
Location: 10 km northwest of the city centre of Lima in Callao
Airlines flying to Jorge Chávez International Airport and their destinations:
These are the traffic rules in Peru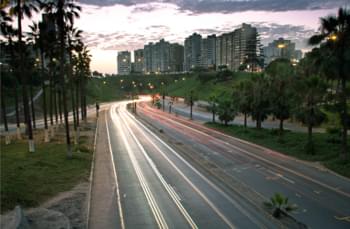 In Peru, right-hand traffic applies. It should also be noted that seat belts must be fastened on all seats. Always follow the indicated speed limits. In built-up areas the maximum speed is 30-60 km/h and outside built-up areas 60-100 km/h. The blood alcohol limit is 0.5. If there is an accident with an injured person with the rental car, call the police and ambulance immediately.
In the following table you will find an overview of all relevant emergency numbers:
Which highlights should I visit with my rental car in Lima?
Huaca Pucllana
Have you ever heard of the temple pyramid Huaca Pucllana? You should definitely visit it on a trip to Lima. Just drive with the rental car to the district Miraflores. Huaca Pucllana means translated "place of the holy games". The Huaca is built of clay bricks stacked on top of each other, reminiscent of a bookshelf. A visit to the Huaca Pucllana will take you back in time.
Plaza de Armas de Lima
Plaza de Armas is the birthplace of Lima, Peru's capital. As probably the oldest square and centre of the old town, it is the most important sight in Lima. Since 1991, the Plaza de Armas also belongs to the UNESCO world cultural heritage. You will find the government palace of Lima here. Thus, a visit is absolutely recommendable. But you should park the rental car outside, as no cars are allowed on the place.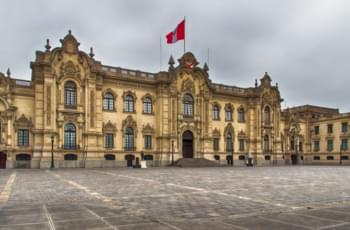 Government Palace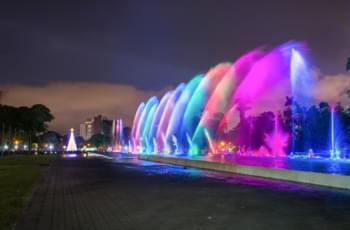 Colourful light show in the Parque de la Reserva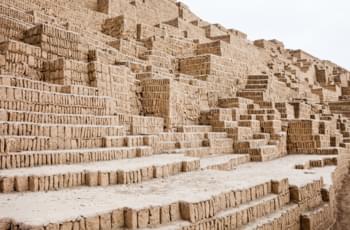 Temple Pyramid Huaca Pucllana
More Highlights
Parque de la Reserva
Basílica y Convento de San Francisco de Lima
Gold Museum of Peru and Arms of the World
Museo Arqueológico Rafael Larco Herrera
Which rental car is best for Lima?
Have you decided to rent a car from Lima Airport? This is a very good choice. Now all you have to do is decide which model best suits your wishes and needs in Lima. If you travel with the whole family, we recommend a minivan. Here all passengers have enough space and it won't be too cramped for your luggage. If, on the other hand, you are travelling alone or only need the rental car for city trips, then it is best to take a small car. This way you can fit into even the smallest parking space. Or do you come to Lima for a business appointment? Then a compact class or an SUV is the right choice. This way you will travel safely and impress your business partner.
Road trip: A trip by rental car through Peru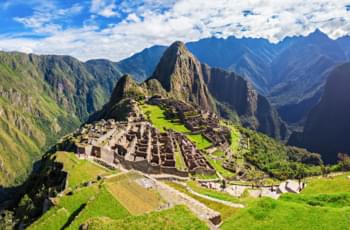 Machu Picchu, Peru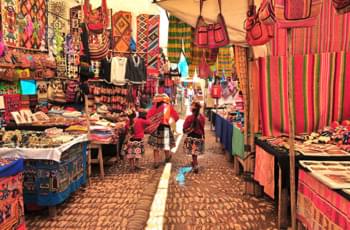 Market in Urubamba Valley
If you have already made the long journey to Peru, then of course you would like to see as much of the country as possible. The country in South America has so much more to offer than the capital Lima. Get into your rental car and embark on an adventurous journey through Peru. If you are travelling by car, you can reach all your desired destinations at your own pace and discover the highlights on your own.
Machu Picchu
Anyone who hears Peru probably first thinks of the ancient city of Machu Picchu. The mysterious city of the Incas lies in the middle of the Peruvian Andes on a mountain top. It is probably the most popular photo motif on a trip to Peru. Hike on the Inca Trail to Machu Picchu and dive into the great landscapes of Peru. If you hike to Machu Picchu, you usually have a two to four day walk ahead of you. But it's worth it. With good planning and preparation as well as the right equipment, this trip will be an unforgettable adventure.
Urubamba Valley
The Urubamba Valley is located north of Cusco and is the Sacred Valley of the Incas. It can be easily reached by bus or rental car. In the Urubamba Valley you can look forward to extensive fields and snow-capped mountains. The ruins and salt terraces will enchant you. Another highlight are the colourful markets of the Andean villages. Stroll through the alleys and discover all sorts of little things. If you like it a little more action-packed, you can also take a mountain bike tour.
Taquile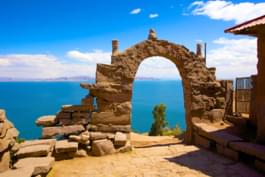 Taquile, Peru
The island Isla Taquile is picturesquely situated in the middle of Lake Titicaca. Tourism is strictly regulated on the island. During a visit you will be accommodated in private houses instead of hotels. In that way you can experience the culture and traditions very closely. Look forward to great experiences, such as a colourful festival in July. More culture is not possible!
Driveboo.com wishes you lots of fun on your journey through Peru!