Explore Madrid with a rental car
Madrid, the capital of Spain, is literally packed with exciting sights and attractions which can be ideally explored by rental car. Its modern vibe of a large metropolis and the great atmosphere of its cultural centres lure thousands of holidaymakers on an annual basis. The city of Madrid never sleeps so get yourself a rental car and drive to your favourite destinations in Madrid. During the day, it offers an extensive selection of museums, art galleries, and stunning monuments. After dark, there are plenty of restaurants, bars, and clubs to visit in the city centre. The residents of Madrid are indeed too busy to rest—you can forget about a Spanish siesta in this city. This beautiful metropolis with its long history and historical monuments can be cheaply and comfortably explored thanks to the wide variety of rental car offerings in Madrid. With DriveBoo, you can compare offers of many different car rental companies and choose the one that best suits your needs.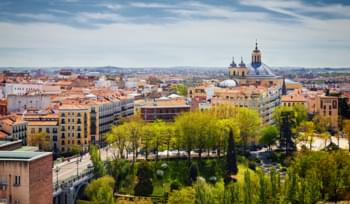 Madrid in spring
A visit to the capital of Spain in spring is a great opportunity to ring in the year. Visit the city as it blooms and shines in the spring colors and get to know Madrid with a rental car on your own. In spring, the climate in Madrid is already much more pleasant than in many other European cities. Thus, you can have breakfast in peace on the terraces of the numerous cafes of the city outside or enjoy a "café con leche" in the afternoon sun. During the day we recommend a visit to the Retiro Park, which blossoms especially beautifully in spring. The Palacio Real is also worth a visit in spring. Alternatively, you can simply stroll along the Paseo del Prado, soaking up the spring atmosphere. The stunning boulevard is especially attractive in spring, when the large trees along the street blossom again and add color.
Enjoying the summer in Madrid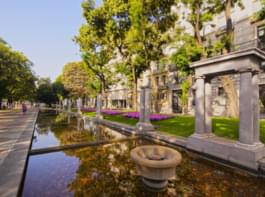 Paseo del Prado
In summer, most Madrileños, as Madrid's inhabitants are called, are drawn to the coast due to the hot temperatures in the city. So get yourself a rental car during your holidays in July and August and embark on a road trip to the beach. If you decide on staying in Madrid, you can escape the hot sun and take a walk along the famous street "Paseo del Prado" to one of the many museums. Inside it's quite cool and you can enjoy some exhibitions and learn a lot about the art history of Europe. How about a picnic in Retiro Park, Madrid's green oasis, in the summer evenings? Afterwards you can end the day in the hip neighborhood of Chueca.
Where can I rent a car in Madrid?
In Madrid, car rental companies can be found in a number of locations all around the city. However, it is also possible to take advantage of the car rental spots at the airports. The nearest airport to the city centre - Madrid-Barajas Airport (MAD) - is located 14.6 km away. The car rental companies will be extremely easy to find as all of them are located at the arrivals area of terminals T1 and T4. Finding your dream vehicle - when there are so many to choose from - may initially appear to be quite challenging. Luckily for you, Driveboo can help you do it easily and successfully!
Insurance for your rental car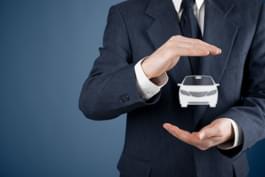 Suitable insurance for your rental car
Every car rental company in Spain has to offer insurance (sometimes also called Excess Reduction or Excess Waiver) for your rental car, which you should always opt for, for your own protection. The best option is the fully comprehensive insurance without non-waivable excess in case of an accident, injury, or theft. In Spain, rental cars are also required to have fire insurance and third party liability insurance coverage.
What are the traffic rules in Spain?
Speed limits
In Spain, there are different speed limits for every kind of road and vehicle. In the table below, we have included the limits applicable for passenger cars:
*Only if it is a one-way road, a road with more than two lanes for at least one direction of traffic, or a road with shoulders more than 1.5 m wide.
Speeding in Spain is punishable by a fine of several hundred to several thousand Euros, depending on the degree of the offence and the driver's income.
Alcohol limit
The legal blood alcohol content in Spain is 0.05% (breath alcohol content: 0.25 mg/l), and 0.03% (breath alcohol content: 0.15 mg/l) for drivers with less than two years of experience. Exceeding this limit may lead not only to a high fine, but also to a driver being arrested and taken to the nearest police station.
Other offenses
The driver and any passengers occupying the front and rear seats of the vehicle are all required to wear seatbelts. Law enforcement officers can punish a driver or passenger for not wearing a seat belt with a ticket of EUR 90 per person.
If you park in an unauthorised place, you can expect to pay a penalty of up to EUR 300.
Toll roads
In Spain, it is only necessary to pay a toll on motorways. Tolls are collected at toll gates and the amount depends on the category of vehicle and the length of the journey. There is no need to buy a vignette. You can pay with cash or use your credit card. It is also possible to use a payment system, known as "Via-T", which allows you to pass through toll gates without stopping. However, it is only really suitable for those who drive in Spain frequently.
The average price while driving a rental car is € 9.5/100 km.
Motorways in Spain are marked as "AP-X", where "X" is the road number (e.g., AP-7).
Exploring Madrid and its surroundings with a rental car
The bustling cultural hub of Madrid holds many attractions in store for visitors who choose it as their holiday destination. However, it is also a great starting point for exciting ventures around the wider region.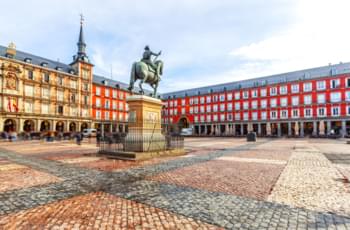 Plaza Mayor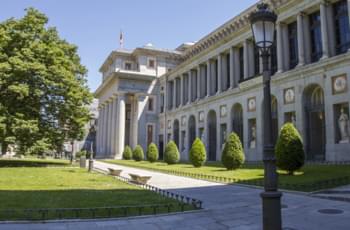 El Prado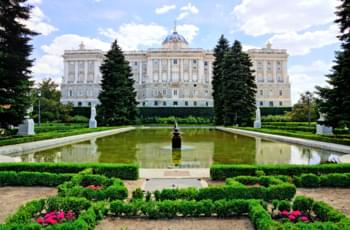 Royal Palace
Prado Museum
Any art fans should definitely start their exploration of Madrid with the Prado Museum. It stores more than 5,000 different paintings, and, as a result, has become the greatest rival to the Louvre over the years. The collection spans from the 12th century to the 19th century and features a plethora of masterpieces by European artists.
Royal Palace
Not far from the Prado Museum, you will find the Royal Palace, which is constructed entirely of granite and Colmenar stone. It is characterised by its awe-inspiring architectural details that will remain in visitors' minds long after their visit.
Plaza Mayor
In Plaza Mayor, dating back to the 17th century, you will be surrounded by the ambience of the past. Over the course of the centuries, the plaza was the scene of ceremonial events, canonisations of saints, and even bull fights. Today, it is a social meeting point—not only for the citizens of Madrid but also for tourists.
Aranjuez
With a rental car, you will have the opportunity to leave the city limits and head out into the surrounding region. Aranjuez, an elegant historic town that is also listed as a UNESCO site, boasts a variety of interesting monuments and sights, including the Royal Palace and the Railway Museum.
Sigüenza
You can also travel to Sigüenza and enjoy the town's interesting cultural heritage. Here, you will have the opportunity to pay a visit at the charming Castillo where you will learn more about the history of the region.
Puerto de Navacerrada
For those who would like explore the vicinity of Madrid in the winter season, there is a popular ski resort located approximately 60 km from the city centre - Puerto de Navacerrada. The resort features excellent infrastructure and more than 10,000 km of skiing trails.