Explore London in Summer 2020 with your rental car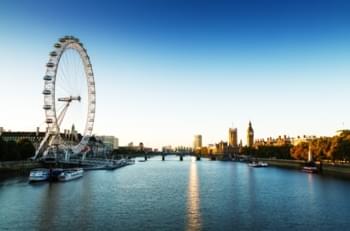 London is the capital city of England and has to offer a lot of activities and sights that you can explore with your hired car. Especially in the Summer months, you can visit the beautiful historical monuments that London provides. Below, you will find some examples of destinations that you can easily visit with your rental car.
London Eye
Buckingham Palace
Big Ben
Discovering London by Rental Car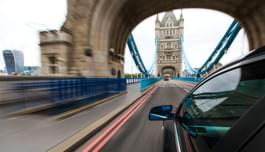 The best way to explore not only London but also its surroundings is to rent a car. This way, you can be fully independent and enjoy the area very conveniently. With Driveboo, you can easily compare different car rental offers and book your rental car directly online. London is the capital of the United Kingdom and the largest city in Europe. It is one of the world's most important business, financial and cultural centres. The City of London is home to the largest international banks and businesses. London is also the cultural capital of the United Kingdom, hence it houses around 240 museums. What is more? The city has the world's most developed metro network with 400 kilometres and 270 stations.
Where should I rent a car in London?
London is one of the largest and most popular metropolises in the world. Therefore, it is possible to rent a car in basically every part of the city. However, with its four major airports, London is usually visited by plane. For those choosing this means of transportation, it will be most convenient to pick up a rental car directly at the airport. The airports near London are all located in strategic locations – relatively far from one another. The main one is Heathrow Airport (LHR), which is also the busiest airport in Europe and the seventh busiest airport in the world. Other airports in the area include:
Ensure your rental car in London
If you rent a car in London, you should always choose full insurance, regardless of the amount of time you plan on driving. When renting a car, you should also pay extra attention to include liability insurance with high coverage.
Driving in and around London – traffic regulations in England
The most important thing to remember is that in England, they drive on the left. Inexperienced drivers are advised to first practice their skills on less frequented roads. All drivers in England must be at least 18 years old and have a valid driving licence. A European or international driver's licence is sufficient. All passengers must wear seat belts, but drivers are only responsible for themselves and minors.
Emergency phone numbers in England:
What are the speed limits for rental cars in England and London?
Explore the surroundings of London with a rental car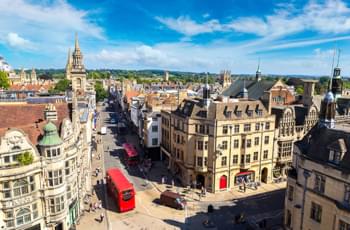 Oxford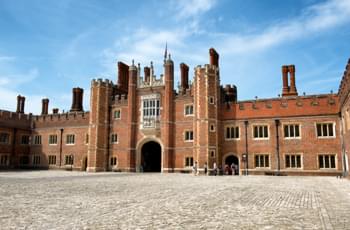 Hampton Court Palace
With a rental car, you can also visit different destinations in the area surrounding London. Worth a visit is Hampton Court, located to the south-west of the city, where many English kings resided up to the mid-18th century. The castle has a magnificent interior and is surrounded by beautiful gardens. You should also take a rental car for a ride to the historic suburb of Greenwich, home to the Royal Observatory, Queens House and Greenwich Park, which is a UNESCO World Heritage Site. You can also relax with a trip to Hampstead Heath: this is a beautiful park with amazing bathing lakes. Also, the beautiful city of Brighton is always worth a visit, as well as the small town of Stratford-upon-Avon, northwest of London. An amazing day-trip destination is Oxford, the famous university town, which is located about 90 km northwest of London.
Discover Highlights in London by rental car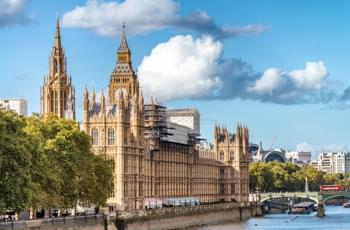 Westminster Palace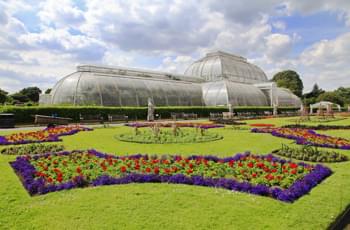 Royal Botanic Gardens
In London, there are four UNESCO World Heritage sites, namely the Tower of London, the Greenwich Astronomical Observatory, the Royal Botanic Gardens and the area including Westminster Palace, Westminster Abbey and St. Margaret's Church.
Also worth visiting in the city are the West End and Leicester Square. You should also definitely see the famous Piccadilly Circus, one of the symbols of London. Other attractions of the area include Chinatown and Covent Garden, including the Opera House. Nearby, you will also find Europe's busiest shopping street, Oxford Street, which is about 1.2 miles long. While in London, you also need to see one of the biggest symbols of the city – Big Ben. Another famous symbol of the city is Tower Bridge, one of the most beautiful bridges in the world.
Those who want to chill out surrounded by beautiful greenery should visit Hyde Park. This is one of several Royal Parks in London, located on both sides of the Serpentine lake and covering an area of 360 acres. The Boat Race on the Thames between the rowing teams of Cambridge and Oxford is an absolute highlight for many tourists and should not be missed on a trip to London in the spring.