Rental car Can Pastilla: Explore Mallorca by yourself
Beach in Can Pastilla
Spend your vacation in Can Pastilla and explore the Spanish Mediterranean island of Mallorca on your own with your own rental car. Can Pastilla is only a few minutes away from Palma de Mallorca by rental car. Spend a few relaxing days in Mallorca. Visit the most beautiful beaches of the island and visit the most popular sights in Can Pastilla and surroundings. With a rental car you are always flexible and independent. Travel at your own pace and make your vacation in Mallorca an unforgettable experience.
Car rental Can Pastilla: Where can I pick up a rental car in Mallorca?
On the island of Mallorca, you will find car rental services in many locations other than Can Pastilla. In the following table you will get an overview of some of the places where you can pick up a rental car and their distance by car from Can Pastilla:
Autumn in Can Pastilla for hiking lovers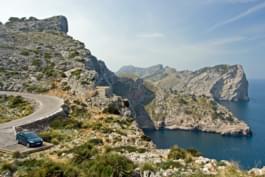 With the rental car into the mountains
Attention hiking enthusiasts: from Can Pastilla you can reach the mountains with a rental car in autumn in no time. The autumn months are ideal for extended hikes in Mallorca. Enjoy relaxing hours in nature. In autumn, not so many tourists are drawn to Mallorca, so you can enjoy the island in peace. Immerse yourself in the varied autumnal landscape and recharge your batteries. You can spend the autumn evenings in the beautiful village of Can Pastilla. Have a glass of wine in one of the restaurants or enjoy the sunset on the beach.
What sights are there in and around Can Pastilla?
If you are on the road with a rental car in Mallorca, you are always mobile and can flexibly explore your favorite sights. We tell you which highlights you should not miss from Can Pastilla:
Palma de Mallorca
Be sure to visit the capital Palma de Mallorca by rental car. Stroll through the old town or take a carriage ride. The landmark of the city of Palma de Mallorca is the Cathedral La Seu and definitely worth a visit. It is one of the most beautiful churches in the world and is located very close to the sea. Other highlights in Palma de Mallorca are the Castell de Bellver and the Royal Palace La Almudaina. With a rental car you can reach everything without any problems. If you want to take a little break, just sit down in one of the cafes and watch the colorful hustle and bustle.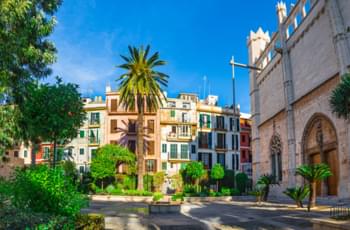 Beautiful old town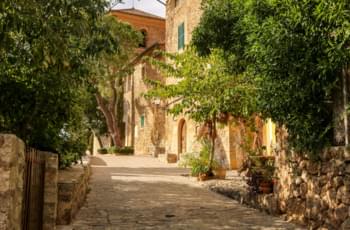 Exploring Palma de Mallorca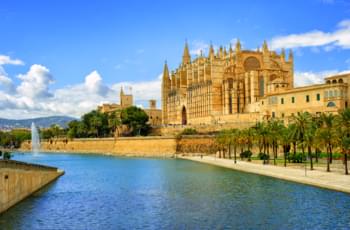 Cathedral La Seu
Palma Aquarium
Especially if you travel to Can Pastilla with children, a visit to the Palma Aquarium is a highlight. Look forward to seeing all kinds of sea creatures up close.
More Highlights
Cala Estància
Train trip to Port de Sóller
Cala Pudent
Road trip by rental car from Can Pastilla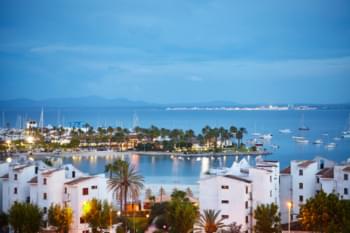 View of Alcúdia
Can Pastilla is an excellent starting point for a road trip with a rental car over Mallorca. Visit the most beautiful beaches, mountain villages and sights. Since you are always mobile with a rental car, you can go on a discovery tour to the most beautiful places on the island. These places are definitely worth a visit:
Alcúdia: The beautiful town of Alcúdia is located in the north of Mallorca and is a highlight for both hiking enthusiasts and beach lovers. Look forward to a lush green landscape and secluded sandy beaches.
Pollenca: Pollenca is also located in the north of the island. You can reach the municipality after about 45 minutes by rental car from Can Pastilla. Visit Cap Formentor from here and enjoy the beautiful beach.
Cala D'Or: The town of Cala D'Or reminds you of Ibiza with its white house facades. Park the rental car and enjoy a few undisturbed hours in one of the bays.