Car rental Cala d'Or: Charming coastal town in Mallorca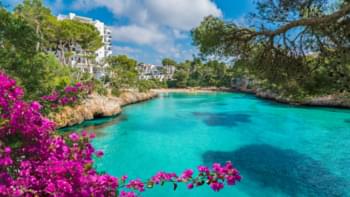 Exploring Cala d'Or and its surroundings by rental car
Mallorca is a popular destination all year round. The Spanish island treats its visitors with mild temperatures even during the low season. The beautiful coastal town of Cala d'Or is located in the southwest of the popular Balearic island Mallorca. It can be easily reached by car from the airport Palma de Mallorca (PMI). The beautiful Cala d'Or bears its name "Gold Bay" quite rightly. Cala d'Or offers a whole chain of idyllic small bays. These are best reached with a rental car.
Car rental Cala d'Or: Fine sandy bays and rugged cliffs
Cala d'Or is located on a romantic rugged cliff coast, which is broken up by a number of small fine sandy bays.
What are the most beautiful bays in Cala d'Or? Among the most beautiful bays:
Cala Esmeralda
Cala Ferrera
Cala Serena
Cala Gran
Cala d'Or sowie die
Cala Egos
Cala d'es Forti
Cala Galera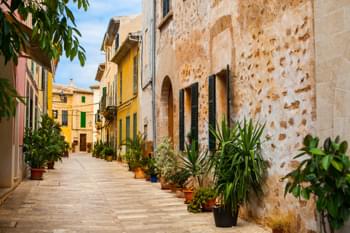 Explore the historic Old Town of Cala d'Or
Also the center of Cala d'Or has its own charm. Unusual for Mallorca are already the many white buildings located there. It is no coincidence that they remind us of the famous Mediterranean Ibiza style. Cala d'Or was planned in the early 1930s by the Ibizan architect Josep Costa Ferrer. And he was clearly inspired by his hometown. Here you can stroll between the many stores, bars and restaurants. Cala d'Or is, even in summer, not as crowded as some other places on Mallorca. Worth seeing is the historical fortress Es Forti, which rises strikingly at the entrance to the port of Cala d'Or. If you pick up your rental car in one of the car rental agencies located in Cala d'Or, you will almost automatically pass another landmark: the imaginative sculptures on the traffic islands at the main entrance to the town.
Book a rental car for Cala Figuera, Portopetro and Portocolom
Also the closer surroundings around Cala d'Or offer many beautiful bays, which invite you to bathe, relax and soak up the sun. Especially Cala Figuera, Portopetro and Portocolom are always worth a visit - and can be reached quickly with a rental car. The original fishing port Portopedro can be reached from Cala d'Or by rental car in only five minutes by car. The small Portopetro is known for its historic fishing port, from which there is a ferry connection to the island of Cabrera.
The best place near Cala d'Or for diving and snorkeling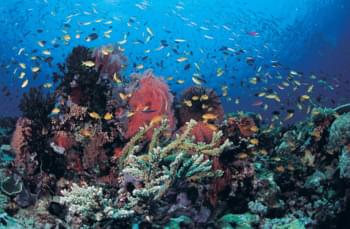 Diving and snorkeling paradise nearby Cala d'Or
Another worthwhile excursion leads you to Cala sa Nau. The bay is conveniently located between Cala d'Or and Portocolom. The beach of Cala sa Nau is even awarded with the Blue Flag of the Foundation for Environmental Education - the sign for sustainable tourism. You can rent a car and drive along a narrow road to a parking lot located directly above the beach and then go down to the beach via a paved staircase. Where is the best place in Mallorca for diving and snorkeling? Cala sa Nau is an excellent area for snorkeling and diving. The offers of this underwater sports paradise include an underwater cave that is easy to dive in - the Mariengrotte. This has a depth of about 80 meters and a width of about 40 meters. The water depth in the Mariengrotte is between three and eight meters.
Rent a car Cala d'Or: drive up to old monasteries and castle ruins
Gerade in der Gegend rund um Cala d'Or, zeigt sich Spanien wirklich von seiner schönsten - und von einer besonders vielfältigen - Seite. So können Sie nicht nur unweit von Cala d'Or hervorragend tauchen, sondern mt Ihrem Mietwagen auch auf die hohen Berge mit alten Gemäuern und fantastischen Aussichtspunkten hoch fahren. Die besonderen Angebote dieser Art beinhalten das Kloster Santuari de Sant Salvador und das Castell de Santueri.
Exploring Santayí and Palma de Mallorca by car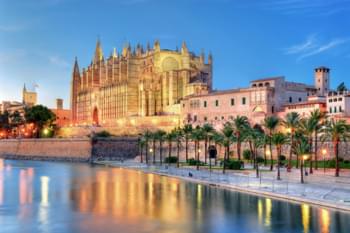 Your rental car is talking you to Palma
A rental car offers you a great way to explore the cities around Cala d'Or. Santanyí is the next bigger city with about 11.000 inhabitants. The local sights include the church Sant Andreu from the 18th century, the parish church Capella del Roser from the 14th century and the old city gate sa Porta Murada with its tower from the 16th century. Also worth a trip is the capital Palma de Mallorca.