Car rental Can Picafort: Holidays in the northeast of Mallorca
Spend an unforgettable holiday in Can Picafort with a rental car. You can get your rental car directly at Palma de Mallorca Airport (PMI). To get to Can Picafort on the northeast coast of Mallorca, it will only take you one hour by car. Check the online price comparison thoroughly to see how cheap the offers of local providers are. With an international car rental company you will get the latest cars with all the comforts available. Rental cars from a Majorcan rental company can also be booked on a daily basis. Out of season you can get a rental car at extremely favourable conditions. Use Driveboo in order to take a closer look at the different offers for rental cars on Mallorca. By making use of the filter function you will find your desired services.
Rental car Can Picafort: autumn well spent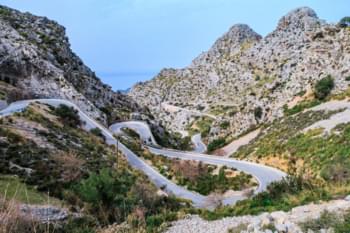 The Tramuntana Mountains by rental car
Vacation in Spain and especially in Can Picafort on Mallorca is clearly more relaxing when sunbathing and water sports are not your only occupation. In autumn, a rental car gives you a lot of freedom in the design of your vacation and brings you cheap to other worth seeing regions in Mallorca. In autumn, for example, a tour through the 90 km long Tramuntana Mountains is recommended. Here you will get to know Mallorca from its unspoiled side: rugged cliffs, olive and orange groves, offers for typical local specialties, panoramic views, romantic villages, the lively center of the small town of Sóller and the famous monastery of Lluc with the "Black Madonna" in the midst of the beautiful mountains await you.
Rental car Can Picafort: flexibility and independence
If you have chosen Can Picafort as your holiday destination, you have chosen a tourist centre with tradition in Mallorca. You will increase your possibilities to get to know the island if you rent a car at one of the car rentals. Which car you choose is totally up to you: SUV, Cabrio or Jeep? You can go shopping or visit one of the beaches. If you would like to go diving or play golf on Mallorca, it is easier to transport your equipment in a rental car.
Whether you are up to discover other regions on Mallorca such as the northwest or pay an extensive visit to the capital Palma - by car you can travel the entire island individually. You will get to know the natural beauty of Mallorca starting your trip from Can Picafort. It would be a pity not to book a rental car and not to take a closer look at this jewel of Spain with its numerous facets. Car rental companies and their offers are numerously available.On the roads of Mallorca there are a lot of small cars rented by tourists in large numbers. Our comparison portal will show you the way.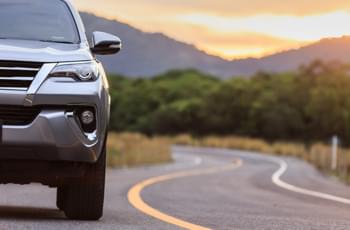 Booking an SUV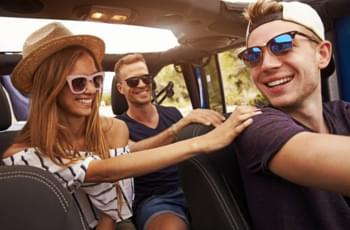 Choosing the right rental car
What to expect in your holiday destination Can Picafort?
The former fishing village of Can Picafort on the largest bay in Mallorca belongs to the municipality of Santa Margarita. A must-see is the nature reserve Parc natural de s'Albufera in the wide and flat region Plà de Mallorca. The extensive swamp area forms a natural dividing line between the two coastal towns of Puerto Alcúdia and Can Picafort, which is connected by an approx. 5 km long sandy beach. In this popular area a rental car is an indispensable comfort. To find cheap offers for a well equipped car, start looking for it some time before your departure.
Holidays in Spain and especially in Mallorca are more fun if you are able to do some other activities apart from sunbathing. A rental car will give you freedom and take you cheaply to other regions worth seeing in Mallorca. Therefore it is advisable to compare the different offers for rental cars.
More highlights in and around Can Picafort:
Santa Margalida
Nekropole of Son Real
Torres de Defensa
Recommendations for beautiful car rental tours in Mallorca
The Balearic Islands and especially Mallorca are famous places in Spain. Thus the island metropolis Palma de Mallorca belongs to the desired destinations of cruise guests and short vacationers as well. The one-hour distance from Can Picafort to Palma de Mallorca can be covered in 50 to 60 minutes by car.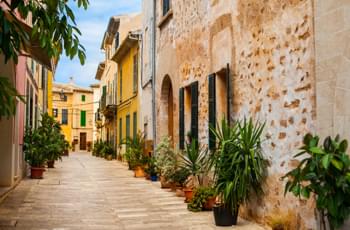 Strolling through Alcúdia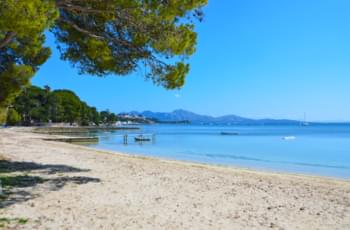 Beach of Pollensa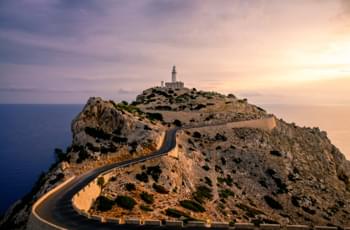 Cap Formentor
Alcúdia
Puerto Alcúdia and Alcúdia, the northern neighbouring villages of Can Picafort, can be reached by car in only 20 minutes. The historic city is the centre of an extensive holiday area for those seeking relaxation. Stroll through the alleys of the old town on Tuesdays and Sundays during the market days in order to take in the liveliness of Alcúdia.
Pollensa
Still further north, but only about 15 more minutes by car, a visit to the picturesque small town of Pollensa is worthwhile. Not far from there you can take in the international flair in the seaside resort of Puerto Pollensa, a popular meeting place for sailing enthusiasts and divers.
Cap Formentor
The most extreme point in the northeast of Mallorca is the spectacular Cap Formentor - a sight of nature that you should not miss.