Car rental in the Caribbean

Blue skies, white beaches, clear water - the Caribbean is the dream come true for many travellers. The more than 7000 large, small and tiny islands each have their own individual charm and diverse cultures. With a rental car you have the possibility to explore the dreamlike Caribbean region on your own. On Driveboo.com you can choose your preferred vehicle model and your desired rental station on the Caribbean islands. You can find rental cars in all major cities and at major airports such as Havana (Cuba), Santo Domingo (Dominican Republic), Nassau (Bahamas) or San Juan (Puerto Rico).
Rent a car directly at the airport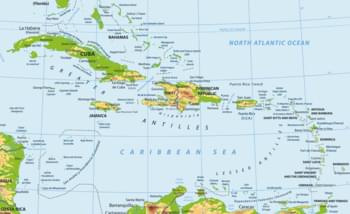 Caribbean Islands
Book your rental car conveniently and cheaply from the comfort of your home on our comparison portal Driveboo.com. Here you can quickly and easily compare different providers and offers with each other. With the help of various filter options, you can search specifically for a rental car that meets your expectations. For example, select the desired vehicle category or search for extras such as a child seat, navigation system or special insurance requirements. Experience has shown that the largest selection of vehicles is available at the international airports where you will arrive. Rent your car directly at the airport. In this way you can be sure that a rental car will be ready for you on arrival and you can drive directly to your hotel. If you start your journey to the Caribbean for example in Germany, you can find various flights from the major airports. Here is a small overview of direct flights to the most popular islands in the Caribbean.
| Departure | Arrival | Duration |
| --- | --- | --- |
| Frankfurt am Main | Antigua | 9 h 30 min |
| Frankfurt am Main | Barbados | 9 h 30 min |
| Düsseldorf (no direct flights) | Curacao | 10 h 30 min |
| Frankfurt am Main | Dominikanische Republik | 9 h 30 min |
| Frankfurt/Berlin | Jamaica | ca. 11 h |
| All major airports | Cuba | ca. 11 h |
| Frankfurt am Main | Puerto Rico | 10 h 40 min |
| Frankfurt am Main | St. Lucia | 9 h 30 min |
| Frankfurt am Main | Tobago | 10 h |
Which rental car is best suited for the Caribbean?
Depending on your preference, you can of course choose a car that suits your needs. Due to the often unpaved roads on the various islands, we recommend that you choose a robust car. For example, rent an SUV. If you plan to drive only in big cities, such as Havana, you should also consider a convertible.
For more information on the individual Caribbean islands, please contact us via e-mail or our free service-hotline.
What insurance do I need for my rental car in the Caribbean?
The roads on the Caribbean islands are often not comparable to European standard. Many roads are unpaved and may have potholes. In addition to fully comprehensive insurance without excess or with a refund of the excess in the event of damage, we recommend that you take out the following insurance policies:
Glass and tyre insurance
Underbody insurance
Theft insurance
Explore beautiful beaches in the Caribbean with a rental car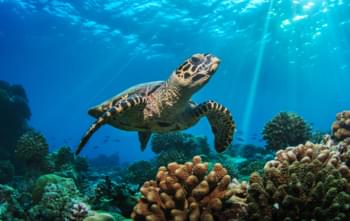 In addition to the fascinating beaches and numerous water sports opportunities, it is above all the always warm climate that attracts holidaymakers to the Caribbean. Tropical forests, impressive waterfalls and countless sunny beaches are waiting for sun worshippers and explorers. The dreamlike islands also offer numerous sights and unique attractions on each individual island, which can be explored particularly well with a rental car. Jamaica's capital Kingston, for example, has many well-preserved colonial buildings and interesting museums. San Juan and Havana, with their picturesque Old Town, invite you to visit the historic city centre, which is also a UNSECO World Heritage Site. You can also visit botanical gardens and national parks on your individual itinerary with your own rental car on the Caribbean islands.
The TOP-10 Sights in the Caribbean
Havana's Old Town, Cuba
The city of Ponce in Puerto Rico
The botanical garden "Diamond" at Saint Lucia
The colourful old town of Oranjestad on Aruba
The waterfall "Dunn's River Falls" in Jamaica
The Dutch influenced Old Town of Willemstad on Curacao
The mangrove swamp area of Trinidad
Santo Domingo (UNESCO World Heritage), capital of the Dominican Republic
Botanical garden "Balata" in Martinique
Visit the straw market in the Bahamas, Nassau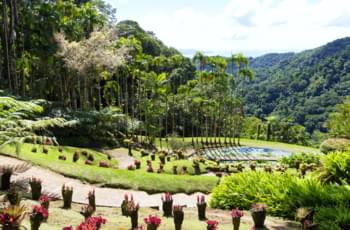 "Balata" in Martinique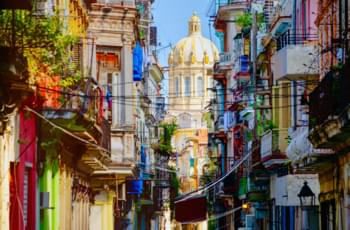 Havana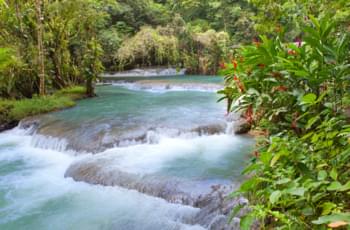 "Dunn's River Falls"
What do I need to consider when renting a car in the Caribbean?
Some of the Caribbean islands have left-hand traffic. For example, in the Bahamas or Jamaica you drive on the left side of the road, while in the Dominican Republic, Puerto Rico or Haiti you drive in the right lane. So when you rent a car, don't be surprised that in the respective countries the steering wheel is on the right side of the car and the gears are on the left side of the driver. If you are not sure how to use the gears, a rental car with automatic transmission is recommended.
Special road rules in the Caribbean
Each island has its own traffic rules and regulations. Unfortunately, no general statements can be made about parking spaces, speed limits, tolls and possible penalties. We recommend that you check the individual regulations for each island.
The best travel time - the Caribbean climate
Saint Lucia
The Caribbean is known and loved by tourists for its tropical climate. With average temperatures of over 20° celcius, it is also a good place to stay. Many Europeans come for holiday and sunbathe on the beautiful, white, fine sandy beaches of the Caribbean islands. The driest months are the winter months between November and April. Therefore they are also the most popular travel time for tourists.