Car rentals in Dominican Republic: Most popular car rental destinations
Explore the Dominican Republic by rental car
The Dominican Republic is an island state between the Caribbean and the Atlantic Ocean. Together with Haiti, it is located on the island of Hispaniola - one of the four main islands of the Great Antilles - and has been one of the most popular destinations in the Caribbean for over 30 years. The name of the state derives from the capital Santo Domingo, named after the founder of the Dominican Order, Saint Dominic.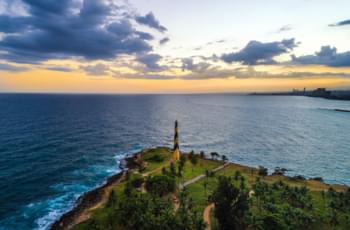 Lighthouse in Santo Domingo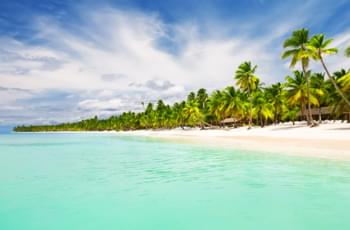 Palms at the white sandy beach in Punta Cana
Enjoy the beauty of the Dominican Republic by rental car and experience adventures on your own. The pleasant tropical climate, the Caribbean flair and the amiable characteristics of the people make the Dominican Republic a paradise - also for rental car drivers. The Dominican Republic offers you one of the most varied landscapes in the Caribbean with its fantastic beaches and numerous nature parks. The Dominican Republic has a lot to offer in terms of landscape - 31.5% of the land area belong to various nature reserves.
Driveboo tip:
Popular holiday destinations in the Dominican Republic include Punta Cana and Santo Domingo.
Car rental in the Dominican Republic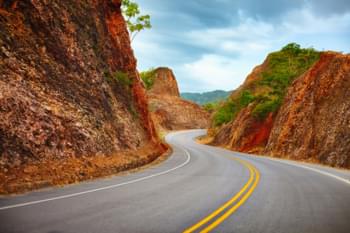 Mountain road to Samana Peninsula
Driveboo.com collaborates with all well-known car rental companies in the country. We recommend that you book your rental car from Germany before your trip, as you will usually benefit from attractive early bird prices.
It should be noted that in the rustic landscape of the Cordilla Central Mountains of the Dominican Republic, roads for rental cars are sometimes not fully developed. This makes the trip even more adventurous and exciting.
Rent a car in the Dominican Republic directly at the airport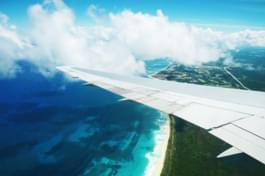 Landing approach at Punta Cana Airport
Most likely, you will travel to the Dominican Republic by plane. To ensure that you can start your well-earned holiday flexibly from the start, we recommend that you pick up your rental car directly from a car rental company at the airport. There are pick-up points at Punta Cana Airport, Cabo Rojo Airport and El Catey Airport.
You can also pick up a rental car at the following airports: