Explore Aruba by rental car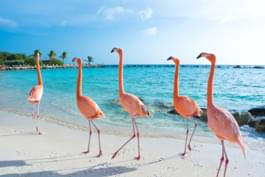 Watch flamingos on the beach of Aruba
Eight hours by plane, landing on a tropical island and yet you are still in the Netherlands! Of course we are talking about the Netherlands Antilles. To be exact, we are talking about Aruba. This Dutch jewel is about 30 kilometres long and 10 kilometres wide and has a multitude of white sandy beaches that reach to the crystal clear blue sea. The neighbouring island of Curacao captivates with its Caribbean flair. If you are travelling by rental car, you can discover a different place every day.
Enjoy Aruba with a rental car
Drive along the rugged coast and enjoy the view. With so many idyllic beaches to choose from, you can discover a new one every day. Rent a car and explore the island in search of the most beautiful remote places.
In the north of the island one finds mainly a rugged coast and limestone rocks. Visit the stone ruins of the Bushiribana gold mine and the remains of the collapsed Natural Bridge. It was known as one of the largest natural bridges until it collapsed.
Drive by rental car to the west of the island and be inspired by the breathtaking sandy beaches of Aruba. Relax under palm trees and mangrove trees and let your soul dangle.
Little or no experience renting a car? You can compare the prices of different car rental companies online, book in advance and save a lot of money renting a car in Aruba. If you choose to pick up your rental car directly at the airport, your holiday can start right away!
Discover Aruba's art and culture with your rental car
In the southern and western part of Aruba it is beautiful and lively. Here you will find numerous shops, hotels, resorts and entertainment. During the festivals you can experience the culture of the Aruban people in the form of dance and music. You will see many dancing and celebrating Arubans. You can also look forward to colourful outfits, performances and fun stands. Aruba also has a number of major music festivals where local and international artists perform. If you stay in Aruba during the summer, the Aruba Summer Festival is a nice addition to your stay. The following festivals are also worth a visit:
Carubbian (San Nicolas)
Dera Gai
Bon Bini Festival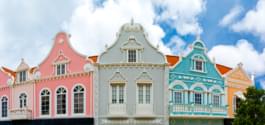 Colourful houses in Oranjestad
Even if no celebrations take place, it is worthwhile traveling to the different cities. For example to San Nicolas. In this cosy coastal town, the art scene is flourishing. Colourful street art adorns the streets and in the galleries, museums, lighthouses and historical monuments you will find objects with a special history. You should also visit Oranjestad.
Visit Aruba Arikok National Park by rental car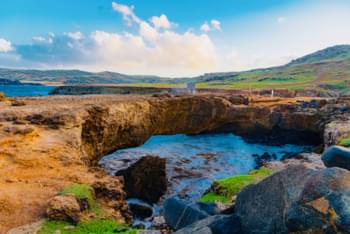 Aruba Arikok National Park
Take the wheel of your rental car and explore the Arikok National Park in Aruba. It is located in the southeast of the Caribbean island and can be optimally reached with a rental car. Here you will find untouched nature which you can explore either by rental car or on foot. During your excursion you will see a variety of different animal and plant species.
Don't miss the following highlights in the Arikok National Park:
Boca Prins
Cunucu Arikok
Dos Playa
Conchi