Car rentals in Norway: Most popular car rental destinations
Rental car Norway: On the road in the land of mountains, glaciers and fjords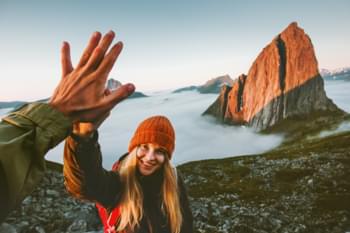 Explore Norway
Fancy an adventurous trip through Norway with a rental car? Then let's get going! Book a cheap rental car with our price comparison and your holiday can start! Stroll through the capital Oslo and drive afterwards with the rental car into the nature. Norway has a lot to offer, especially for nature and hiking enthusiasts. With a rental car you are always flexible and can reach your desired destinations independent of public transport.
We wish you a pleasant and safe journey with your rental car and lots of fun in Norway!
Car rental Norway: Where can I get my rental car?
In Norway you can pick up a rental car in any major city or airport. Book the car of your choice conveniently online in advance. You can also select your vehicle model, equipment and insurance services on our portal. In this way, you can pick up your rental car as soon as you arrive in Norway. Below you will find a small list of places with pick-up stations:
What do the options additional driver & one-way rental mean?
ADDITIONAL DRIVER
Start your Norwegian adventure with the right rental car and the perfect travel buddies! A road trip is much more fun if you go on it with friends or family. This creates memories that you can talk and laugh about for a long time to come. So that you don't have to drive the whole distance on your own, there is the option of an additional driver. Simply select an additional driver when booking the rental car and take turns driving the rental car. In this way you can take a break and enjoy the magnificent view over Norway's countryside.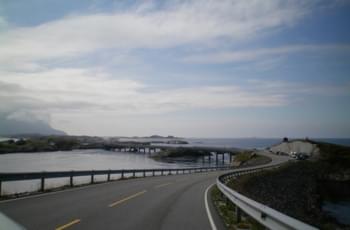 Benefit from the option one-way rental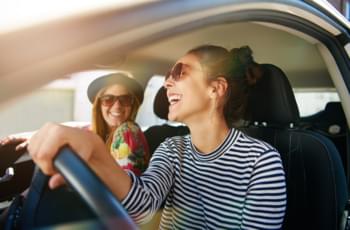 A road trip is more fun when shared
one-way rental
Do you not want to return to your starting point at the end of your journey through Norway? But what happens to the rental car if the trip ends at another location? We have the right solution for you: the one-way rental option. In this case you pick up the rental car at the place of your choice and return it to another station. This way you can arrange your trip through Norway individually and are flexible and independent at all times.
Traffic rules in Norway: What you should look out for when renting a car
It must always be driven with low beam.

The blood alcohol limit is 0.2.

Always pay attention to the wildlife crossing warning signs. Reindeer and moose often cross the roads unexpectedly. At dusk you should be particularly careful when driving a rental car. In the event of a wildlife accident, inform the road service (telephone 175) or the nearest police station immediately.

The tram always has right of way.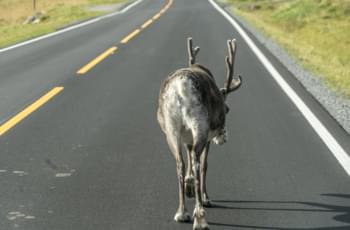 Beware of reindeer on the road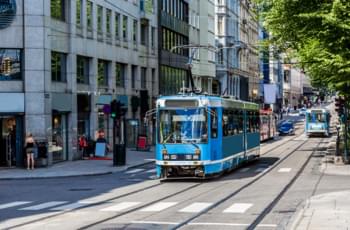 Tram in Norway
Between 15 October and 1 Sunday after Easter, all vehicles with a gross vehicle weight of more than 3.5 tonnes must carry snow chains.

Always observe the speed limits. Norwegians are not petty with penalties.
Helpful vocabulary for road traffic in Norway
forbikjøring forbudt = no overtaking
omkjøring = diversion
svake kanter = edge of road not passable
gjennomkjøring forbudt = transit prohibited
kjør sakte = drive slowly
What can I experience in Norway's capital Oslo?
Norway's capital Oslo is definitely worth a visit. If you like, you can leave the rental car and explore the city on foot.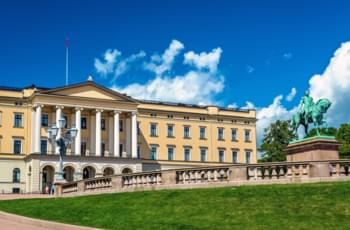 Royal Castle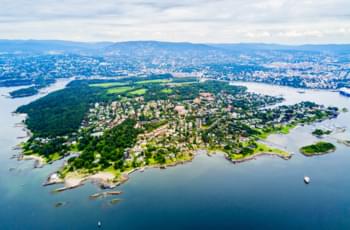 View of the peninsula Bygdøy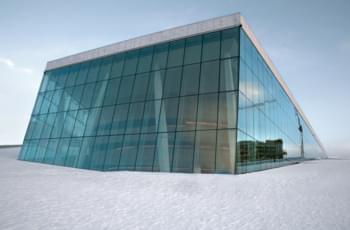 Oslo Opera House
Vikingskipshuset
Vikingskipshuset is a museum dedicated to the archaeological findings of Viking ships. See for example the Oseberg ship or the Gokstad ship. You will feel like being back in time.
ROYAL CASTLE OSLO
A visit to the Royal Castle of Oslo should also be on your individual list. The residence was built between 1824 and 1848. If you would like to experience the changing of the guard, you can do so daily at 13:30 hrs. During the summer months there are also occasional demonstrations by the Royal Guard. From the end of June to the middle of August you can even visit the castle.
Bygdøy
Bygdøy is a peninsula located west of Oslo city centre. Here you will find beaches where you can swim and hiking trails that make the peninsula a popular destination, especially in summer. What are you waiting for? Get in your rental car and visit Bygdøy.
More Highlights
Vigelandsanlegget
Oslo Opera House
Oslo Winter Park
Pure nature: What you should never miss in Norway
Nature lovers watch out: Norway will make your heart beat faster! Mountains, glaciers and fjords are waiting to be discovered by you. Take the wheel of your rental car and set off on unforgettable adventures through Norway's unique nature. Breathtaking landscapes will leave you speechless.
Geirangerfjord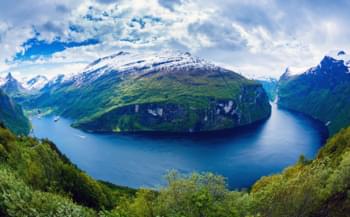 Geirangerfjord in Norway
One of the most popular sports in Norway is hiking and mountaineering. Go on a hike through the fascinating landscape of the 15 kilometre long Geirangerfjord. It is best to park your rental car and take a boat from Geiranger to one of the trails. On the way to the historic farm Skageflå you have the best view of the waterfalls falling into the fjord side by side. They bear the funny name "Seven Sisters". Alternatively, you can go kayaking on the Geirangerfjord.
Nærøyfjord
Did you travel to Norway to escape the stress of everyday life for a while? Then you should definitely drive to the Nærøyfjord by rental car. It has been a UNESCO World Heritage Site since 2005. It captivates with a special idyll far away from civilisation. Here you can take extensive walks through narrow mountain passes, to mountain slopes with numerous waterfalls or even through icy glacial landscapes. It is the perfect place to relax.
Trolltunga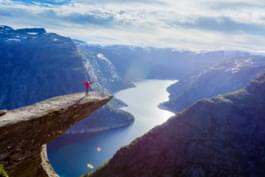 Trolltunga in Norway
The Trolltunga (troll tongue) is without doubt one of the most famous and impressive cliffs in Norway. It is about 1100 metres above sea level and 700 metres above Ringedalsvatnet lake. Those who want to reach the Trolltunga can expect a ten-hour hike through the mountains. On the way you will pass numerous sights, such as the Ringedal dam. Look forward to the Trolltunga adventure!