Car rental Trøndelag: Individual trip through central Norway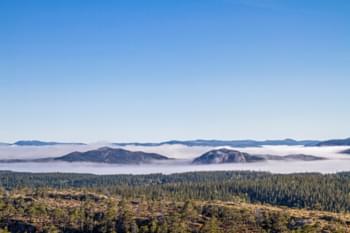 Landschaft in Trøndelag
Fancy an adventure with a rental car in Trøndelag? The Trøndelag region in central Norway awaits you with some highlights that you can easily reach by rental car. Visit exciting buildings, stroll through Trondheim or hike through the fascinating nature of Trøndelag. There is something for everyone in Norway. If you book a rental car on Driveboo.com, you are always mobile and can flexibly reach your individual destinations of choice. You can select the right vehicle in advance online on our portal. We compare the offers of the car rental companies in Trøndelag and show you transparently the best price. What are you waiting for? Book your dream car and look forward to an adventurous journey through the Trøndelag region.
Car rental Trøndelag: Where can I pick up my rental car?
In order to be flexible in Trøndelag at all times, it is best to take a rental car. You can get it at the following places:
The right rental car for your trip to Trøndelag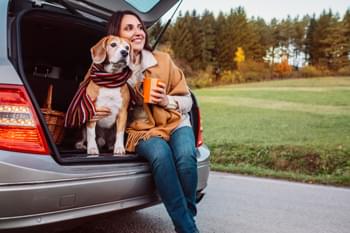 The perfect rental car for your needs
Are you wondering which rental car model is best suited for a round trip through Trøndelag? On Driveboo.com you can choose between different models and equipment. Use the search mask to see which options are available to you. If you travel a lot off-road, then you're certainly not going wrong with an SUV. If, on the other hand, you need a lot of space in your car, then a minivan is the right choice. Here not only your loved ones have enough space, but also your luggage. With the optional equipment features, you also have the choice of booking automatic, all-wheel drive and air conditioning. With the right rental car, you will certainly have a relaxing holiday in Trøndelag.
What do the options additional driver & one-way rental mean?
An excursion by rental car to Trondheim
Trondheim is a beautifully maintained city with stunning nature. As the third largest city in Norway, Trondheim awaits you with some highlights. Nevertheless, you will be spared the stress of a big city. The city centre captivates with its enchanting colourful wooden houses and the traditional warehouses on the banks of the Nidelva. Visit the Nidaros Cathedral, the Kristiansten Fortress or stroll comfortably through the city. You can stop for a bite to eat in one of the cafés or restaurants.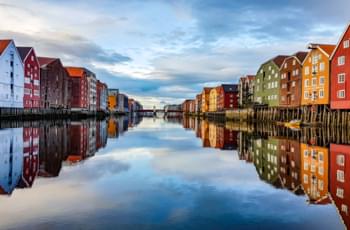 Discovering Trondheim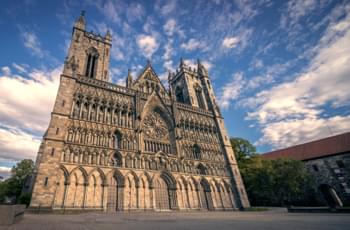 Nidaros Cathedral
Discover the highlights of Trøndelag by rental car
Munkholmen
Munkholmen is a popular excursion destination, especially in summer, and invites you to swim and sunbathe. The small island lies in the Trondheimsfjord and can easily be reached from Trondheim. Leave your rental car and change to a boat to Munkholmen. Munkholmen is also an interesting destination for history and culture lovers. The island is under monument protection. Take part in a guided tour through the fortress of the island and relax afterwards with a picnic or treat yourself to a refreshment in the restaurant.
Trøndelag Folk Museum
Trøndelag Folk Museum is an open-air museum with over 80 historical buildings, various exhibitions and two restaurants. The old town of the museum consists of buildings that were originally located in Trondheim and gives an authentic insight into the 18th century townscape. Among the buildings you will find the stave church Haltdalen, the Lo church and an old school. A visit to Trøndelag Folk Museum is something for the whole family.
More Highlights
You should also visit these sights by rental car:
Stiftsgården
Ringve-Museum
Tyholttårnet
Namsskogan Family Park
What should I look out for when renting a car in Norway?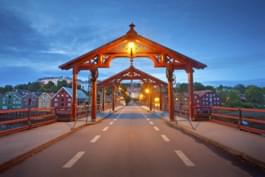 Travelling in Norway
In Norway, right-hand traffic applies. In addition, always pay attention to the corresponding speed limit. In urban areas there is a speed limit of 50 km/h, out of town 80 km/h and on country roads and motorways 90-100 km/h. The fines for speeding are very high in Norway. The blood alcohol limit, on the other hand, is relatively low at 0.2 per mille. It should also be mentioned that in Norway it is not only necessary to drive with headlights at night, but also during the day.
Trams always have right of way in Norway.
Rental car road trip: Visit other exciting places in Norway
Oslo
Oslo is always worth a trip! The warmer seasons are more suitable for a city trip due to the temperatures. Oslo is not only the most populous city in Norway, but also the capital of the country. Visit for example the Holmenkollen Ski Museum, the Norwegian Opera, the Videland Sculpture Park or the Viking Ship Museum. If you are travelling with children, you should take a rental car to the TusenFryd amusement park. Fun for the whole family is guaranteed.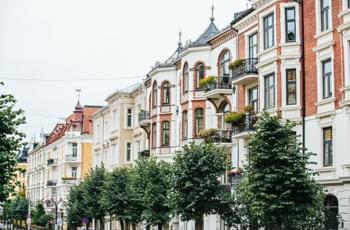 Old Town Oslo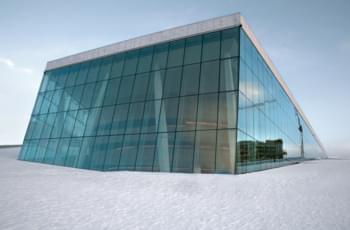 Oslo Opera House
Bergen
The city of Bergen is located in the southwest of Norway and is the second largest city in the country. Bergen is surrounded by mountains, sea and islands and provides a fantastic backdrop for your holiday photos. The port city is known for its art and culture highlights. If you are travelling in Bergen by rental car, you can plan your route individually and thus get to your highlights. Take day trips to Bryggen, St Mary's Church, Fløyen or Mount Ulriken. You shouldn't miss the Hardangerfjord either.
Ålesund
Ålesund is a harbour town on the coast in the west of Norway. The town by the Geirangerfjord was rebuilt after a fire in 1904. If you want to enjoy a panoramic view over Ålesund, you should take the rental car to the viewpoint on Mount Aksla. Enjoy the view of the Art Nouveau houses and the surrounding countryside.