Rental car Alesund: Explore the Norwegian port city on your own
Book a rental car today and soon explore the Norwegian pearl Alesund on your own. With the right rental car you can drive flexibly to your favourite places in Alesund. Compare the prices of car rental companies in Alesund and book your dream car at the best price. It's no coincidence that Alesund and its surrounding countryside are among the most popular destinations in Norway. Take a rental car and convince yourself of the scenic variety in and around Alesund.
View over Alesund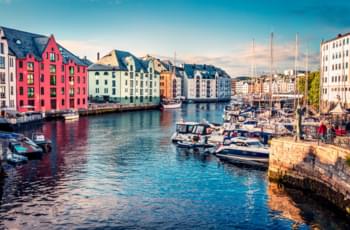 Discovering Alesund
At which car rental in Alesund can I get my rental car?
Would you like to be mobile and flexible right after your arrival in Alesund? Don't you want to wait for a taxi or public transport? Then it is best to pick up your rental car directly at Alesund Airport. Like that you will be independent from the first minute in Alesund and you can start your adventure in Norway immediately. Alternatively, you can pick up your rental car at one of the pick-up points in the city centre. So you can first drive to your hotel in Alesund to rest and then start your discovery tour. Whatever your plans and needs for Alesund in Norway are, with Driveboo.com you have the choice.
Things to know about Alesund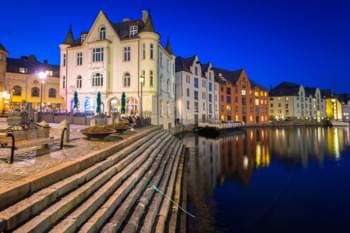 Architecture in Alesund
Alesund is a city and municipality in Norway, which stretches across several islands into the Atlantic Ocean. It covers an area of 98 square kilometres and has around 48,000 inhabitants. In 1904 Alesund was completely destroyed by fire. Today the city is famous for its Art Nouveau architecture. It is the cultural centre of the region and every year numerous events take place here. It is best to find out in advance whether there are any exciting events to which you can go by rental car during your stay in Alesund. Boredom is a thing of the past, as Alesund has something for every taste, from gourmet to theatre, literature, art and music events.
With a rental car to the highlights in and around Alesund
Aksla
One of the biggest sights of Alesund is the mountain Aksla with its viewpoints Kniven and Fjellstua. Park your rental car at the foot of the mountain and hike to the viewpoints. From here you can enjoy a wonderful view over Alesund and the Alps behind. In summer you can even have a snack in the café on Fjellstua. At the foot of the Aksla there is a city park with a playground, where families with children will also get their money's worth.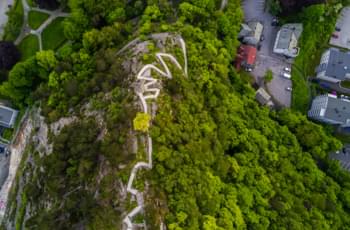 Viewpoint Fjellstua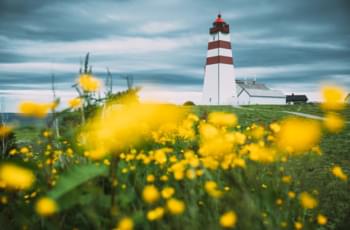 Alnes Lighthouse
Alnes Lighthouse
On your trip to Alesund, visit the lighthouse in Alnes Fyr. The lighthouse is a listed building. If you climb up the tower stairs, you can enjoy a wonderful view over the coast and the open sea. Also, don't miss the delicious homemade cakes in the lighthouse keeper's house.
MORE SIGHTS
Atlantikpark
Sunnmøre Museum
The Art Nouveau Town
Church of Alesund
Which cities in Norway are also worth a visit?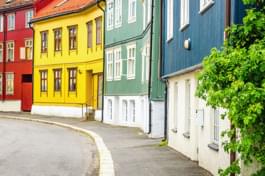 Colourful houses in Oslo
In addition to Alesund, Norway has several other exciting cities to offer. What do you think of the capital Oslo, for example? Enjoy a stroll through the old town or visit the Norwegian Opera. The cities of Bergen and Trondheim will also convince you. In the table below you will find an overview of the distance by rental car from Alesund:
These are the traffic rules in Norway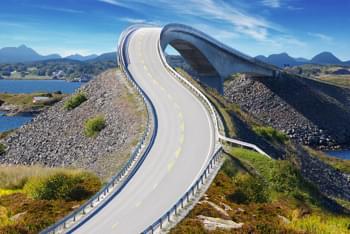 On the road in Norway
In Norway, right-hand traffic applies.
Speed limits: 50 km/h in urban areas, 80 km/h out of town, 90-100 km/h on motorways
Blood alcohol limit: 0.2 per mille
In the event of an accident, you can reach the appropriate authorities on these emergency numbers: Police 112, ambulance 113, fire brigade 110 and breakdown service 81 00 05 05