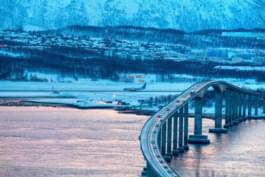 Book and compare the best prices for Tromso Airport
A rental car at Tromsø Airport costs 43 $ per day. For a week, a rental car at Tromsø Airport costs on average 300 $. Cars & Camper offers the cheapest car hire at Tromsø Airport.
It is worth renting a small car in Tromsø as you can easily find parking spaces. You can find a small car for as little as 300 $ per week.
In addition, we always recommend renting a car without excess, which is available from 43 $ per day. A booking without deductible is advantageous for you, because in this way you do not have to expect any further costs in case of damage. So you can enjoy your vacation in Norway stress-free. Simply put a tick in the search mask at "Without deductible" to get all suitable offers.