Explore Mallorca by rental car - Cala Ratjada is waiting for you!
Experience Cala Ratjada with your own rental car. In the online price comparison you can compare the offers of rental cars in Cala Ratjada. Compare the prices of different rental cars in this beautiful holiday village with Driveboo. Our service team will be happy to help you with any questions you may have about booking a rental car.
Spending Summer 2020 in Cala Ratjada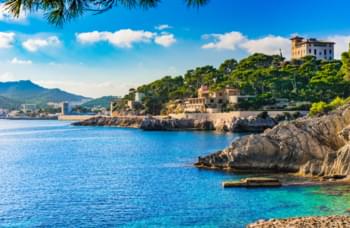 View on Cala Ratjada
Cala Ratjada is a place on the Spanish Balearic island Mallorca. Mallorca comes up with fantastic sights, many sunny days and great beaches - especially during the months July, August and September. In Summer 2020 there is a lot to discover - thanks to the numerous offers of the local car rental companies on Mallorca or Cala Ratjada you will experience an unforgettable time with your rental car in Cala Ratjada. Book a rental car and explore the beauty of the Spanish island! The small village is a popular holiday resort especially in summer. The distance to the capital Palma de Mallorca and to the island`s airport, the airport Palma de Mallorca (PMI), amounts to approx. 80 km. By rental car it takes about one to one and a half hours to get there.
Car rental Cala Ratjada: Flexibility thanks to rental cars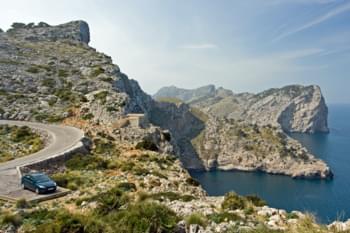 Road on Mallorca
Driving in Mallorca is fun! With rental car you will be able to decide individually where to go and what to see. However, it should be noted that a rental car booking in time is highly recommended. In the online price comparison of Driveboo you can save up to 60% on your booking! Select the appropriate insurance and the best value for money online - and the journey begins!
Rental car Cala Ratjada: Minimum age and insurance
In order to rent a car in Spain you need a national driving licence. The minimum age to book a rental car for Cala Ratjada is 21 years. Please also note that the car rental offers should include suitable insurance. In most cases, the amount covered by the liability insurance of the car rental company is not always sufficient. Compare the offers and decide for the best price-performance ratio. Nothing is more annoying than booking an offer that is supposedly cheap, but then proves to be very expensive in the event of an accident. Cover the risks in advance and book informed.
Driveboo recommendation: To travel stress-free it is best to choose "fully comprehensive insurance without excess" or with reimbursement of the excess.
It is also useful to choose an insurance that covers damage to tyres, as some pistes on Mallorca are not exactly in top condition and carry the risk of tyre damage. Think of an insurance for glass damage as well - a rockfall can happen quickly on unpaved roads, which are common in Spain.
Cala Ratjada: Safe driving with a rental car
What do you have to consider when driving a rental car in Mallorca? Mallorca has a very well developed road network, so you can reach all the sights by rental car.
In Spain, the maximum speed is 50 km/h in urban areas, 90 km/h on country roads and 120 km/h on motorways.
The blood alcohol limit is 0.5 and for drivers who have only had their driving licence for less than three years, 0.3 blood alcohol.
Seat belts are compulsory in Spain.
Mobile phones may not be operated during the journey. Telephoning is also forbidden during refuelling!
Exploring Cala Ratjada and its surroundings by rental car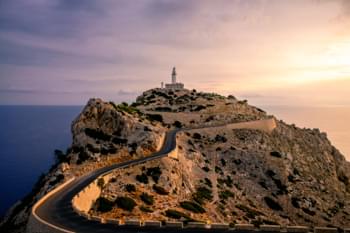 Cap Formentor
Cala Ratjada has a lot to offer. Not only the place itself, but also its surroundings are great to discover by car. Go on a roadtrip on the island roads around the island. Mallorca has a well developed road network, so you can explore the closer and also further surroundings of Cala Ratjada effortlessly.
You could start your journey from Cala Ratjada to Capdepera and have a look at the beautiful fort. The quiet village is dominated by the castle on the picturesque castle hill and dates back to Roman times. If you continue on the road to the west, you will arrive in Artà. It is a small but fine historical place with a castle. Park your rental car and stroll through the narrow streets. Have a Cortado (coffee with milk in Spanish style) in one of the charming cafés in the pedestrian zone and visit the nice boutiques and jewellery shops.
Even further routes are no problem with a rental car in Mallorca. From Artà you can move on to the hermitage Ermita de Betlem via the Ma-3333. Very romantically situated, this would be an ideal tour with a convertible. The chapel is surrounded by olive groves and rocky landscapes. A beautiful corner to park your rental car and explore the area by foot. Afterwards drive to Colonia St. Pere, a secluded coastal village, which was an insider tip some time ago, but is now popular among residents and individual tourists. At the beautiful promenade you can eat freshly caught fish in the very good restaurants of the place and enjoy the sunset.
If you are planning a day trip from Cala Ratjada, you should take the Ma-12 northbound to the Formentor peninsula. The impressive excursion destination looks particularly dreamlike when driving in a convertible. The panorama road Ma-2210 leads to the tip of the island to Cap Formentor. The exposed lighthouse is an absolute must-see for visitors to Mallorca.