Car rentals in Switzerland: Most popular car rental destinations
Rental car Switzerland - Explore mountains, lakes and great cities with a rental car!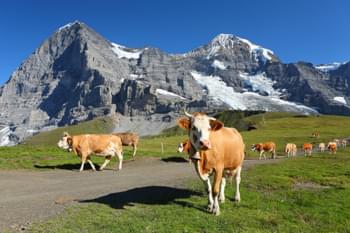 Discover the Swiss Alps independently
Discover Switzerland with a rental car and be impressed by the Swiss nature. With a multitude of lakes, glaciers and Mediterranean resorts, this country has a lot to offer for tourists and also locals. Zurich is also one of the world's most livable cities. It is best to rent a car in Switzerland in order to discover the many sights of the country in a flexible way. In our online portal you can compare car rental companies in Switzerland and book a cheap rental car. Simply select the vehicle category that best suits your needs. Cheap small cars, family-friendly vans and comfortable off-road vehicles are available. Do you have any questions? Then do not hesitate and contact our service team in Switzerland by chat or phone! We are looking forward to helping you.
Which are the most amazing sights in Switzerland?
Make sure you visit the following highlights by rental car while travelling through Switzerland:
Some facts about Switzerland
Switzerland is located in Central Europe. It borders Germany in the north, Austria in the east, France and Liechtenstein in the west and Italy in the south. The capital of Switzerland is Bern.
Switzerland has several official languages: German, French, Italian and Romansh. Most citizens live in German-speaking Switzerland, especially in Switzerland largest city Zurich. Meanwhile the French-speaking Switzerland is famous for its popular holiday resorts of Geneva and Lausanne. In terms of foreign policy, Switzerland describes itself as neutral, i. e. it does not participate in wars.
It is known for its watch industry, many famous luxury watch manufacturers are based in Switzerland, and the banking and insurance industries also play an important role in the Swiss economy. Due to the Alps and the beauty of the landscape, tourism is also a major economic factor.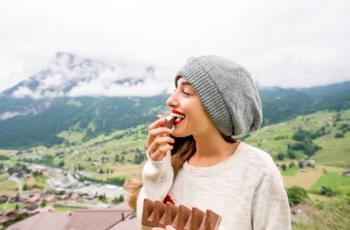 Enjoy some Swiss chocolate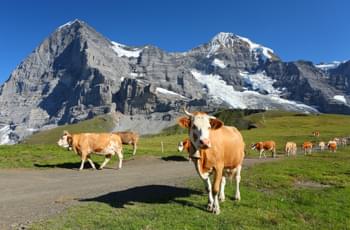 Cows in the Swiss Alps
What do I have to consider when renting a car in Switzerland?
The road network is very well developed. However, if you are travelling on the motorway with your rental car, please note that there is a toll sticker requirement. The amount of the costs and exact information on the purchase of the vignette can be found in our toll alphabet.