Car rentals in South Africa: Most popular car rental destinations
Discover South Africa with a cheap rental car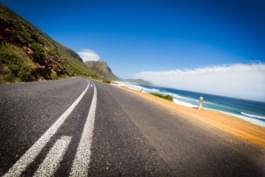 On the road in South Africa
If you decide to book a rental car, you can explore South Africa with its many facets optimally. The country is ideal for a road trip or a round trip by rental car, as there are long distances between the individual cities and sights. Whether you want to visit the national parks, drive to the beach in Camps Bay or visit Cape Town: with a rental car you are always cheap, fast and flexible on your way.
Rent a car in South Africa
Throughout South Africa, you will find numerous car rental companies where you can pick up and return your rental car. Therefore you can choose the route you want to drive. For example, you can rent your car directly at the airport so that you can drive off cheaply and flexibly after landing. Even in the big cities like Johannesburg and Cape Town you will find many car rental stations that you can choose from.
View over Johannesburg
You can also pick up your rental car at these locations:
Large selection: South Africa Airport
If you travel to South Africa from Europe, the best way is by plane. The country has several international airports, so you can decide for yourself in which region you want to start your road trip.
MAJOR AIRPORTS IN SOUTH AFRICA
Among the most important airports are Cape Town Airport (CPT) and Johannesburg International Airport O. R. Tambo (JNB). While Cape Town Airport handles more than ten million passengers a year, Johannesburg Airport handles more than 20 million people a year. The somewhat smaller Lanseria International Airport (HLA) is also located near Johannesburg. One million passengers use the airport every year. An alternative is offered by airports such as King Shaka International Airport (DUR) in Durban on South Africa's east coast. More than four million passengers take off and land here every year.
Safari in Kruger National Park
If you want to get to know the flora and fauna of the country first hand during your holiday in South Africa, you can head northeast to the Kruger National Park. The largest game reserve in the country is home to zebras, lions, elephants, leopards, rhinos, wildebeests and numerous other animal species. Asphalted roads, as well as sand and gravel paths, run through the entire area. There are also numerous camps and rest areas where you can stop.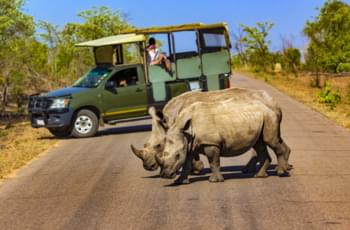 Rhinos in Kruger National Park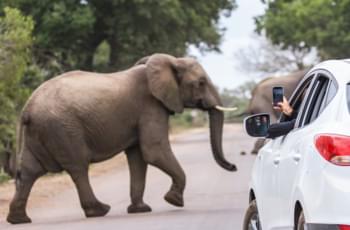 Elephants in Kruger National Park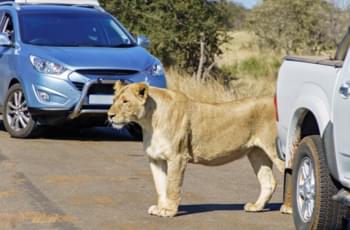 Lion in Kruger National Park
Take the rental car to Table Mountain
With a rental car, you can reach Table Mountain, the landmark of South Africa, cheaply and comfortably. The striking mountain with the large plateau belongs to Cape Town and reaches a maximum height of 1087 meters. It is best to park your rental car at the foot of the mountain and hike up. Alternatively, you can take the Table Mountain cable car up and down and enjoy the view over Cape Town.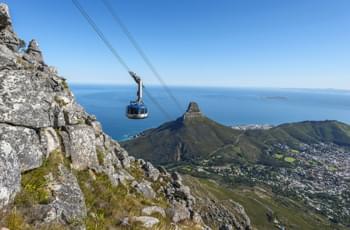 Cable car to Table Mountain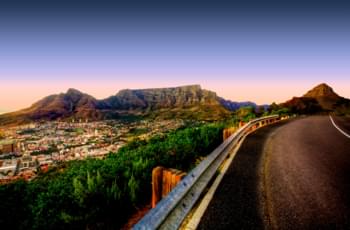 View of Table Mountain
Car rental South Africa: Visit theme park Gold Reef City
In Johannesburg, you can visit Gold Reef City leisure park, which was built around the shaft of a former gold mine. In the amusement area, you can ride on various roller coasters and whitewater rides. The Gold Digger Museum, where gold bars are cast in front of the guests, is also well worth a visit. Guided tours are offered in the area of the mine and the workshops. In order to revive the gold rush atmosphere of the 19th and 20th centuries, the park staff wear historical costumes.
Beach holiday in Camps Bay in South Africa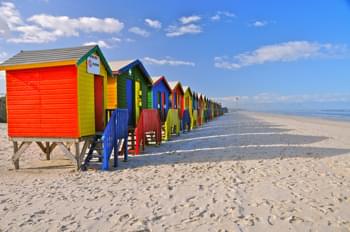 Colorful houses at the beach of Muizenberg
The idyllic seaside resort of Camps Bay is located directly on the Atlantic coast south of Cape Town. It stretches at the foot of the impressive rock formation of 12 apostles. Furthermore, Camps Bay is characterized by its large beach bay, which is covered with fine sand. Enjoy the clear water, the sun and the view of the mountains in Camps Bay. A palm-fringed promenade frames the beach. Here you will also find many restaurants and bars with a sea view. Muizenberg, a suburb of Cape Town, with its colourful beach houses is also worth a visit.
Speed limits in South Africa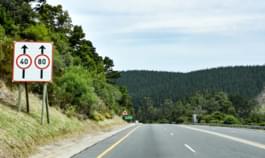 Pay attention to the speed limit
The country is notorious for its numerous stationery and mobile speed controls. In order to avoid the high fees, you should, therefore, adhere to the speed limit. The speed limit is 60 km/h in urban areas and 100 km/h outside urban areas. You can drive up to 120 km/h on the national roads.
Rental car South Africa: Important parking rules
If you see a red mark on the road, it symbolizes an absolute no-parking zone. In places with a yellow marking, there is a stopping restriction. Violations can result in high fines. In the towns and villages, however, there are usually sufficient parking spaces. These are often looked after by so-called car guards, who lease the parking spaces and charge the driver a fee for parking. Serious parking guards can usually be recognized by the fact that they wear a warning vest.
Insurance for the South African rental car
If you want to rent a car abroad, you should make sure that you have sufficient liability insurance at the time of booking. This will protect you if you cause personal injury or damage to property with the rental car. The different landlords have different offers for insurance in this area, which is why it is worth making a comparison. The recommended minimum coverage is one million euros. Even better offer with a sum insured of 7.5 million euros. The car rental company often offers you additional insurance. You can choose this as required. Possible insurances are:
Insurance against theft
Insurance for tyres and glass
Underbody insurance
Choose fully comprehensive insurance without excess when renting a car
As insurance, we recommend that you take out fully comprehensive insurance without excess. In the event of damage, you will be completely insured. In the case of fully comprehensive insurance without excess, no insurance fee is incurred when booking. If you cause a scratch, the rental company will deduct the cost of repairing the damage from your deposit. You can contact your broker after that and submit the damage invoice and damage report to the car rental company in due time. You will find the deadlines in the rental conditions. The agent will then reimburse you the fee paid. In the case of fully comprehensive insurance without excess, there are no further costs for you. Use our comparison portal to find favourable offers for the required insurances.
Car rental South Africa: What do I need to consider when making a deposit?
When you pick up your rental car at the car rental company, you have to pay the deposit at the same time. It is usually debited directly from your credit card, but can also be paid in cash. The amount of the deposit varies and depends on factors such as the landlord and the vehicle. Compare all offers to rent your dream car at a good price on our portal. Brokers who offer a rental car without a deposit should be avoided. These are usually dubious offers, as the deposit serves the landlord as security. If you return the car in time and without damage to the rental company, the entire deposit will be refunded within a few days.
Make use of the option one-way rental in South Africa
To get to know the full beauty and variety of South Africa, an individual round trip by rental car is worthwhile. You can choose your stations yourself. This option is particularly helpful, if you want to collect the car at one point and return it at another. This allows you to plan your route flexible so that you don't have to drive back to the starting point if you don't want to. Use the one-way rental to travel cheaply and unbound. Pick up your rental car at a car rental company of your choice, for example in Cape Town directly at the airport. Then drive along the coast to Camps Bay, Port Elizabeth and Durban. Some landlords charge a one-way rental fee at the time of booking, others offer complete packages that include the service. Use the filter functions on Driveboo.com to find cars with offers for one-way rentals.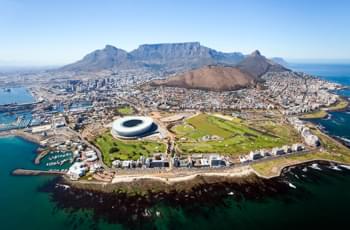 View of Cape Town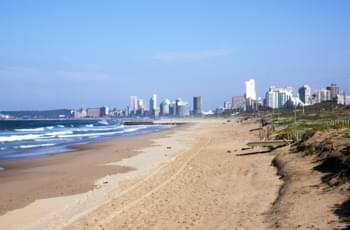 Coast of Durban
Additional driver for the rental car in South Africa
If you would like to rent a car in South Africa and you are not travelling alone, you can book an accompanying person as an additional driver at a reasonable price. The additional driver is insured accordingly, which is why you can take turns driving. When you rent the vehicle, the additional driver must be present and show his driving licence and identity card in the same way as the driver. On our car rental portal, you will find numerous offers where an additional driver is already included in the price. This means that there are no additional fees when booking. If you have any further questions about your rental car in South Africa, you can always contact our helpful service team.