Explore Gauteng with your rental car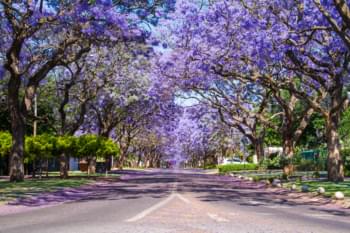 Gauteng is a province in South Africa. Other than this one there are 8 more provinces. You may be able to compare them to "states" of other countries. Gautengs current population is counting about 15 million inhabitants. This is over 1/5 of the total countries population. There are two important reasons why so many people reside in Gauteng. The first is Johannesburg and the second is Pretoria. In both cities, you will be able to find a lot of partners of Driveboo. However, it is also very easy to book a rental car in other places. Are you planning a trip to South Africa? Why should you rely on travel guides, if you can also do your personal roadtrip. Compare prices and find your rental car in South Africa. Like this you can travel around independent and flexible.
Car rental at the airport in South Africa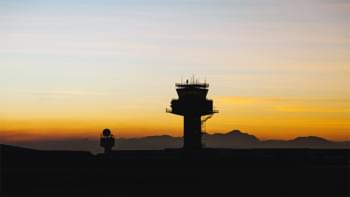 There are several airports in Gauteng. Most likely you will arrive at Johannesburg Airport as it is the most important international airport of the region. Secondly, there is the Grand Central Airport near Johannesburg. However, considerably more international airlines fly to O.R. Tambo Airport. Where is Johannesburg Airport? The airport is about 20km outside the city centre of Johannesburg and a 40 minutes drive away from Pretoria.
Non-stop flights from Europe to Gauteng are offered by several European airlines and Southern African Airways. If you don't mind stopovers, you can find a connection to Johannesburg from almost all other European cities. You will be able to find many different rental car companies that are partners of DriveBoo. Where are the car the rental car stations located at Johannesburg Airport? There are stations directly inside the terminal and next to the airport. These are reached by taking a free of charge shuttle bus.
Car rental in Pretoria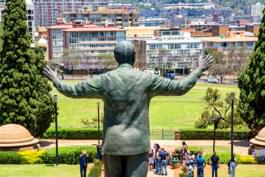 Pretoria counts almost 750.000 inhabitants and is the capital of South Africa. In 2015, the city won the prize for "the most livable city in the world". One more reason to start your rental car trip from Pretoria. The capital is located in a valley surrounded by mountains. Where can I pick up a rental car in Pretoria? There are many different stations in the city centre. Another solution would be to pick up the rental car directly at the airport. The next one is O.J. Tambo Airport.
While driving your rental car the streets of the the city, you will notice a lot of green trees and bushes. The capital is famous for its many gardens, parks and shrubs. Especially in the spring the famous Jacaranda trees blossom into a delicate purple. What should I do while traveling in Gauteng? Here you can find some sights and attractions that you shouldn't miss during your next car rental trip to Gauteng.
Pretoria Botanical Garden
Eksteen Transport Technology Museum
Melrose House
Tranvaal Museum of National History
Union Building
Discover Johannesburg by rental car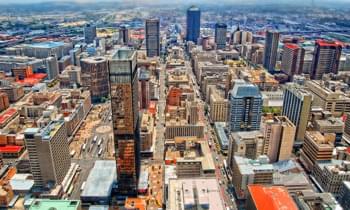 Johannesburg is full of surprises. Unfortunately the city still carries a reputation of being very dangerous and less interesting for tourists. However, this is only partly true. In some parts of the city it would be indeed to risky for you to walk by yourself at night. However, you will realize pretty quickly, while driving around the city with your rental car, that most of the city districts are pretty fine and safe. More and more artists are moving to Johannesburg.
Neighborhoods like Maboneng and Braamfontein are considered the new places to be. People are creative, energetic and open towards foreigners and tourists. Experience art, markets and diverse cuisine during your rental car trip. How long do I need to drive? Distances to other places in South Africa can be found here:
Roadtrip in South Africa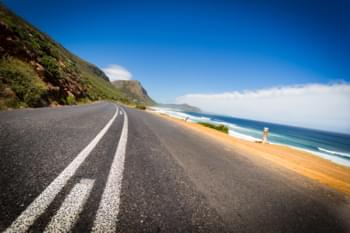 Hire a car and decide freely in which order you would like to visit which places. Starting your roadtrip from Pretoria or Johannesburg you can explore all of South Africa. Another solution would be One-Way car rentals. You would receive the hired car at the airport in Johannesburg and later return it back at Cape Town Airport for example. Simply chose the desired pick-up and drop-off location at DriveBoo. South Africa is the perfect location to plan a roadtrip. The sights and natural attractions are mostly outside the city and far apart. In addition, public transportation is poor. Think about which car you need. If you need any help, you are more than welcome to contact our service-team. Our staff is happy to help you.
Highways are usually in very good condition. National roads are often only gravel roads. An off-road vehicle would be a good alternative.
Where can I find an SUV? Almost all of our partners in South Africa offer SUV cars. When searching for the best offers on DriveBoo, you can specify the the desired vehicle category. We would also recommend the following services when renting a car in South Africa.
Full comprehensive insurance with reimbursement of the excess
Anti-theft protection
Fair tank regulation
Unlimited kilometers
Glass & tyre protection
Traffic regulations in South Africa
What kind of traffic rules do I have to follow in South Africa? Please remember, when driving on highways, you will have to pay a toll. You will be asked to pay these tolls by urself, as the station won't cover these costs for you. However, those amounts are rather small and 30 Rand at the utmost. Generally speaking, it can be said that the traffic in South Africa is relatively civilized.
Those are the current speed limits:
How to fill up your hired car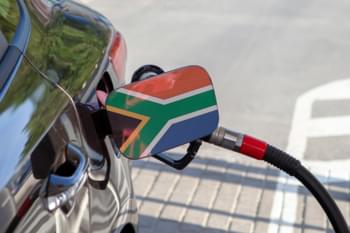 One liter of gas costs between 0,90 to 0,95 Euro. This seems incredibly cheap in comparison to Europe, is very expensive for the citizens of South Africa though. Most of the people living in the African country just hardly afford gasoline. Where can I refuel my hired car in South Africa? There are plenty of gas stations in and out of town. There is a big difference to Europe in how to refuel cars. In South Africa you will never have to refuel yourself. Most of the time you can let the filling station attendant check the oil level and tyre pressure for a tip of two to five Rand.