Rental car KwaZulu-Natal: Discover South Africa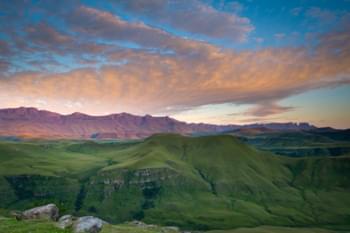 Landscape in KwaZulu-Natal
Book a rental car and get to know the province of KwaZulu-Natal on the east coast of South Africa up close. With a rental car in KwaZulu-Natal you can flexibly get to your desired destinations. Look forward to breathtaking beaches, impressive mountains, big cities like Durban and wide savannahs in KwaZulu-Natal in South Africa. On Driveboo.com you can book your dream car online in advance, so you can directly pick it up after your arrival. What are you waiting for? Rent a car and discover the beautiful province of KwaZulu-Natal in South Africa on your own.
Things to know about the province of KwaZulu-Natal
Capital: Pietermaritzburg
Population: 10.3 million
Neighbouring countries and regions: Swaziland, Mozambique, Mpumalanga, Eastern Cape, Lesotho and Freistaat
Landscapes: flat coastal areas, hilly plains and mountainous areas (Drakensberg and Lebombo Mountains)
Bigger cities: Durban, Newcastle, Dundee, Vryheid, Hluhluwe, Port Shepstone and Kokstad
Is a trip to the Drakensberg by rental car worthwhile?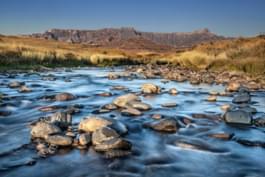 Drakensberg in KwaZulu-Natal
If you are travelling in KwaZulu-Natal, you should definitely drive to the Drakensberg by rental car. They are one of South Africa's main attractions. The landscape there is a dream: lush green meadows, crystal clear streams and gigantic sandstone formations await you. A hike in the Drakensberg will take you past numerous waterfalls, caves and rock pools. If hiking is too boring for you, you can also go white-water rafting, embark on canopy tours, go horseback riding and much more.
Exploring Durban by rental car
Durban on the Indian Ocean should be at the top of your list for KwaZulu-Natal. Here you can not only do sightseeing, but also enjoy the beach. Life in Durban mainly takes place on the beach promenade. Go for a walk or sit down in one of the cafes or restaurants and watch the hustle and bustle. In the centre of the city there are a lot of sights waiting for you. Visit the Durban Art Gallery, the Durban City Hall, the KwaMuhle Museum and much more. If you're looking for a little oasis of tranquillity in the midst of the hustle and bustle, you can take a stroll in Durban's Botanical Garden. Relax with a picnic and then explore again.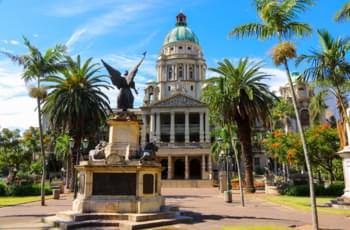 Durban City Hall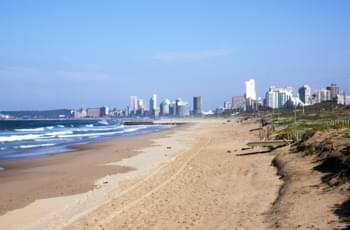 Coast of Durban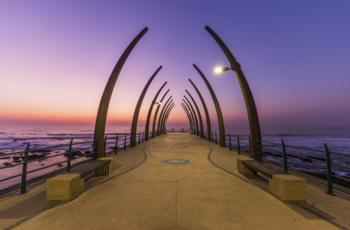 Umhlanga Bridge in Durban
Visit exciting places in KwaZulu-Natal by rental car
Pietermaritzburg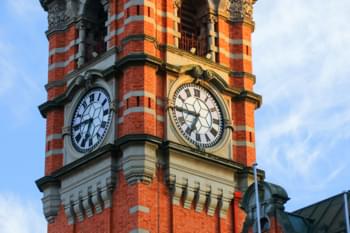 Church clock in Pietermaritzburg
The capital of KwaZulu-Natal, Pietermaritzburg, is only 80 km away from Durban. You can cover this distance comfortably with a rental car. Pietermaritzburg is a charming city worth a visit, especially in spring, when it reveals its flowering splendour. Stroll through the streets with their many interesting buildings, galleries, monuments and museums. On Church Street you can stock up on traditional and modern handicrafts such as hand-woven carpets, batik prints and jewellery.
Shakaland
Shakaland is a Zulu village where visitors can experience and get to know the traditional way of life of the Zulu people. The best way to get to Shakaland is by rental car. In KwaZulu-Natal this is always the best way to travel flexibly and independently. Attend a rural wedding ceremony and visit a sangoma. You will never forget this experience again.
Valley of a Thousand Hills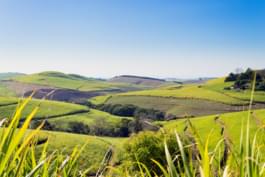 Valley of a Thousand Hills
The Valley of a Thousand Hills is located between Durban and Pietermaritzburg. If you want to experience nature in its purest form, then you should definitely take a rental car to the Valley of a Thousand Hills. Look forward to wildlife, fantastic scenery and exquisite cuisine. You can visit the Valley of a Thousand Hills all year round. If you prefer it a little warmer, come in the summer. Immerse yourself in fantastic nature.
Traffic rules when renting a car in South Africa
In South Africa there is left-hand traffic.
Speed limits: 40/60 km/h in urban areas, 100 km/h outside urban areas, 120 km/h on motorways
The per mille limit is 0.5 per mille.
The mobile phone must not be used while driving. Telephone calls via hands-free kits are permitted.
Emergency numbers: 101 11 for police and fire brigade, 101 77 for ambulance, 0861 000 234 in case of breakdowns
Rental car road trip: What other highlights are there in South Africa?
Since you are always mobile with a rental car, you can travel to a large number of other must-see destinations in South Africa. Why not take a road trip along the coast? Put together a list with your personal destinations of choice and visit them according to your mood. Don't forget the following sights: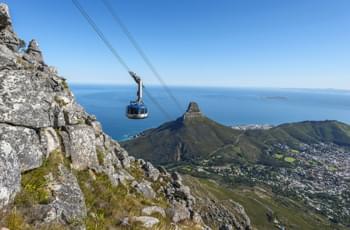 Cable car to Table Mountain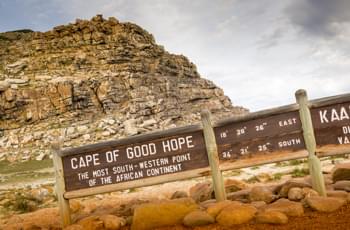 Cape of Good Hope
Kruger National Park: When travelling to South Africa, a safari is a must. So how about a visit to Kruger National Park? You can reach it easily with a rental car. Be aware that in the park itself you will have to deal with less well developed roads. Ask your car rental company about the best route and look forward to seeing the Big Five.
Table Mountain: Would you like to visit Cape Town on your trip to South Africa? That's a very good idea! On this occasion you should definitely take the rental car to Table Mountain. It is located in the middle of the city and is one of the seven natural wonders. You can park your rental car at the foot of the mountain and take the modern cable car from there to the top. Look forward to a breathtaking view over Cape Town.
Cape of Good Hope: Also from Cape Town you can drive to the Cape of Good Hope by rental car. You will certainly tell your grandchildren about this trip. The Cape of Good Hope is the southernmost point in Africa and should definitely be on your bucket list. Plan enough time when visiting the Cape as already the way there offers some highlights.