Rent a Car at Copenhagen Airport (CPH)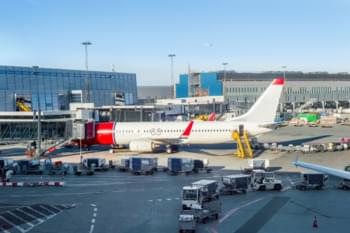 Are you landing at Copenhagen Airport (CPH) and would you like to explore Copenhagen and its surroundings with a rental car? Then it is a good decision to book a rental car directly at the airport from one of the six car rental companies. Since Copenhagen Airport is heavily frequented by 25 million passengers per year, it is worth comparing the car hire offers of Copenhagen Airport with Driveboo before you start your journey and make an online booking so that you do not have to resort to a car hire company that does not meet your expectations.
The pick-up station for your Rental Car at Copenhagen Airport
All car rentals are located at Copenhagen Airport in the Car Rental Centre, just outside the airport's roundabout. Here you can not only receive your rental car conveniently, but also return it later. Thus you don't have to worry about how to get from the airport to your accommodation and from your accommodation back to the airport at the departure. Furthermore you don't have to worry about how to get to the rental station.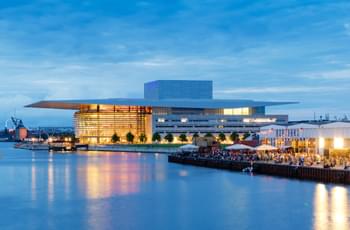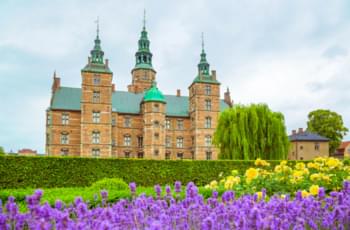 Which Car Rental companies are located at Copenhagen Airport?
As with all Scandinavian airports, Copenhagen Airport offers a selection of the best known car rental companies, which we have put together for you below:
Avis
Sixt
Europcar
Hertz
Budget
Enterprise
Refuelling at Copenhagen Airport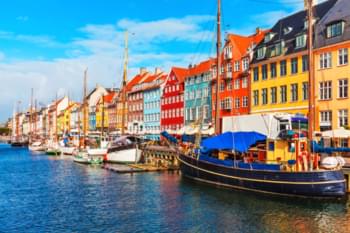 If you have to return your rental car with a full tank of fuel because you have decided on a rental car offer with a fair tank arrangement (full/full) or if you have taken over your rental car with an empty tank, you will find three Circle K petrol stations (two at the "Amager Landevej" and one at Kystvejen 1) in the vicinity of the airport, which are open 24/7. Think about filling up the tank before returning the car if you chose the option "fair tank arrangement (full/full). If you return the car without filling the tank before a little part of the deposit will be withdrawn.
Why do you have to leave a deposit?
Without leaving a deposit it's nearly impossible to rent a car. The deposit has an important role for the car rental companies, because it serves as safety for the rental companies. You pay a high sum to the rental company or the rental company blocks the sum of money on your credit card for a short amount of time, mostly until you return the rental car. The company will return the full sum you payed if the car is in the same condition as it was at the rental and if you stuck to the contract. If you violated traffic rules and have for example been flashed, the rental company will keep the amount of the fine from the deposit and send you the rest of the deposit back.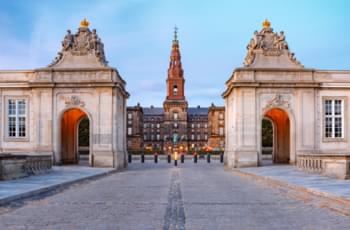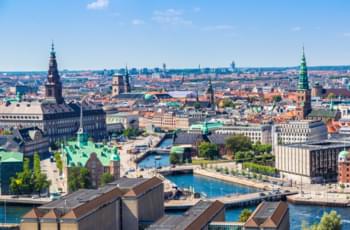 Connections from the airport Car Rental service
If, contrary to expectations, your flight arrives too early or too late and you want to reach the city centre of Copenhagen by public transport, then the following options are at your disposal:
With bus lines 5A, 35 and 36, with line 5A also operating at night.
Copenhagen city centre can be reached a little faster and more conveniently by train, whose tickets can be purchased at the DSB ticket counter in Terminal 3.
The subway station is located in the covered extension of Terminal 3, which runs every 4-6 minutes during the day and every 15-20 minutes at night. Tickets can also be purchased in Terminal 3 at the DSB counter.
If you want to travel from the airport by train or metro in the direction of Sweden, you must be able to identify yourself by train or metro with a photo ID. In addition, tickets cannot be purchased on the subway or on the train. Please note that the ticket vending machines do not accept fake money but only coins and credit cards.
General information about Copenhagen Airport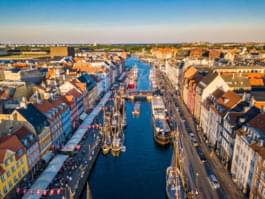 With around 50 shops, 15 restaurants and bars as well as several conference areas and airport lounges, Copenhagen Airport leaves nothing to be desired. After the former Terminal 1 was closed in 2015, all domestic and international flights will be handled in Terminals 2 and 3, where it is easy to spend the waiting time until boarding. The five busiest intercontinental routes by passenger traffic are Doha, New York, Dubai, Bangkok and Beijing.
Rent a Car at Copenhagen Airport (CPH) – Downtown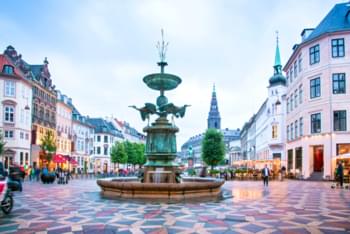 Fortunately, you can reach the city centre of Copenhagen in less than 20 minutes, so that you can make your way to the most beautiful landmarks and parks with your rental car right after your arrival. But Copenhagen has more than 160 sights, 30 parks and 80 museums, so a longer trip is definitely worthwhile. However, if you only stay over the weekend, we recommend a trip to Rosenborg Castle, the Erlöserkirche (before Frelsers Kirke) and the Nyhavn, a small, beautiful harbour. If after a few days it doesn't stop in Copenhagen, you can take your rental car to several other major cities in the surrounding area, which we have put together for you below.
Excursions from Copenhagen Airport by rental car
Spend autumn and winter in Copenhagen
Autumn and winter in the Scandinavian countries can be really cold, which is why you should think about bringing warm clothing when you are planning a trip to Copenhagen. The temperatures normally stay above zero degrees Celsius, but the sun is just shining for some hours a day, so it's getting dark really quick. You still can spend a day in one of the shopping malls in Copenhagen, warm up and buy clothes while relaxing. Also, the Christmas time in Copenhagen is one of the most beautiful times there and it definitely is snowing every year, which should not be missing during Christmas season. The rental car facilitates your stay, because with it you can get anywhere while being warm and you don't have to wait in the cold for public transports. Enjoy your time in Copenhagen.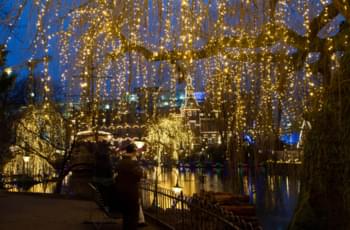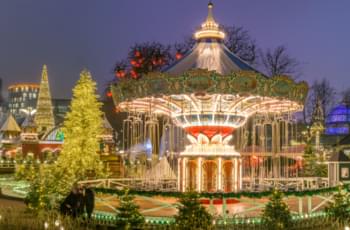 Rental Car tour: By car through Scandinavia
Due to Copenhagen's geographic location on the east coast of Denmark, it can be interesting not only to go on a round trip in Denmark, but also to undertake a large Scandinavian round trip through Sweden, Norway and Denmark.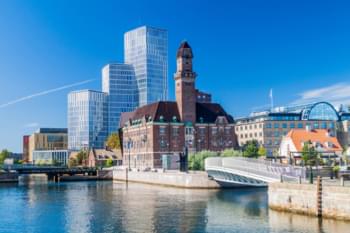 Malmö
Stay one or two nights in Copenhagen before you drive your rental car across the Oresund Bridge (charged) to Malmö in Sweden, where Malmohus, a museum in an old fortress, is already waiting for you.
Driving north on the E6, you reach Helsingborg with its breathtakingly beautiful castle Sofiero and if you don't want to stay overnight, you have the possibility to continue on the E6 in the direction of Gothenburg.
You should definitely plan a few days here, as Gothenburg not only boasts magnificent parks, but also a number of special museums, such as the Aeroseum and the Volvo Museum, which are worth a visit.
If you have enough time, you can continue your journey to Oslo from here or you can take the ferry to Denmark.