Discover Copenhagen by rental car

Attractions Copenhagen
Rent a rental car in Copenhagen and discover the capital region of Denmark. We work with all the major car rental companies in Copenhagen, so you can choose from a wide range of offers. Enjoy the beautiful scenery and coastline of the Danish capital. A trip over the Öresund bridge to Malmö, about 30 minutes away, is also worthwhile. If you have several days to spare, a roadtrip along the Baltic Sea to Stockholm is also worthwhile.
Copenhagen, with its almost 600,000 inhabitants, is one of the metropolises in northern Europe and is always worth a visit. The capital city by the sea offers a lot for every taste and the numerous sights can be explored comfortably by rental car. A rental car does not only bring advantages in Copenhagen itself, but also offers the possibility to discover the whole country in a comfortable and flexible way.
Where to rent a car in Copenhagen
Both in the city and in the airport Kastrup there are numerous car rental companies to rent a car. The opening hours of the car hire companies at the airport are often particularly good and special vehicles such as convertibles or jeeps can also be hired here without any problems. You are spoilt for choice with which vehicle you want to discover Copenhagen!
Road traffic laws in Denmark - what needs to be respected?
In Denmark, right to left applies. But cyclists always have the right of way before car drivers - especially in Copenhagen you should be prepared for this. Even during the day, cars and motorcycles have to drive with the lights on. It is compulsory to wear a seat belt and children under 135 cm must be transported in a child seat. Children under 3 years of age are transported in appropriate child seats. Ask before you rent a car and when you pick up your rental car it is best to ask for the suitable child seat.
Maximum speed on Danish roads
Car rental and parking in Denmark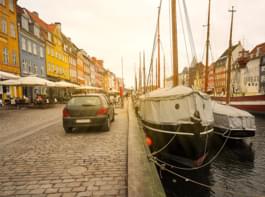 Anyone who rents a car in Copenhagen or elsewhere in Denmark should follow the parking rules - a ticket is issued quickly.. Parking bans should be strictly respected and at intersections you should keep a distance of about 10 meters to the street corner or junction. Parking is usually subject to a charge, especially in the city center. There are parking fees in Copenhagen from Monday from 8.00 am to 5.00 pm on Saturday.
What insurance do I need for my rental car in Copenhagen?
Whether you are travelling in Copenhagen or anywhere else in Denmark with your rental car, it is definitely advisable to choose the option "fully comprehensive insurance without excess" as your insurance. A liability insurance policy with a high cover sum is also important. It should cover losses of at least one million euros.
Do I have to pay a deposit for my rental car?
As a rule, a deposit must be deposited with each provider, which depends on the vehicle type. It is paid in advance by credit card and will be credited to your account after the rental car has been returned. The car rental company will be happy to provide you with further information.
Car hire Copenhagen - always worth a visit!
Copenhagen is the gateway to Scandinavia and as an attractive metropolis with a Nordic character, it is always worth a visit. Those who appreciate culture, the delicious Nordic cuisine and Danish cosiness are in the right place. The relaxed lifestyle of the Danes and the Danish hygge (cosiness) can best be experienced on a trip through the Danish capital, while discovering Copenhagen's pretty city centre or in one of the many cosy cafés and restaurants. Whether you're looking for alternative Christiania and the hip Norrebro or the typical sights such as Nyhavn or the little mermaid - in Copenhagen you'll be comfortable and safe with your rental car.
Special highlights in Copenhagen: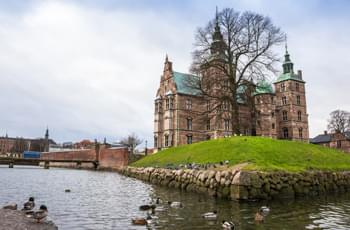 Rosenborg Castle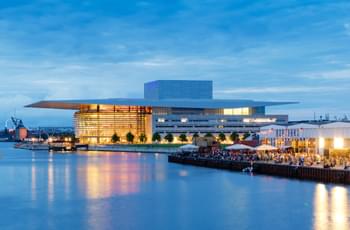 The Royal Opera
Nyhavn (new harbour) with its colourful houses and many restaurants
Amalienborg Castle (City Residence of the Danish Queen Margrethe II)
Rosenborg Castle
Freistadt Christiania
The little mermaid
The Royal Opera
The imposing Frederikskirke church
The alternative multicultural district of Norrebroli
Leisure park Tivoli opposite the main station
The round tower
Explore the surroundings of Copenhagen by rental car
Not only Copenhagen, but also the neighbouring islands and the Danish mainland have a lot to offer. For example, how about a trip to Helsingor, to visit Kronborg Castle (UNESCO World Heritage Site)? The old cathedral town of Roskilde with the Viking Museum or the cliffs of Stevns Klint in the south-east of Zealand are also worth a visit.
Copenhagen - the capital of Denmark
Copenhagen is the capital of Denmark and the country's economic and cultural centre.It is one of the most popular destinations in Northern Europe. Copenhagen has a variety of sights. The easiest way to visit them is by rental car. Visit the town's landmark with your rental car, the Little Mermaid from the fairy tale of the same name by Hans Christian Andersen and also Christiansborg Castle, which is the seat of today's parliament, should you visit with your rental car or visit the Nyhavn, a harbour with its pretty houses and many restaurants, which invites you to stroll and feast after your sightseeing tour with the rental car.